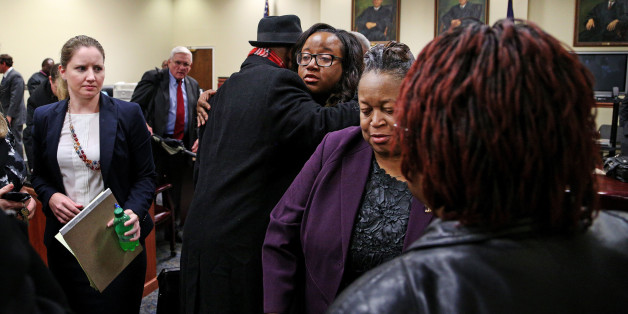 Often, the most defining moments in our lives come like a thief in the night, quietly and unsuspectingly, with little or no advanced warning. On occasion, joy and gladness may be ushered in. On others, may come utter devastation and grief. Always, what remains is the consequence.

In the early morning hours of May 2, 2011, Mr. Bernard Bailey lost his life in a deadly encounter with the Police Chief of Eutawville, South Carolina. A grief-stricken pall hung over the Orange County community of 300 on that day. An unseen veil born of heart-rending violence had descended.

Nearly four years have passed since that fateful day occurred. A federal investigation has concluded with no charges being filed. The family settled a wrongful death lawsuit against the city. However, justice and peace are far from having been won. The case remains unresolved. Questions, anguish and so much more persist. The lives of Doris Bailey, her six children and the community of Eutawville have been forever changed. Now, as then, Bernard Bailey is one whose life matters.

I did not know Bernard Bailey. I have never traveled to Eutawville, South Carolina. However we were the same age, he and I, we attended college in the same city, and we graduated the same year. We have children that are very close in age. The tragic events one early morning in May 2011 occurred because a devoted father's fierce and magnificent love and care for his daughter was met by the sordid and horrific response of law enforcement to the same. There is no need to rehearse the details here. Suffice it to say, what was a routine traffic violation turned systemic violation, and ended in a good man's death.

The death of Bernard Bailey serves as a somber meditation on the diminished meaning of Black life in this land. Through the cauldron of antebellum enslavement and the 1960's assassination of four little girls in Birmingham's Sixteenth Street Baptist Church to today's daily loss of life on rural and suburban streets and in urban precincts everywhere, Black life in the United States has all too often been characterized and experienced as inconsequential, abbreviated, expendable, and cheap.

This is hardly to suggest that all Black dying is attributable to the white world. Far from it. But cultural understandings, communal maturity, and identity formation in African America have long been imprinted with the intuited awareness that in America, a person of African descent is of lesser value. Tragically, in our own miseducation, many of us have learned the same terrible untruth and come to undervalue ourselves.

Long ago, Dr. Martin Luther King, Jr. rightly described the United States as an extremely sick nation, fueled by the fires of privilege and disparity, hierarchy and hegemony, unrequited rage and greed. America produces a culture of death that diminishes and extinguishes the life chances of Black and Brown children, women and men, gay, transgender and straight, without respect to social class. It does so in alarming numbers, in public and private spaces, and thinks little of it as long as the violence can be carefully managed and contained.

In important respects, we have come far where race matters. In many ways, we appear not to have progressed at all. Out of the midst of the conditions of death, African America vividly and dramatically remembers, we critically and prophetically assess; we transgress against the pathos, power and predictability of the nation's original sin. We remain committed to those material and spiritual life ways that preserve and enrich life itself.

Among communities of African descent in America death, destruction and despair will never have the last word: Life is larger than death. And so on this day, we pay our tribute to Mr. Bernard Bailey. A man of whom it was said he was hard-working, soft-spoken, faithful, loving and free. We affirm and celebrate your memorable life. Ashé!
This post is part of the "28 Black Lives That Matter" series produced by The Huffington Post for Black History Month. Each day in February, this series will shine a spotlight on one African-American individual who made headlines in 2014 -- mostly in circumstances we all wished had not taken place. This series will pay tribute to these individuals and address the underlying circumstances that led to their unfortunate outcomes. To follow the conversation on Twitter, view #28BlackLives -- and to see all the posts as part of our Black History Month coverage, read here.