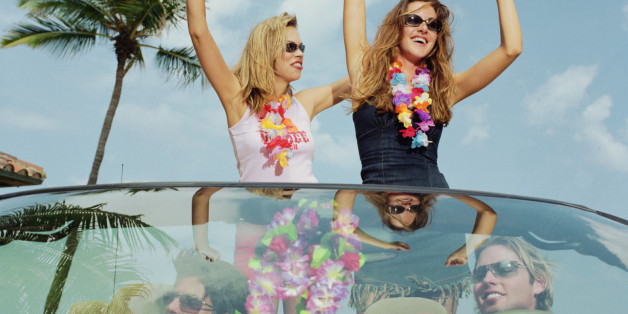 Planning your summer girlfriends getaway? Here's a roundup of sexy cities around the globe you should absolutely be adding to your list of consideration.
"For whatever sexy city you land on, you'll want to make sure that your immediate surroundings are equally so," says Roomkey.com's Stephany Verstraete. "Depending on how you define 'sexy' you'll want to use a travel planning tool - particularly for your hotel which is an especially personal choice -- that is amenity-based and allows you to find a place where you have access to an on-site nightclub, for example, or an indulgent spa. Those kinds of hotel features are critical for a girlfriend getaway and will make or break a sexy summer trip."

Honolulu
Whether it is sipping cocktails and basking in the warmth of the sun's rays on one of Honolulu's iconic beaches, or spending the day at the spa, the city of Honolulu is an ideal getaway for a weekend with your girlfriends. The warm weather year round makes for the perfect environment to literally do "anything and everything under the sun." (See what I did there???) Complementing spa activities and wonderful beaches, Honolulu also has has tons of great dining and shopping as well as great evening entertainment.

Los Cabos
A must for a girls getaway. Located in the southern tip of the Baja Peninsula, the area offers oceanfront properties in a warm, sunny climate that many have not yet visited. A great spot to check out is Grand Solmar Land's End Resort & Spa. Their Playa Grande Spa by Solmar offers a Temezcal Sanctuary, which can be a crazy awesome bonding experience. Using the healing powers of indigenous herbs, this ancient bath ritual encloses the group with healing steam that will stimulate internal organs, de-stress and cleanse the body and regulate natural flow of energy.
Sydney, Australia
There's a million reasons to visit Australia year-round, but Sydney will once again be immersed in light, music and creative ideas as Vivid Sydney returns May 23-June 9 with Sydney Harbor and Sydney Opera House as its backdrop. The 18-day event is the largest of its kind in the Southern Hemisphere and a major celebration of creativity and creative industries from Australia and around the world. Vivid has become Sydney's major winter event, underpinning the harbor-side city's position as the creative hub of the Asia Pacific region.
Nashville
One of our favorite cities, Nashville has emerged as red-hot these past few years due to its culinary, nightlife and art scene. Seen as the new artistic extension of L.A., with examples including more filming taking place there including the hit ABC TV show, "Nashville," new media outlets like Rolling Stone Country, plus a cool inde / rock music scene that goes beyond country (the band Kings of Leon is based there, and Dan Auerbach, lead singer of The Black Keyes, moved there last year). While there, check out a historic hotel in the heart of the city called Union Station Hotel that was a former 19th-century railroad station. It's celebrated for its castle-like limestone exterior and Romanesque interiors that include a magnificent lobby with a 65-foot barrel-vaulted ceiling, and a new gourmet jell-O shot menu.
New Orleans
New Orleans has lots of appeal: live music, culture, great food, friendly locals and an energetic vibe. And it's home to Voodoo Queen Marie Laveau and the apothecary of America's first licensed pharmacist -- so there's all types of spells, potions and talismans available to attract a lover, plus voodoo dolls and spell-casting supplies like the original love potion #9. For the ultimate girl's getaway, check out FestiGals, taking place in New Orleans, June 19-22. It's incredible food and nightlife scene makes it a must-stop for vacationers anywhere.
Montreal, Canada
North America's answer to Paris -- the absolutely beautiful city of Montréal. The highly diverse and eclectic city culture creates a young, vibrant and sexy atmosphere for any intrepid traveler. Mouthwatering food, romantic gardens and non-stop sunshine make it an ideal place for a summer visit. It also hosts the annual Montréal Jazz Festival, which celebrates its 35th anniversary this summer (June 27-July 6).
Edinburgh, Scotland
Edinburgh is sexy. Not only because Scots as a rule are beautiful people with even more beautiful accents, but you ain't seen nothing until you've seen a man in a kilt. And you know what they say about a real Scotsman? You don't? It's probably better that way. Love whiskey? Even better.
Porto, Portugal
Porto is one of the closest European points to North America and is also one of the least expensive European destinations, easy to get to, and has beautiful summertime weather. In Porto, singles can enjoy 20 great beaches; sidewalk cafés for freshly caught fish with fresh local white wines; gorgeous city hotels with stunning sunset views; even monthly raves at the Rem Koolhass designed Casa da Musica. The "Baixa" area of town has the best bars and clubs (e.g., 3C, Twins, Champanharia, Fé Wine & Club, Olympia, etc.), and the entire city is a walkable UNESCO World Heritage site. Last but not least, there is lots of wine.