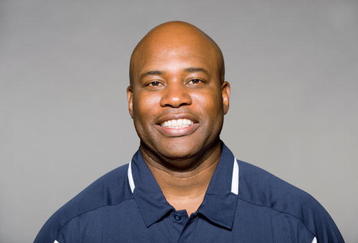 Dick Jauron is gone...a little too late...but hey, better late than never. Ralph Wilson officially relieved Jauron of his duties as head coach on Tuesday and later that night announced that defensive coordinator for three seasons, Perry Fewell, would step in as interim head coach. Fewell's only been on the job for a day, but I like him already. Here's why:
- He just looks like the sweetest guy you'll meet and a little like a big teddy bear.
- He announced that Ryan Fitzpatrick will be starting QB against Jacksonville on Sunday. Finally, somebody listens to me -- I mean, understands what I've been saying all season.
- He admitted that he's more emotional and fired up than Jauron. Well hallelujah, hallelujah! I can't wait to see his face when Lee Evans makes a touchdown and I almost want to see someone screw up so I can witness our coach pissed and upset.
- He's obviously done a fantastic job with our defense, so clearly he's got a firm grasp of the game and has proven that he can connect with the players.
- He actually addressed the ginormous issue of false starts with the offense. He said he made his presence known to the O-line (is that code for reprimanded/beat some sense into them?) and even joked around--he threatened to cut of players' fingers.
- He sounds intelligent. In Bills journalist Chris Brown's rundown of Wednesday's practice, Fewell talks about all the little issues he wants to address and his expectations for the team and this week...and they all sound pretty on point to me.
I guess I'll have to wait and see what happens on Sunday before I jump to the rash decision that I love him. And I think we should all keep in mind that it's Week 11, and we can't expect things to drastically change in an instant. The rest of the season is basically about trying to finish with a smidge of respect and dignity. Hopefully Fewell can help accomplish that.
Read player responses to Jauron's firing here.
GO BILLS!!!