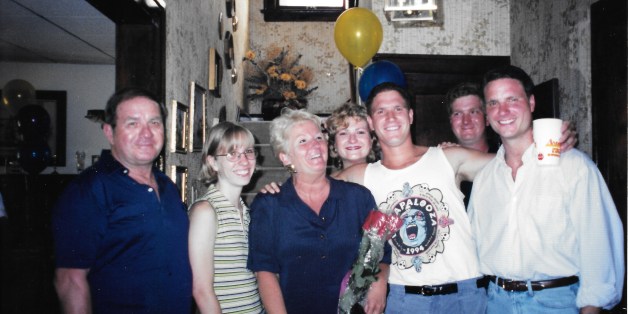 September 8-12 is National Suicide Prevention Week. The story you're about to read was written by someone who was deeply affected by suicide.
When I was 16, I was so profoundly sad for so very long that I was determined to end my pain. It never even occurred to me to ask for help. I was sure my sadness was stenciled across my face, but it wasn't. Fortunately, I survived and had the good sense to call my mother, pleading for help. While in the hospital, my twin brother was so angry with me for not thinking to get help that I was doubly shocked when he took his own life just four years later. I think his own depression and the stress of being a first-responder left him with the feeling that he had no other way out. Andrew was a genuine friend to everyone he met, an adventurer who tried anything once, and a private and sensitive soul who kept his deepest thoughts to himself. He gave himself fully to the world and everyone he met, and everyone who knew him was shocked speechless when he was gone. Recovering from this trauma was so very difficult for my entire family, and I never felt I had anyone I could talk to as a surviving sibling.
My first experience with the American Foundation for Suicide Prevention (AFSP) was walking the Overnight in Andrew's honor in 2005. He had been gone since 1997, but I wanted to do something to honor his life, as well as do something to prevent other such deaths. Andrew was always a champion of the underdog, and I felt him pushing me to champion a cause that endured so much stigma and silence. I have participated in an AFSP walk in some way nearly every year since.
For the past several years, I have volunteered for AFSP and led a team in the Chicagoland Walk because, although I don't miss Andrew as acutely anymore, I vividly recall how impossibly difficult those first years were. How alone I felt with my grief. How difficult it was to find anyone to talk openly about him. Although the story of each loss affects me, I am proud to be part of an organization that strives to help survivors of suicide loss in those first impossible years and beyond, as well as prevent future deaths.
One of my proudest moments was standing with Governor Pat Quinn as he signed anti-bullying legislation into law, legislation I lobbied for. My hours of fundraising and volunteering, much of which my young children can't understand, finally had a positive outcome.
This legislation was just one step toward my ultimate goal with AFSP: for us all to live in a world where we can talk about mental illness, seek treatment, and lead a full life.
Need help? In the U.S., call 1-800-273-8255 for the National Suicide Prevention Lifeline.
This blog post is part of a series produced by The Huffington Post and the American Foundation for Suicide Prevention, in conjunction with National Suicide Prevention Week. For more information about the American Foundation for Suicide Prevention, visit here.