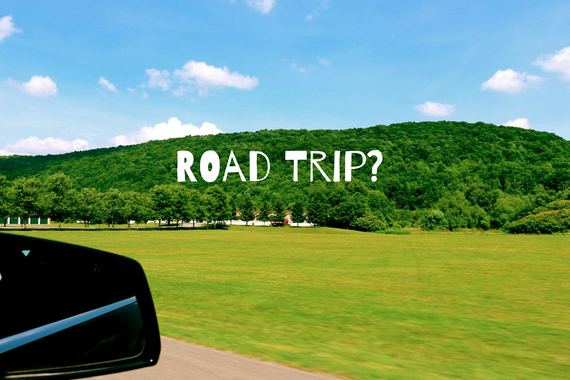 There is something universal about roadtrips. The soundtrack of my particular childhood journeys was a combination of Barbara Streisand, the musical Annie and the Solid Gold cassette collection (thanks to the brilliant loyalty marketing campaign launched by a big Canadian chain of gas stations in the '80s). My parents Chevrolet wagon with faux wood paneling would barrel down the freeways, windows down, a couple kids in the back and one of us in the trunk seat (until motion sickness set in from facing backwards).
Many years later my husband and I were hitting the open road with our two-and-a-half-year-old son, Atticus, for our inaugural family roadtrip.
Since we were testing the waters with this one, we didn't want to venture too far from home, but still wanted to ensure a memorable getaway and destination. Cue the Lodge at Glendorn in Bradford , Pennsylvania, only a 3.5 hours drive from Toronto -- a former family "camp" built in the 1930s in the grand tradition of multi-generational family country escapes. Now a Relais and Chateaux property, the amenities sounded right up our alley, a little something for everyone.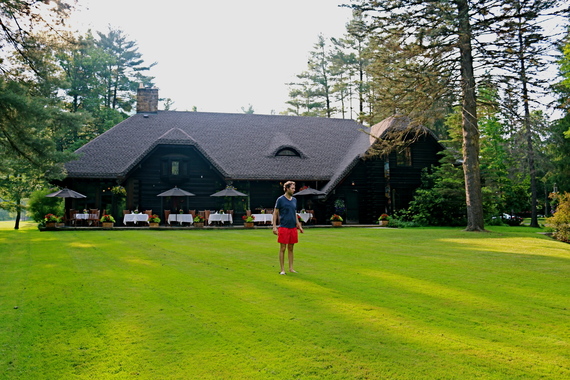 We had the best intentions of hitting the road by 8 a.m., but departure times with a toddler are variable. We gassed up and fueled ourselves with coffee and croissants from Ezra's Pound. The clock read 9:30 -- not bad. Smooth sailing until we reached Hamilton. I'm the resident DJ, curating singalong tunes that appealed to all ages; I think I impressed both passengers (playlist below). Unfortunately, the long weekend border traffic got the best of us (and our fellow road-trippers) and we were forced to sit in a series of lines that crawled at speeds below 2 MPH. Fortunately we followed rule number one of the road-tripping handbook! ALWAYS HAVE SNACKS AND DIVERSIONS ON HAND. Out came the cooler, and some forgotten toys -- oh, and the forbidden iPad.
Once we safely crossed the Peace Bridge into Buffalo, New York, the traffic let up and the open road beckoned. We drove for another 45 minutes and the landscape began to change. Long stretches of rural roads and bucolic farm life entertained our son, who was impressed by the barns, silos, tractors, combine harvesters and balers he saw and proceeded to call out by name as we drove. The horizon swelled with foothills tinted blue -- either from the humid summer haze or the midday shadows. We all agreed it was beautiful (even Atticus) and pledged to take more rural roadtrips in the future.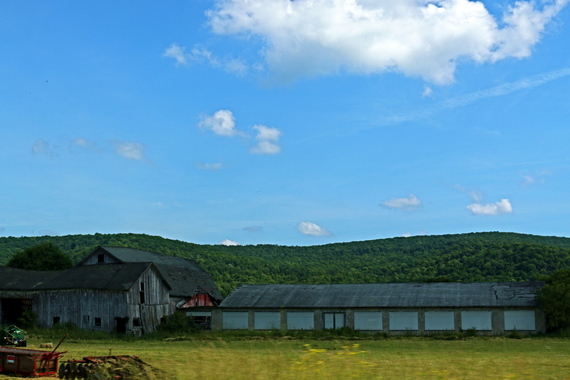 We rolled into Ellicottville, New York around 2 p.m. starving! This was our first official pit stop (the undocumented one was the duty-free restrooms at the border that helpfully allowed us to avoid a potentially longer line-up of cars -- Shhhhhhhh). Thanks to a billboard on the state highway we did a quick reconnaissance drive through town (one main street) and easily spotted the Ellicottville Brewing Co. They have an inviting beer garden and happening brew pub. The meal hit the spot, but their signature blueberry wheat brew was something to write home about! We'll definitely be back.
Fortuitously, we parked our car (two-hour free parking no less -- love small town America) in front of a homemade sweet shop called Watson's Chocolates. We picked up some freshly dipped chocolate pretzels and sponge toffee in varying grades of milk and dark chocolate for dessert.
Shockingly the chocolate outlasted the remainder of the drive which was only 45 minutes to Bradford, Pennsylvania. We wound our way through the small town, up along an inviting forested rural road that lead us to the gates of the Lodge at Glendorn. Originally owned by the Dorns, a family who made their fortune in oil, the irony of their 1500 acres of unspoiled woodland playground was not lost on us.
Arriving at a final destination while road-tripping always makes me giddy. It's a combination of the destination anticipation combined with the euphoria of finally emerging from such a confined space. To say that Atticus was impressed with our home for the weekend is putting it lightly -- from the old-fashioned gates that magically creaked open, to the welcome party of staff who greeted us personally when we pulled up to the main house. It all felt like we had stepped back in time to a very civilized (and wealthy) period in American history. We wandered the grounds accompanied by the welcome committee who proffered crystal goblets of freshly squeezed lemonade. Atticus loved the billiards room and ice cream parlor (complete with actual retro freezers and ice cream sundae accoutrements in perfect condition from the 1950s property upgrade). We all ohhhh'd on cue when escorted through the impressive great room, admiring the two-story beamed ceilings and gigantic sandstone fireplace.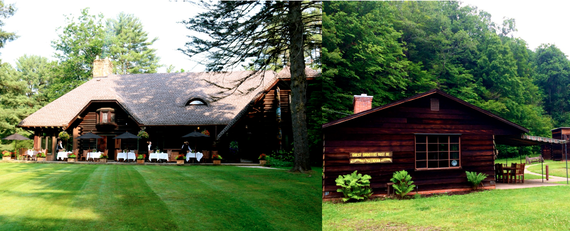 Keeping in the spirit of the retro-roadtrip vibe, Glendorn is a rustic but ever-so-luxurious sleepaway camp for adults (and their offspring). There truly is something for the whole family. Had there been more time my husband would have gladly accepted the offer to go fly fishing or skeet shooting with the activity director (I'm not making this up... he introduced himself over our country breakfast on day two). Instead, at his cajoling, we opted for salamander catching, feeding the trout in the babbling brook that ran alongside our cabin, followed by a bike ride (with toddler sidecar) on kitted-out mountain bikes down a series of trails to Bondieu Lake offering a selection of un-motorized floatation/paddle craft. There was not a single soul on this private lake, and many hours were wiled away on and in the water.

A highlight for all three of us was the Saturday night bonfire set up overlooking Skipper Lake. The walk was illuminated with discreet tiki torches that reflected off the water, but Atticus still insisted on bringing the small flashlight that had been part of his bug trapping welcome kit. The fire pit was set up on a stone terrace overlooking the water, and surrounding us was Pennsylvania's Allegheny National Forest. We taught Atticus how to roast a marshmallow and build a s'more (with Pennsylvania's own Hershey chocolate -- no less) while we sipped on bottles of cold craft beer.

There were other amazing details too, like the wood-burning fireplace and the original ice chest (always filled) for making cold drinks in our cabin, the canapés and proper cocktail service offered to all guests prior to dinner at the main lodge and, of course, the gourmet picnic lunches served (and delivered) on china with crystal barware, linens and Tiffany & Co. silver.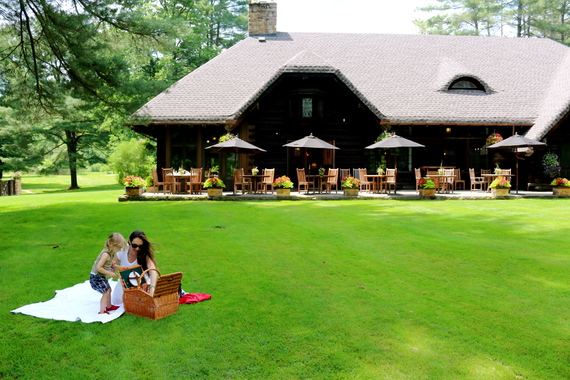 This was certainly one luxurious camp that we were in no rush to leave. But like all great summer roadtrips, the drive home was looming. After an alfresco lunch on the terrace (Chef Schafer's "Pheasant Fingers" from fowl shot by guests on hunt) it was time to hit the open road. As we navigated the twists and turns of the rural road, we cranked up the local radio station and quite fittingly the smooth folk notes and catchy lyrics of Don McLean's 'American Pie' crooned back at us...
"So bye bye, Miss American Pie. Drove my Chevy to the levee, but the levee was dry..."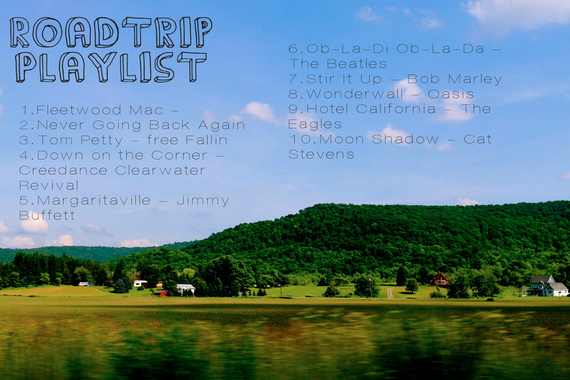 Follow along here for more of our adventures.