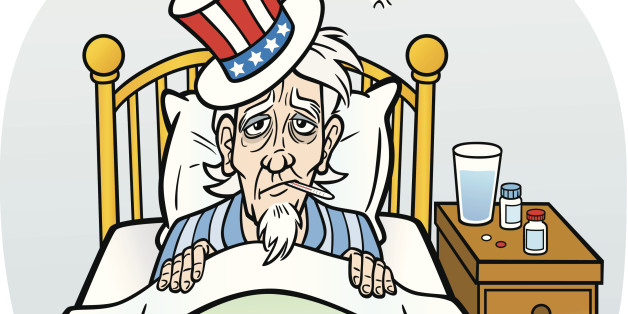 We should've been there.
Following a week of deadly shootings, nearly 4 million people took a stand and marched against terrorism on Sunday, the largest public gathering in France's history. Over 40 of the world's top leaders -- including German Chancellor Angela Merkel and British Prime Minister David Cameron -- marched together in solidarity, linked arm-and-arm. Even Israeli Prime Minister Benjamin Netanyahu and Palestinian Authority President Mahmoud Abbas took part in the global call for unity.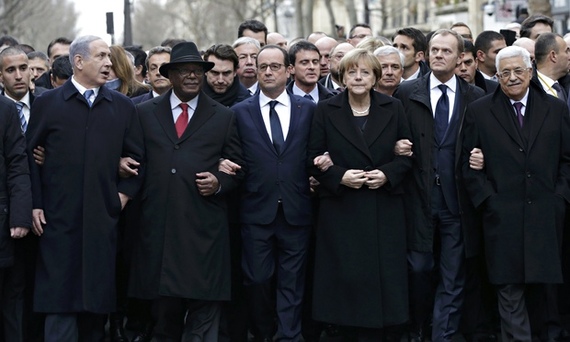 French president Francois Hollande is surrounded by head of states including (from left) Benjamin Netanyahu of Israel, Mali's Ibrahim Boubacar Keita, Germany's Angela Merkel, European Council president Donald Tusk, and Palestinian president Mahmoud Abbas. Photograph: Philippe Wojazer/Reuters

We should've been there.
Instead, the United States was a mysterious no-show. U.S. Attorney General Eric Holder was actually in Paris at the time, attending an anti-terrorism summit put on by the President of France, François Hollande. Afterwards, Hollande participated in the march. Holder did not. Strange, given that they could have even carpooled.
(Apparently, Hollande took a bus to the march, sitting next to Israeli Prime Minister Benjamin Netanyahu)
All jokes aside, it is hard to ignore the fact that a cabinet-level official was at the heart of where the rally took place, and could not bring himself to make an appearance. It's not as if the other leaders of the world didn't have plans.
Surprisingly, the leader of the free world himself, President Barack Obama, did not have plans. His public schedule was clear. He spent the day of the rally at the White House.
Just two days earlier, Obama had this to say:
It's important for us to understand -- France is our oldest ally. I want the people of France to know that the United States stands with you today, stands with you tomorrow.
Perhaps the "standing" was not supposed to be taken literally.
Is a physical presence necessary? Ian Bremmer, political scientist and columnist at Time, thinks that it is:
Obama should visit Paris this week, sending a clear message to the French people.

— ian bremmer (@ianbremmer) January 11, 2015
In addition, Bremmer brought up the U.S.-French relationship, referring here to French President Hollande:
Hollande has arguably been Obama's strongest supporter in fight against radical Islam. US should have sent someone today.

— ian bremmer (@ianbremmer) January 11, 2015
The point Bremmer is making here is that the United States has nothing to gain by sitting this one out. There is no political strategy at play. Quite the opposite -- it goes against our current policies and rhetoric.
Bremmer also questioned other inexplicable no-shows, such as Secretary of State John Kerry and Vice President Joe Biden. Kerry, who has fashioned himself to be a global peacemaker between the Palestinians and the Israelis -- both of whom were in attendance -- opted to go to a conference in India instead.
It should be mentioned that the Israelis often consider Kerry to be naïve on security concerns. Kerry's absence simply furthers the perception that, for him, terrorism is a low priority. For reputation alone, one would think that this event would be the last kind of thing he would miss.
Perhaps his absence could be forgiven if someone of similar stature took his place. Jane Hartley, U.S. ambassador to France, ended up being the lone American representative in the march, but she can hardly be considered a suitable replacement.
Fareed Zakaria, CNN host and columnist at the Washington Post, tweeted:
Why no U.S. leader at Paris rally? Isn't this why God invented vice presidents?

— Fareed Zakaria (@FareedZakaria) January 11, 2015
Revealingly, Biden's public calendar was also clear. He had no events scheduled on Sunday.
With the possible exception of John Kerry, the United States has no excuse. Biden didn't make it. Obama didn't make it. Holder didn't make it, and he was even in Paris.
It's a real shame. At the end of the day, numerous political figures, including Israeli Prime Minister Benjamin Netanyahu and French President François Hollande, attended a memorial service for those who were killed. It was held at the Grand Synagogue in Paris, which had to be closed for Shabbat services over the weekend -- the first time since WWII. Seventeen candles were lit honoring the victims of the week's terrorist attacks, Jews and non-Jews alike.
We really, really should've been there.