We hopped off the plane in London and were immediately greeted by employees of the U.S. Olympic Committee. We were escorted through a flurry of people for passport checks, athlete accreditations, and baggage claim. Lucky for a couple of my teammates and I, we were gun-less and gear-less. Now this might sound like the opposite of a good thing, but we left our stuff back in Denmark on purpose. We only had a couple days to spend in London before being sent back for more training. You wouldn't believe how organized the Heathrow airport was! Everybody was so friendly and accommodating, we had no problem finding where we needed to go.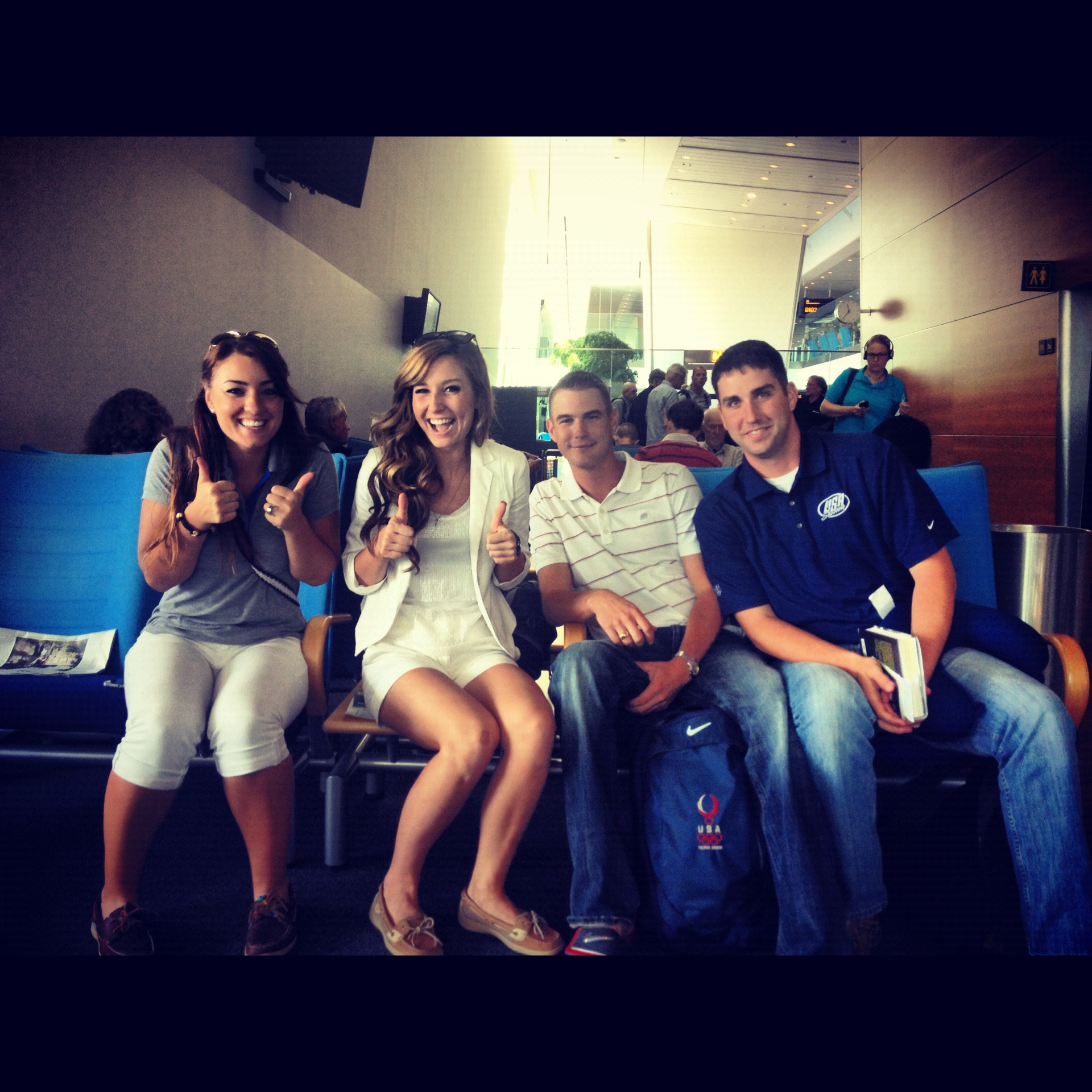 (Corey Cogdell, Amanda Furrer, Glenn Eller, Joshua Richmond)
I had been told to expect a grueling day of travel and clothes fittings, but what it turned into was an exciting beginning to a journey I'm never going to forget! I spent the entire bus ride from the airport to the Olympic Village pressing my face against the window catching snapshots and glimpses of Olympic symbols strewn about the city. Our buses had an "Olympic lane" where only credentialed transportation could drive so we zoomed through traffic. We passed all the wonders of London, including Big Ben, Buckingham Palace, the Tower of London, and Tower Bridge, which stared down the water with enormous Olympic rings. My timing and grace is only of the essence while shooting, so naturally my picture taking skills were a little off key. However, I did catch a few decent shots.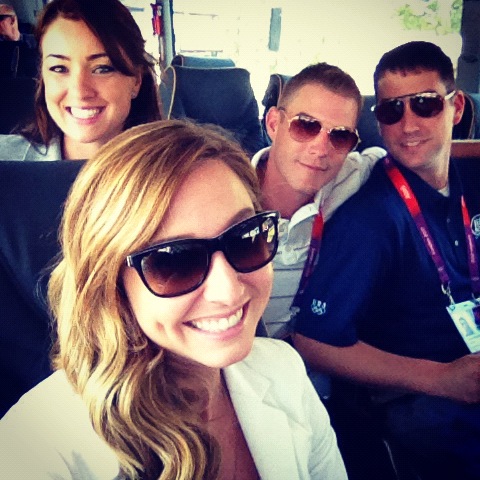 (Corey Cogdell, Amanda Furrer, Glenn Eller, Joshua Richmond)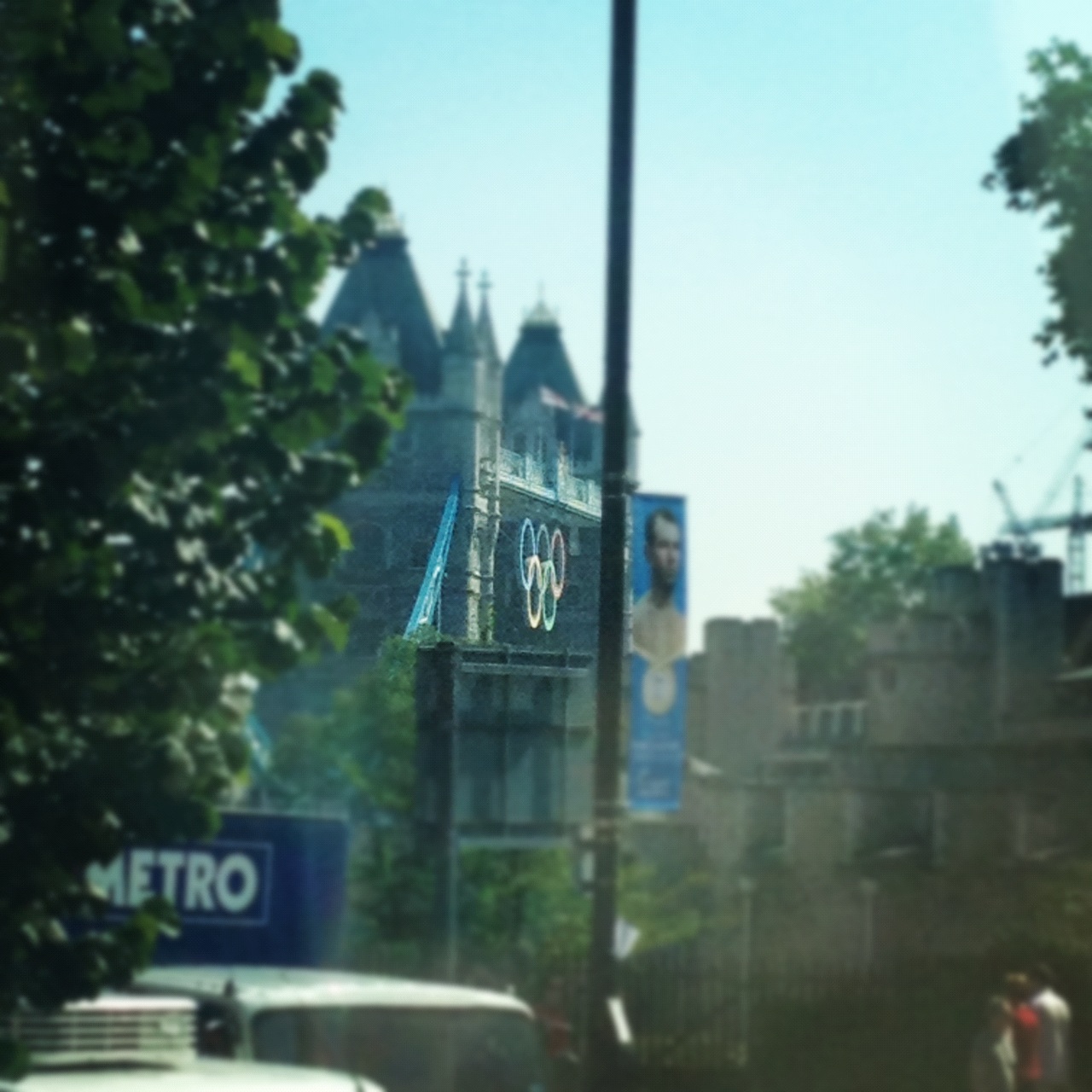 When we arrived at the village, we had to go through all these security checkpoints and I finally picked up my official Olympic athlete credentials! The worst part of that was they told me not to smile for the picture... that's a horrible thing to tell somebody that's constantly smiling and laughs at everything! We eventually got the job done though. After that I made it to my room just in time to drop off my luggage, change my clothes, and catch a bus to in-processing. Our rooms at the Olympic Village are so nice! I'm rooming with one of my best friends and teammate Sarah Scherer, and we share a mini apartment with two of our other teammates.
In-processing was like Christmas. For those of you who don't know what that is, it's when all the athletes pick up all their goodies from sponsors! This took us about four hours. I was taken straight in to the Ralph Lauren section where tons of workers were ready to fit us! We piled into dressing rooms and were fitted for our opening and closing ceremonies outfits. The clothes are absolutely beautiful and I was so excited to be wearing something tailored to perfection by them! When I tried the outfits on I got to pose in front of a professional photographer which was a blast! Sometimes I'm a little bit of a ham. Then I was asked for a quick interview with the Ralph Lauren crew!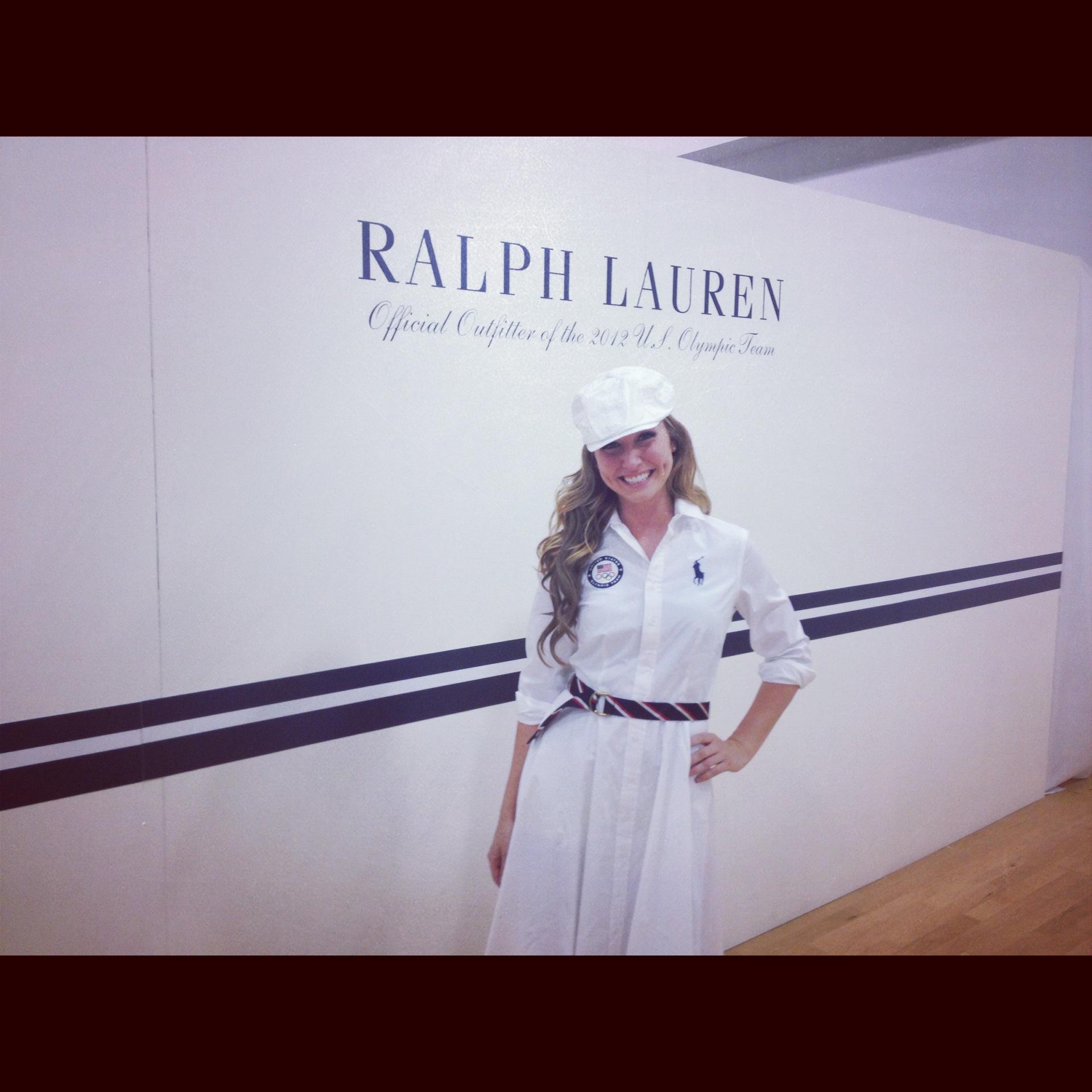 I was already on cloud nine when we were brought to a different room for our Nike gear. I also thought that was the end of Ralph Lauren. I was wrong. I was presented with two HUGE duffel bags. One Nike, one Ralph Lauren. I unzipped them and it was as if the room exploded with clothes. Shirts, skirts, sweats, dresses, shoes, and jackets were flying everywhere. Socks, hats, and spandex going one way, sweaters and pants the other. There were helpers all over to assist with anything we needed. We were switching sizes and posing in the mirrors trying to find everything that worked best. I couldn't believe all the stuff we got. Everything was even customized with "Team USA, "London 2012," and any other tiny detail you could imagine. I had to pack an entire shipping box to send home, and still have plenty of stuff to wear through the Games!
After that was over we had head shots taken and were sized for our Olympic rings! When I say Olympic rings I'm not talking about the 5 circles representing the continents, I'm talking about rings every athlete gets to wear on their finger for competing! I picked a white gold ring with diamonds. I can't wait to get it! Then I picked up a beautiful Hamilton watch and a bag from P&G filled with all kinds of toiletries and anything I might possibly need! It seemed like the gifts never ended. After all that, I made my way to the Oakley table to try on some awesome sunglasses. I ended up picking out a super cute pair with white sides and a "Team USA" emblem in the corner. How cool is that? I've barely taken them off since I got them.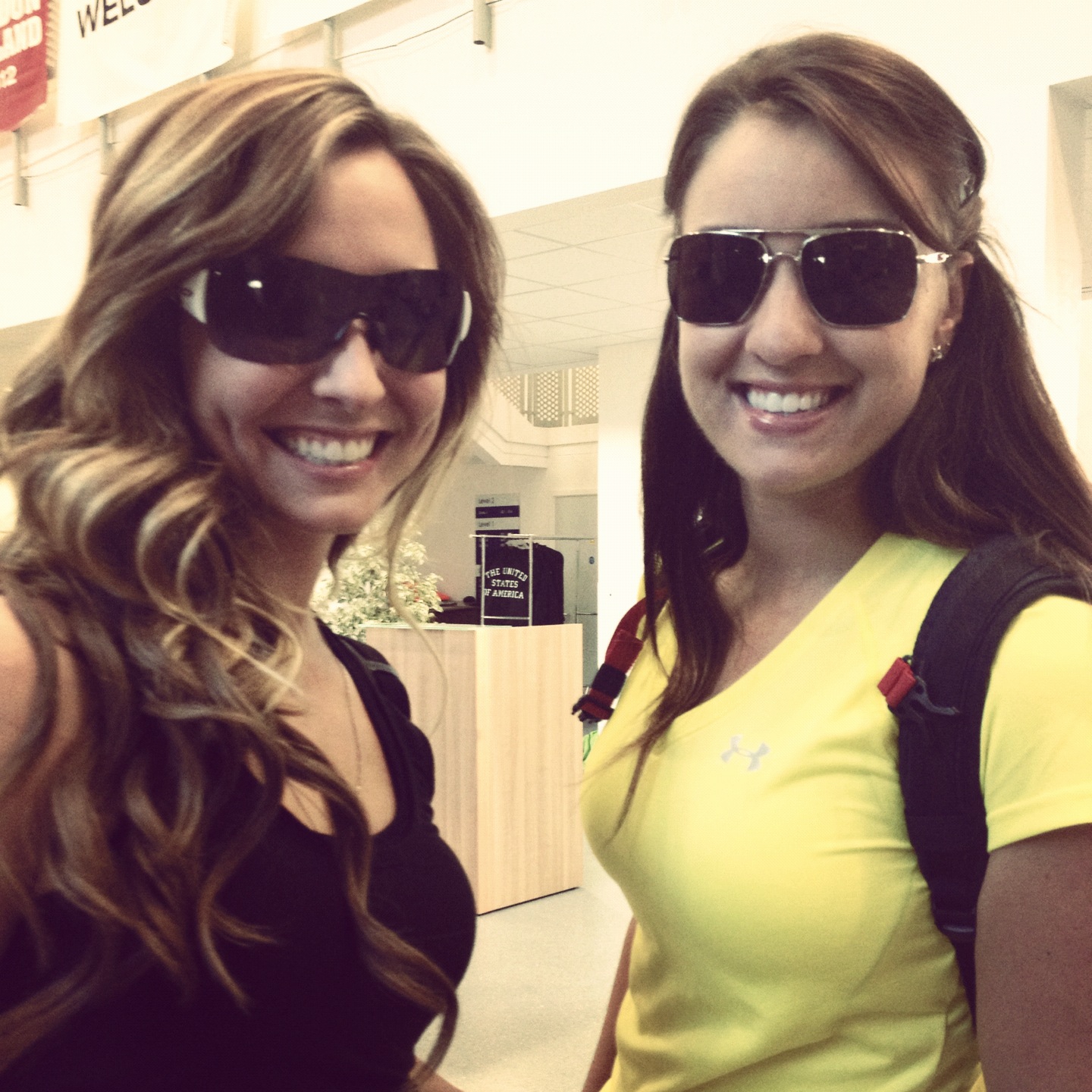 (Amanda Furrer, Corey Cogdell)
I was starving and exhausted when we got back. I went straight to the athlete cafeteria which I expected to be like any other cafeteria I had ever been in. Wrong again! It has every style of food in the world. There is American, Indian, Spanish, British, and any other kind of food you can think of! The best part... there's a McDonald's, and everything is free! After I grabbed some dinner I went straight to bed and passed out.
The next morning I woke up way too early in anticipation of the night to come. It was the day of Opening Ceremonies. I laid there thinking about what was going to go on, how I was going to do my hair, who I was going to meet, when I should start getting ready, blah blah blah. Then I met up with one of my teammates to scour the village for the first time. Everywhere you look there are food stands, coffee stands, and Powerade machines, all for our convenience, and for free! It's crazy the amount of support we have from our sponsors and people willing to help out the athletes of the world. We are so blessed. There are things to do all over the village! We found small parks and different places to relax outside. We busted our wallets at the gift shop. Then we accidentally stumbled into a really fun hang-out spot! They have live music every night, all kinds of games set up like the new Olympics 2012 video game, and pool/foosball tables! That afternoon Kim Rhode, Corey Cogdell, and I did an interview with the Today Show! It was so much fun!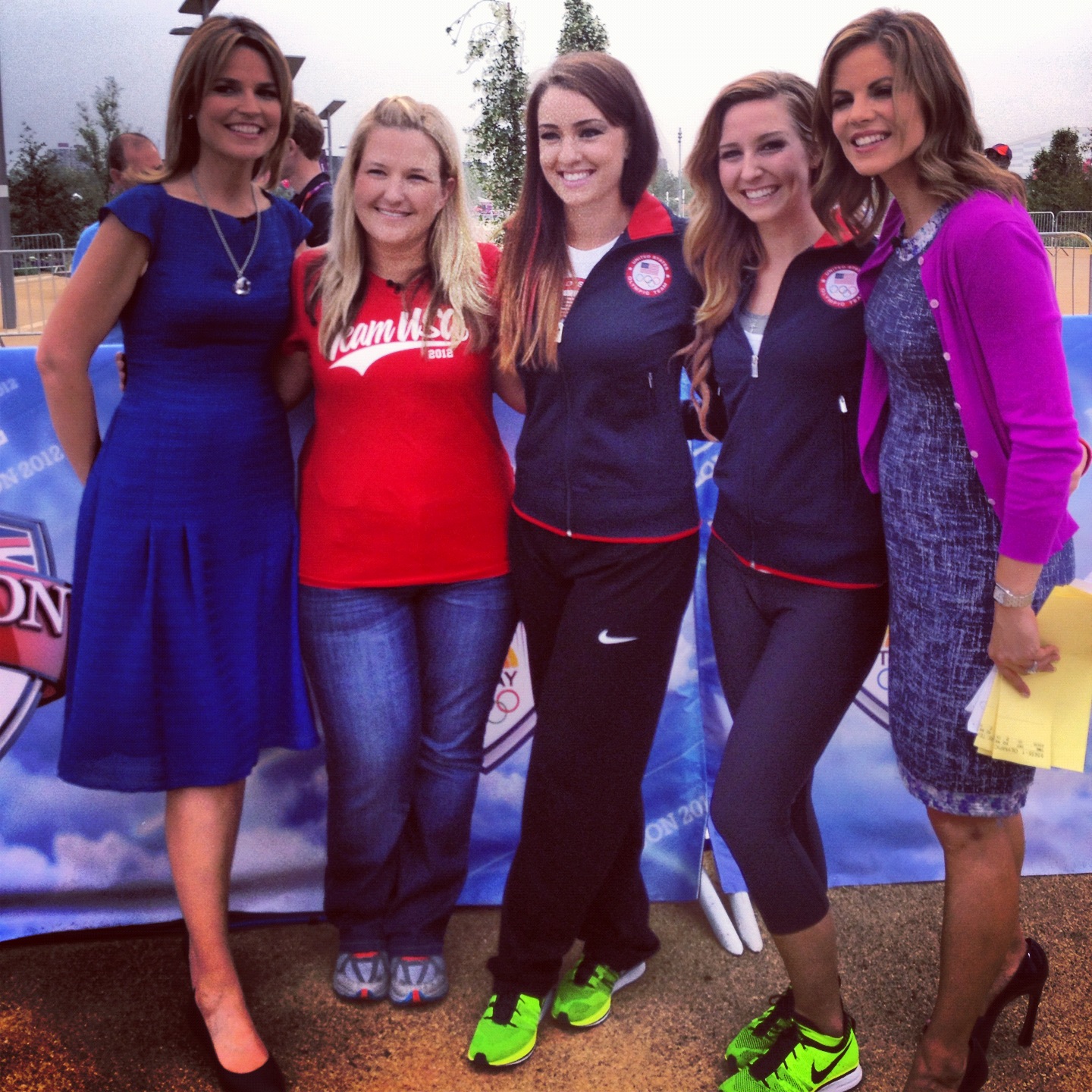 (Amanda Furrer, Corey Cogdell)
After a team meeting and a quick nap, it was time. It felt as if I spent forever getting ready, but then I found myself frantically running around once the time got closer to meet the other athletes downstairs. My stomach was in knots as I was trying to perfect my Ralph Lauren opening ceremonies look. I was nervous to be in front of so many people! I was nervous to meet all the other athletes. I was so anxious to officially become an Olympian. When the time came, all of the USA athletes met downstairs where pictures were taken and excitement lingered.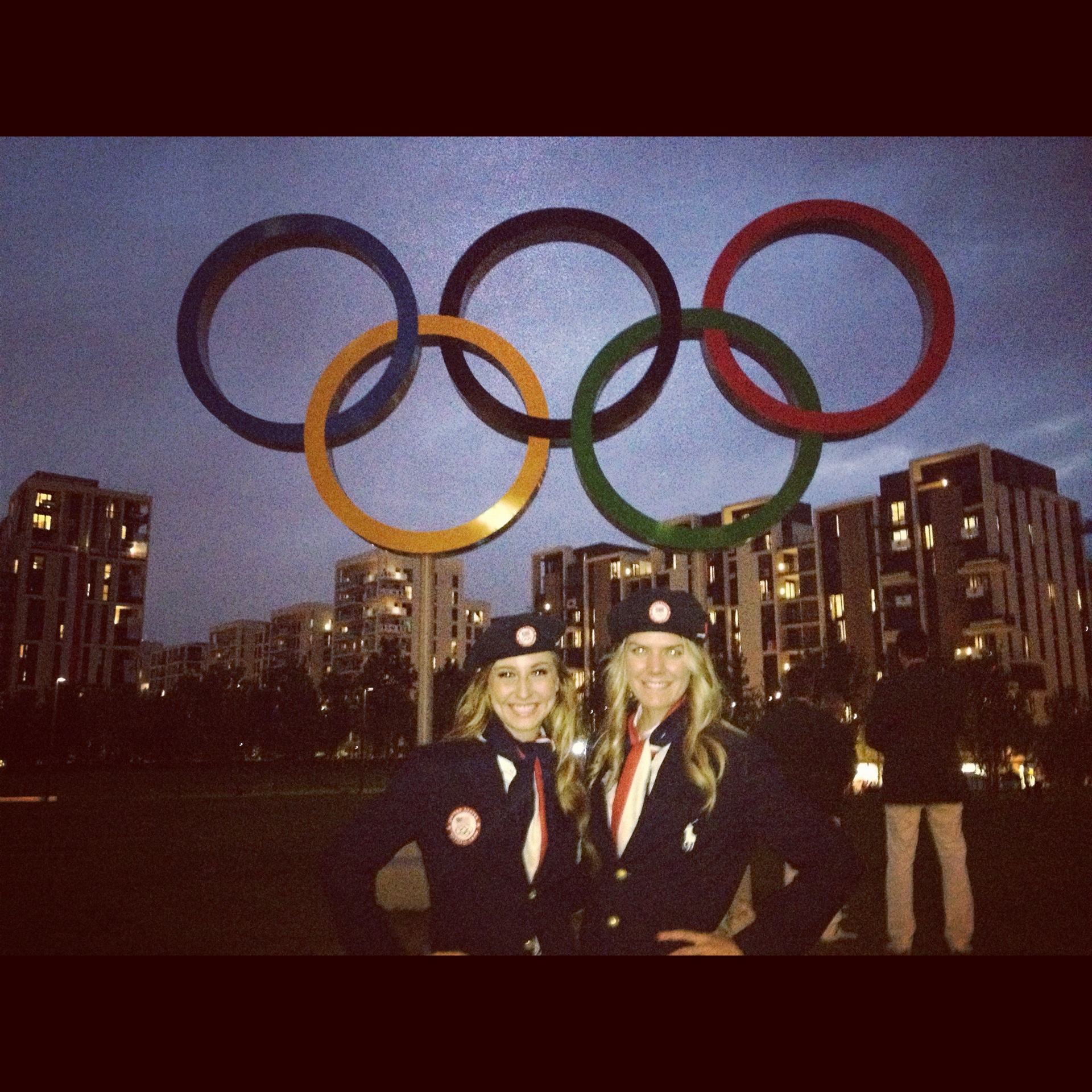 (Amanda Furrer, Paige Railey)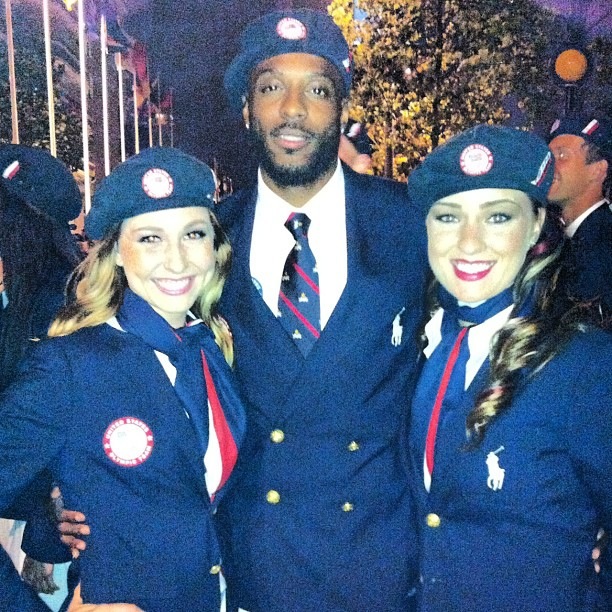 (Amanda Furrer, Angelo Taylor, Corey Cogdell)
The way to the stadium was wild. People lined the fences screaming "USA, USA!" Photographers and videographers were all over panning the sea of athletes marching down the path. My teammates and I wound up in the very front! I got to stand nearly right behind the American flag bearer. I could hardly contain myself. I wanted to run circles and jump up and down! After hours of marching, when we were just inside the stadium, we heard the words, "The United States of America," and we all marched in. People screamed and cheered. It was the proudest moment of my life. The big screens were zoomed on us. We looped the stadium waving and cheering as representatives of our wonderful country. The ceremonies were surreal. I watched the performers, took photos, mingled with athletes, and then I watched the Olympic flame being lit. That was a life-changing moment. Standing just a few yards away from a flame that burned for every athlete in the building, for every country in the world. We were acknowledged for our hard work and effort. It was our day. I will never forget standing in that huge crowd, but feeling by myself, as I slowly turned the circle of the stadium watching everything unfold. It was just me in a space of wonder, excitement, and pride. We walked into the stadium a bunch of athletes from USA Shooting, USA Track & Field, USA Swimming, and all of the other teams. We left that night as Team USA.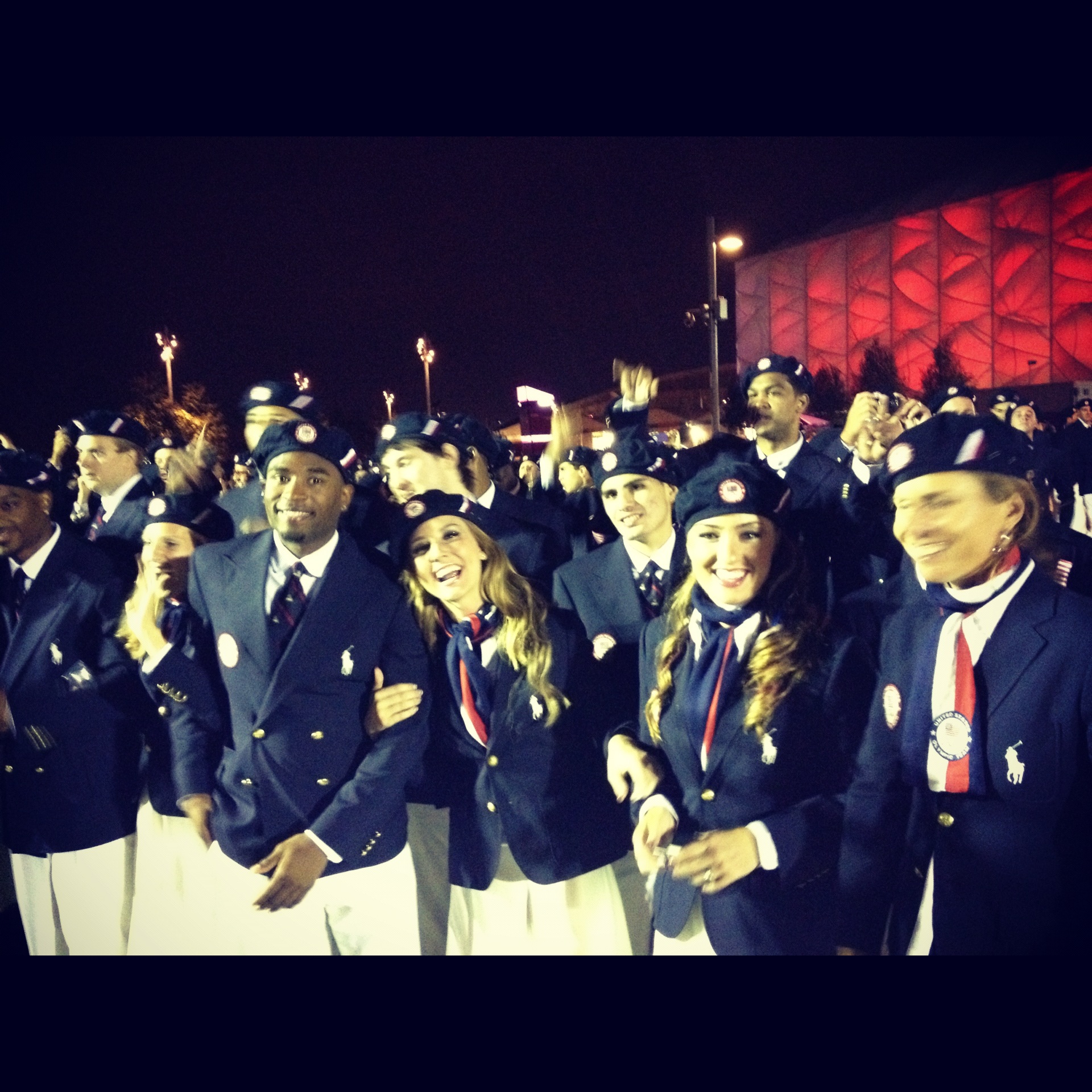 (Manteo Mitchell, Amanda Furrer, Corey Cogdell)