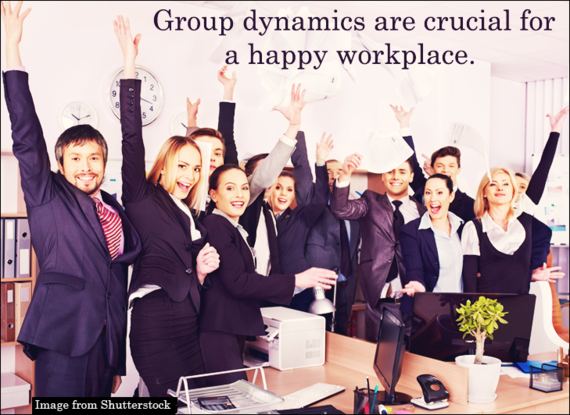 While preparing for a presentation to an organization that had an abysmal history of team performance I came across an article, "The New Science of Building Great Teams" Alex "Sandy" Pentland in Harvard Business Review, April 2012.
The most important factor for team success was the patterns of communication. How people speak to each other, team energy and engagement outside formal meetings was the best predictor of productivity. In short -- socializing together was important! In other words, group dynamics! I have been studying and teaching group dynamics for 28 years and know they are crucial for happy workplaces.
Here were some of the components of a great team:
1. Everyone talks and listens equally.
2. Members face each other -- person to person -- not email to email! There are energetic conversations.
3. Members connect directly in lots of short interactions -- they don't just connect through the leader.
4. Members carry on a conversation within the whole team.
5. Members periodically break away, go outside the group and bring information back with them.
6. Social time was critical, but interestingly, 'beer meets' and drinks after work were not nearly as effective as having lunch together at a long table!
There were also some aspects of communication that affected performance:
1. the energy, number and nature of face-to-face exchanges. Emails and texts gave the worst results and face-to-face gave the best results.
2. Engagement was measured by the flow of energy among team members -- everyone needs to be in that energy flow.
3. The component of exploration -- seeking information from outside of the team and bringing it back to share.
Amanda Gore is an author, award-winning motivational speaker and joy facilitator. Her philosophy is that Joy is an Inside Job. Finding joy is the secret to more productive, creative, successful and happy humans -- at work and home. Amanda is also the director of The Joy Project.
Sign up for Amanda's newsletter "Wired For Joy" here
To book Amanda for your event email: admin@amandagore.com.
Connect with Amanda on Facebook -- The Joy Project page.