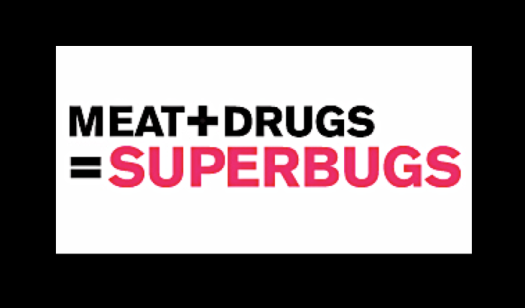 My friend Jennifer is a Supermom Against Superbugs. In 2006, her son Sam was training for football season and thought eating a chicken Caesar salad was a healthy choice. However, he became terribly sick from an antibiotic-resistant superbug and lost over 30 pounds. Sam made a full recovery, and the experience inspired Jennifer's family to take part in creating a safer food system, showcased in the film she produced with her husband, Food Patriots. Jennifer has become a national advocate to keep life-saving antibiotics effective for good reason. According to the Centers for Disease Control and Prevention, each year more than two million Americans become ill because of antibiotic-resistant infections, causing 23,000 deaths.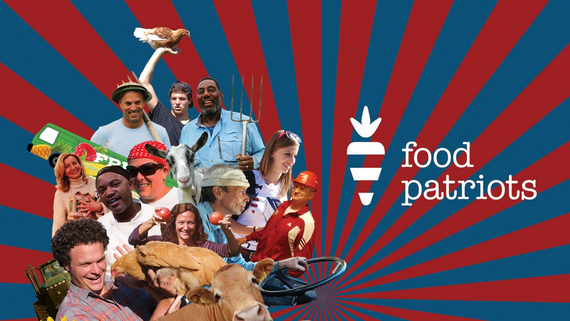 See the film trailer
Health experts are warning that the overuse of antibiotics in human medicine and food animal production is leading to antibiotic resistance and serious public health risks. Surprisingly, a majority of all antibiotics sold in the United States is used to help healthy livestock grow faster and prevent disease in dirty, crowded factory farms--not to treat sick people. When animals are given antibiotics over time, weak bacteria die off but strong bacteria may endure and become resistant to drugs. The danger is, if people ingest the resistant bacteria through improperly cooked meat and become ill, they may not respond to antibiotic treatment.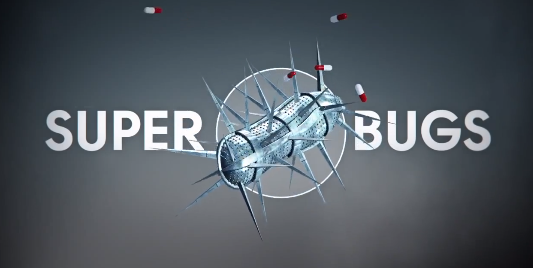 See this video.
It's estimated only 5% of meat sold today is raised without antibiotics. However, consumers and public interest groups are pressuring livestock producers to end unnecessary treatment as a means to improve public health, the environment, animal welfare and food quality. Markets are becoming more responsive to a growing demand for alternatives. Most notably, McDonald's, America's largest food chain, made waves last month when they announced they will stop purchasing chicken raised with medically important antibiotics - a potential game changer in the poultry industry.
To learn more about this issue, I spoke with Sasha Stashwick from the Natural Resources Defense Council (NRDC) about what more we can do to address this problem. For the past few years, she has been involved in a major campaign to end
the routine use of antibiotics in animal feed - that spurred McDonald's big shift.
Here are some ways you can help stop superbugs and support meat without drugs:
Keep in mind this is not just a chicken issue
Although "antibiotic-free" is typically associated with chicken, antibiotics are also overused in beef, pork and turkey production. Chicken is low hanging fruit, since Americans eat more chicken and changing practices in this industry is easier done. While antibiotic free chicken is increasingly available, we must also push to remove unnecessary antibiotics from all livestock production.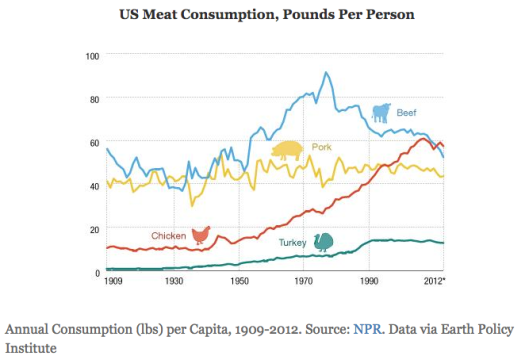 Reward mindful markets and producers
Access to buying meat raised without antibiotics is better than ever, often at a competitive price. However, read labels carefully. The FDA acknowledges USDA Organic and No Antibiotics Administered/No Antibiotics Added accompanied by USDA Process Verified or a private certifier such as the Global Animal Partnership. Be weary of No Antibiotic Residues, Antibiotic Free, Drug Free, Natural - these labels may be meaningless.The list below includes some supermarket brands of meat raised without antibiotics. A few grocers are taking the lead in offering these products. Currently, Whole Foods sells only antibiotic-free chicken. Costco has announced they will sell only antibiotic-free chicken by 2017. Trader Joes also carries it's own All Natural and Organic lines. Better butcher shops also feature a variety of non-treated meats, including Butcher & Larder, Chop Shop, Publican Meats, Eataly, Artisanal in Wilmette and Homestead Meats in Evanston. If your grocer doesn't offer a good selection, ask them too. You can also purchase directly from local farmers through meat CSAs and farmers markets, which are listed with Local Beet/Family Farmed, Eat Wild/Illinois and Local Harvest.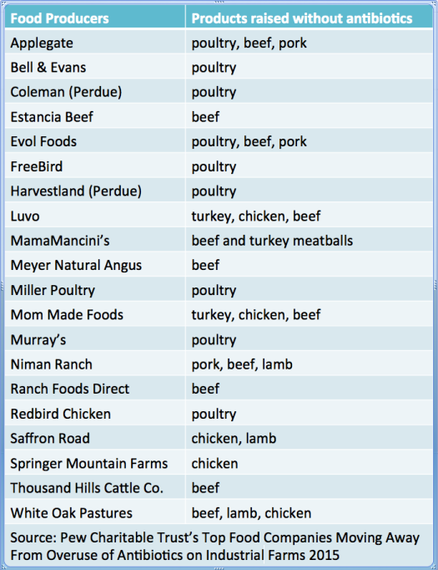 Seek out eateries that are leading the way
When eating out, it's hard to distinguish how meat was raised. Often, companies that source antibiotic-free choices are quick to promote it on their menus. The list below includes 25 restaurant chains in Chicagoland that are known to offer chicken, pork and/or beef raised without antibiotics, partially derived from the Pew Charitable Trust's wider list, Top Food Companies Moving Away From Overuse of Antibiotics on Industrial Farms, March 2015.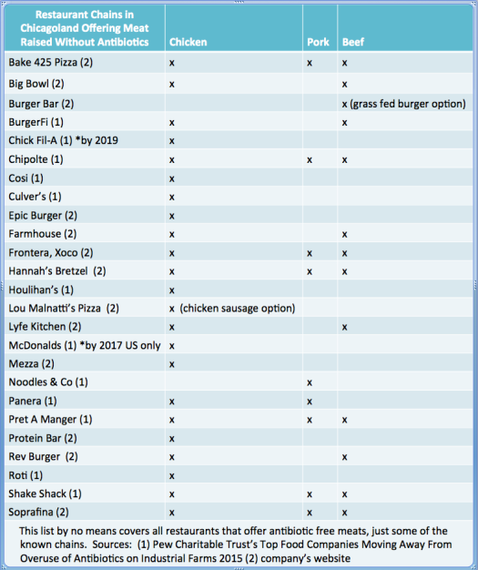 Antibiotic-free meat can be found at the Shedd Aquarium, McCormick Place, O'Hare Airport and Midway Airport as well. Also check out eco-minded restaurants that likely source cleaner meat from local farms, including guaranteed green locations associated with the Chicago Green Restaurant Coalition and others featured here: Chicago Green Eateries and North Shore Green Eateries. You might be wondering, what about Subway, Burger King, Wendy's, KFC, Taco Bell, Dominos, Olive Garden, Potbelly's, Portillos, PF Changs, Corner Bakery, etc. - as well as your favorite dining spots? Be sure to ask if their meat was raised with antibiotics and let them know your preferences.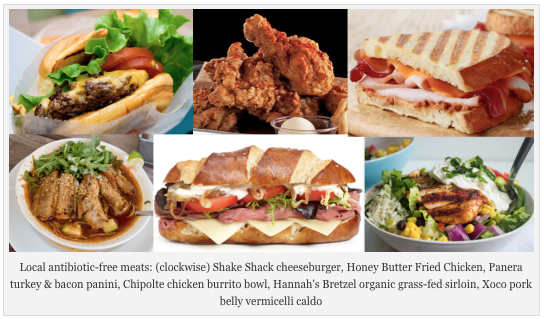 Look into your kids' lunch
More and more school cafeterias are shunning antibiotic-treated meat. Since 2011, Chicago Public Schools (CPS) began serving local chicken raised without antibiotics to students in 473 schools. In 2014, CPS joined a coalition of the largest U.S. school districts, including New York City, Los Angeles, Miami-Dade, Dallas and Orlando, and adopted a standard to serve only antibiotic-free chicken to students. In total, the Urban School Food Alliance's new standard will reach over 4,500 schools and nearly 2.9 million students nationally - 400,000 students here in Chicago. Evanston/Skokie District 65 and Evanston Township High School source antibiotic-free chicken from FarmLogix as well. Hand Cut Foods currently serves only antibiotic-free proteins at Gems World Academy, Catherine Cook, Lycée Français de Chicago and (next fall) North Shore Country Day. Organic Life and Gourmet Gorilla also provide untreated meat. Tell your PTA/PTO and school board you want cleaner sources for your kids' lunches as well.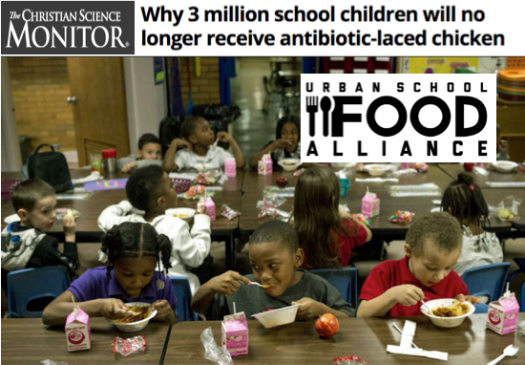 Open up to awesome vegetarian options
Meateaters can also enjoy plant-based meals, naturally sans antibiotics. Skipping meat can be tasty, healthy and more earth-friendly, requiring less land, water, and energy to produce and creating fewer greenhouse gases from farm to fork.


Keep fighting for better food policy
Due to the Food and Drug Administration's voluntary guidelines and loopholes, livestock producers are free to feed antibiotics to healthy animals. Furthermore, animal farms are not required to report drugs used to raise animals, and there's an overriding lack of transparency with consumers on how food is produced. NRDC and other public interest groups are working to clean up animal agriculture. If you want to stop the spread of superbugs, and ensure that meat is produced without antibiotics, please lend your support and sign this petition.