This review is part of our series on the most popular fitness tracker devices. Read the full story here.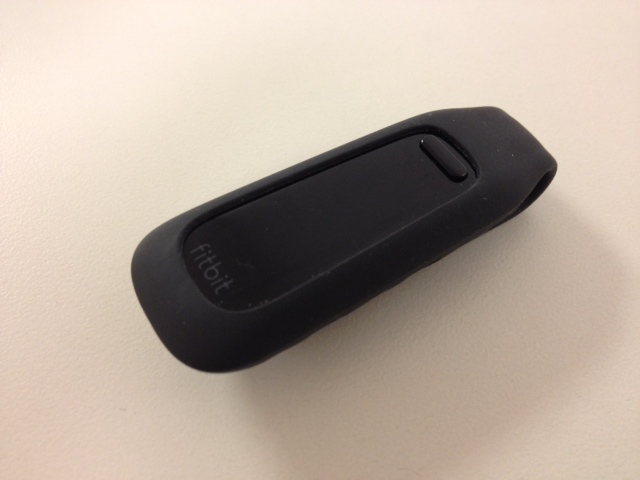 If I was trying to make a significant lifestyle change -- like if I was sedentary and was trying to be more active, or if I was trying to lose weight, etc. -- then I think I would probably shell out my own money to buy one of these. However, I have a relatively good handle of how much I'm moving every day to begin with, so I may not have gotten as much out of this tracker as other people would have. But there's certainly no downside to wearing one -- it never hurts to be more informed of your health!
Wearability
I was pleased with how little the Fitbit is. It's about the size of a battery, and can either clip on to a bra strap, a pocket/belt loop, or be worn in an armband. I chose to clip it on to my bra strap because I'd heard from other people who've used it before that it can be easily lost when clipped to a pocket. I thought it was pretty comfortable in that I completely forgot it was there most of the time. The only complaint is that it looked a little lumpy under my shirt, but I suppose that's my own doing since I chose to wear it there and not as an armband or in my pocket. I don't know that I'd call it "stylish" considering it's literally just a tiny black object, but it certainly didn't look offensive.
Usability
It's pretty easy to set up. The Fitbit comes with a little USB plug-in that you just stick into your computer. Then, that plug-in wirelessly syncs with the Fitbit to create a customized Fitbit dashboard. When your Fitbit is close enough to the USB plug-in device, it wirelessly transmits all the information from the Fitbit to your computer. No tangled cords needed!
The Fitbit itself is incredibly easy to use. There's a little button on it that, when you push it, shows how many steps you've taken, calories you've burned, flights of stairs you've climbed (or the equivalent thereof), and distance you've traveled that day. And the battery lasts pretty long too -- I never had to charge it once for the week that I used it.
Use
The device was informative in that I've never really used a pedometer or any kind of fitness tracker before, so it gave me all sorts of specific insight to my daily fitness habits that I'd never had before. I especially liked that it tracked how many floors I've climbed and the distance I'd traveled, because it made me feel accomplished every day -- like I'd gotten some semblance of a workout in, even if I didn't get a chance to go to the gym.
Effectiveness
It seems like the motto of the Fitbit is "positive reinforcement." I got emails when I hit 10,000 steps that day, or if I climbed more than 10 or 25 floors, which was encouraging. I don't think I necessarily exercised more than I would have if I wasn't wearing it, but then again I lead a relatively active lifestyle to begin with (I walk a LOT and play team sports).
Price
You'll find the Fitbit for about $99.99, which, to me, is a lot of money. However, it is a cute little device and compared to some of the other bulkier, uglier (in my opinion!) options out there, so it's not bad if you're in the market for a fancier-than-a-pedometer fitness tracker.