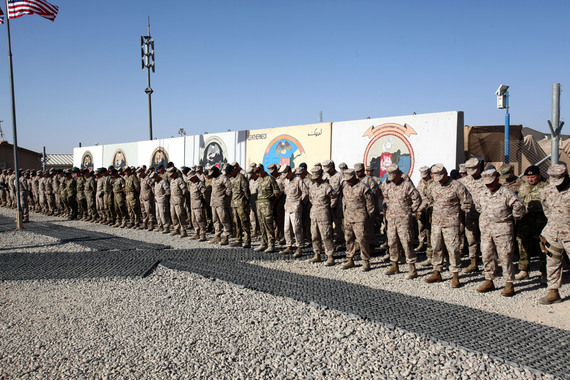 Today, Americans all over the country pay tribute and remember those whose lives were lost on September 11th, 2001. Earlier this morning Marines, sailors and other coalition forces still deployed to Afghanistan did the same. According to a release submitted by Regional Command Southwest, Several hundred service members gathered for a small ceremony during the morning hours, Sept. 11 aboard Camp Leatherneck Afghanistan.
After a reading during the ceremony the National Anthem was sung, an American flag was raised and lowered to half-staff, and a moment of silence was held for the service members to reflect and remember why they are in Afghanistan today . Brigadier Gen. Daniel D. Yoo, commander, RC(SW) and Marine Expeditionary Brigade - Afghanistan brought the ceremony to a close by reminding the service members in attendance of the significance of the day.
"For Americans, 9/11 evokes a very special meaning," Brig. Gen. Yoo said. "It's a memory of the world as we knew it on that day changing forever.
"Today's simple but solemn ceremony is a tribute to those innocent young men, women and children who were killed by a cowardly and heartless act of terror. That moment of silence gave us an opportunity to reflect and reminds us of why we are here today in Afghanistan in Helmand province. All of you could have chosen an easier path, but you chose not to. You chose a life of service, of sacrifice, of hardship and challenges.
"It is my honor and privilege to stand here with you today, on this most sacred day for Americans. And I know together we will not forget the sacrifices of all our predecessors, and we will finish off this mission to the expectations of our fellow service members, our nations and the free world. God bless America and Semper Fidelis."
Below is a slide show of images from this morning's ceremony. As we remember those who lost their lives in 2001, let us also remember those who still fight for our freedom.
PHOTO GALLERY
Marines Hold 9/11 Remembrance Ceremony in Afghanistan