Five years ago, our lives were horrifically interrupted. I thought my son, Noah, had a stomach bug. He threw up and had a headache while getting ready for school. After hurrying to the pediatrician's office and insisting on an MRI, we went from "stomach bug" to "brain cancer" in less than seven hours.
After the longest night of our lives, Noah had surgery at 7 a.m. Nine hours later, as he lay in the pediatric ICU, covered in IVs, I sat by his bed holding his hand and told him, "Noah, I will get you through this. You will never remember it, but I will never forget. This will not define you."
Then I sat in silence and thought, "What if there was something that could go in and 'eat' whatever cancer cells are left?"
Noah underwent chemotherapy and radiation for more than two years. In that time, we went through every protocol available. Many of these were crazy combinations of drugs, like thalidomide mixed with a cholesterol medication and traditional chemotherapy drugs. I used to think to myself, "If I went under the kitchen sink, mixed everything in a bowl, I bet that would kill cancer, too. But what is it doing to his little body?" I knew what it was doing and the toxic side effects were unacceptable.
I just wanted "something different," something better for these children. This started my search and I learned a lot as I became a "momcologist." In the last 30 years, no new drugs had been developed for Noah's type of cancer. I was on the trail of personalized cell therapy: using the body's immune system to fight cancer.
In March 2011, I received the call that would change our lives. Late one night, my cell phone rang. "Is this Amber? This is Dr. Laurence Cooper, from MD Anderson Cancer Center in Houston. I hear you are looking for me?" After five nights of lengthy discussions, including begging him to create an immune-based therapy for pediatric brain cancer, he said YES!
This was my "something different."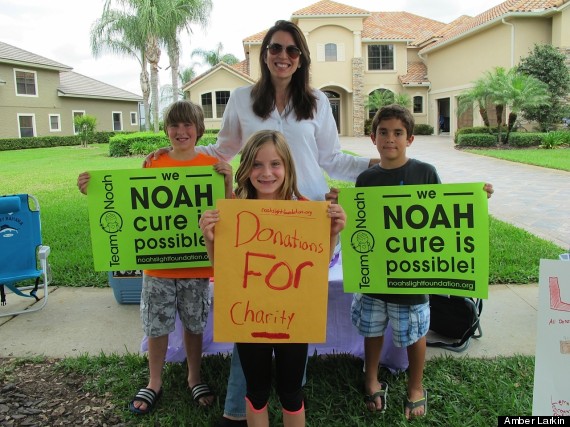 Noah was going to be a study of one, then the plan was to open the Phase I trial for other children. The treatment would use specially trained natural killer (NK) cells to go into the fourth ventricle of the brain and "seek and destroy" all the remaining cancer cells. I was witnessing my "what if" as it became reality. Watch this amazing video to see how it works.
A worldwide consortium of researchers grew and the NK cell research, which came to be called The NOAH Protocol (New Opportunity Advancing Hope), rapidly moved forward and finally was submitted to MD Anderson's Internal Review Board. They were so floored at the paradigm shift that this presented toward a cure for cancer that they called it the closest promise to a cure they had seen in three decades. However, it could not be a study of one. It had to be opened as a full Phase I trial.
Time wasn't on our side. We had already been battling Noah's cancer for two and a half years.
On May 29, 2012, my Noah was not the first to receive The NOAH Protocol. Instead he received his wings and became cancer free, just not in the way I'd hoped.
So is that the end of my story? Did my "what if" become "what was" or "what might have been?" No, it's now "what is" and "what's to come."
My Noah's posthumous gift to this cell therapy has pushed it faster than we could have imagined, actually getting it out of the lab and to the children. As of October 13, the NOAH Protocol received the FDA's green light to begin Phase I.
Little did I know that the night I was holding Noah's hand, explaining that this would not define him, he was really defining me. All of this started because of one amazing boy, my son Noah, and a "what if."
This blog post is part of a series produced by The Huffington Post and The NASCAR Foundation, in conjunction with the latter's Betty Jane France Humanitarian Award. HuffPost will feature a blog by each one of the four finalists on consecutive days, and each will appear on HuffPost Live that day. To see all the posts in the series, visit here. For more information about the Betty Jane France Humanitarian Award -- and to vote for the winner -- visit here.