I recently had the opportunity to organize a demo day for activists, bringing together an energetic group of technologists, artists and designers. Running demos of my own project, Signal Strength, at Occupy Wall Street last fall led me to discover many talented people with the same goal: to further democracy through emerging technology.
Along with fellow organizers Taeyoon Choi, Dan Phiffer, Mark Shepard, Gloria Suzie Kim, and Mary Mattingly, an open call for projects was announced to reach out to a diverse group of activists. It was a day collaboration and discussion of the social implications of technology in protests.
Activists brought with them a variety of tools, apps, and prototypes including hacked bicycles. The Free Network Foundation set up a 14 foot tower that provided open wireless access for the event -- a triumph as their original tower was confiscated by the NYPD. Founder Isaac Wilder said, "If you're not actively trying to bring people over to free alternatives... you're doing a disservice to civilization!"
Tedward Hall, an organizer for Occupy Wall Street and founder of lghtsrc.org ruminated on decentralization. "This sort of organic, participatory, public infrastructure that everybody builds... we're trying to find a solution to a social problem through technical means. This battle is a social battle."
A full list of the projects, organizations, and participants is below.
OWS TECH OPS
Supports the online communication and organization needs of OWS and the New York City General Assembly.
DIGITAL DEMOCRACY
Empowering marginalized communities to use technology to build their futures.
ENERGY BIKE
Human powered bike generators from Zuccotti Park.
OCCUPY WITH ART
Artists, writers, curators, and art professionals lending their skills to produce art, cultural events and projects, with a particular focus on OWS itself as a social art process.
I'M GETTING ARRESTED
An Android app that enables anyone, with one click, to broadcast a custom message to anyone they wish (loved ones, lawyer, etc... ) in the event they are arrested.
THE SIGNAL STRENGTH PROJECT
Modules for ad-hoc social networking that let people in an urban area interact offline, leveraging their mobile phones for untraceable communications.
OCCUPY HERE
A hacked wifi router to offer a new kind of venue where both committed activists and casual supporters can engage with each other.
THE PEOPLE'S SKYPE
A phone-powered platform that lets anyone with old or new phones magnify the range of the People's Mic.
OUR GOODS
An online barter network for creative people.
SPACEBANK
Offers a virtual community a set of innovative and revolutionary ideas related to banking, speculation and investment.
AUGMENTED REALITY ACTIVISTS
An archive, a meeting place, and a knowledge center for activists working with augmented reality.
OCCU-BOT
A D.I.Y robot for occupation and picket holding.
GUARDIAN PROJECT
Open-source mobile tools for activists.
MYI
An app that allows users to instantaneously upload media from handheld devices to the Internet.
VIBE APP
A new GeoSocial app with which users send mini-blogs with anonymous and self-destruct options.
SUBWAY
An app that enables anyone to dance, regardless of the rigid laws about dance in their communities.
GREENMAP
Allows users to interact with thousands of great places charged by local Green Mapmakers around the world.
NEWSMOTION BIKE MESSENGER
An alpha prototype kit for LED wheel displays that will visually broadcast geolocative data -- such as traffic fatalities at each intersection and block, updating as you ride.
The event culminated with a group discussion featuring Stephen Duncombe, associate professor at the Gallatin School and the Department of Media, Culture and Communications of New York University and co-creator of the Center for Artistic Activism, and Mary Mattingly, Eyebeam Fellow and the creator of Waterpod. It was moderated by Taeyoon Choi, Eyebeam Fellow and committee member of The Public School New York, which supported the event along with Eyebeam Art and Technology Center.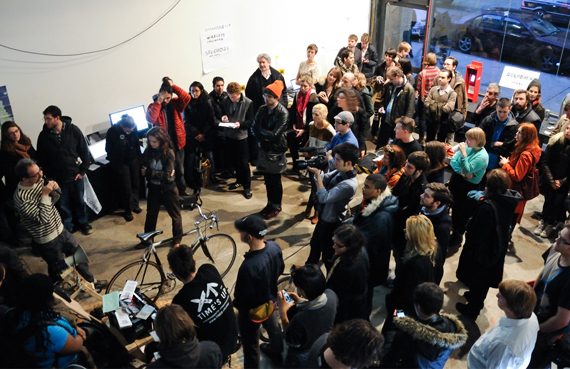 Photo: Tim Clark