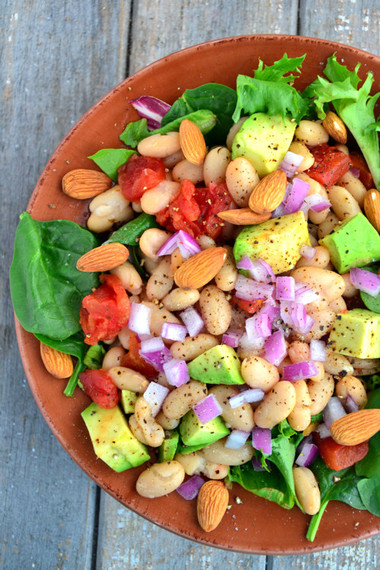 Winter blues come in all forms, which has got me thinking: what's the reason behind the seasonal slump? Yes, there's less daylight, less vitamin D. Yes, the leaves are gone, the grass is brown, and the color palette outside my window is a smattering of grey tones.
If you live in the northeast like me, then you don't need me to explain what it's like to be icy to your very bones -- the chilly weather keeps us indoors for the majority of November through March. I know we're just animals at the end of the day, affected by things like light and color and temperature, but after living on this planet year after year I have to ask: why don't we know what's coming and choose to stay perky all winter long?
Well, I think I've figured it out. Maybe it's not the weather so much as what the weather prevents. I mean, there's still tons to do once the thermometer dips toward freezing: outdoor activities like skating and snowshoeing and skiing, indoor fun such as holiday parties to attend with loved ones, cozying up by the fire with that special someone, plus all the hot chocolate and mulled cider you need to warm up those fingers, toes, and that frost-bitten nose.
So, maybe it's not the season itself, but the little things that don't happen during these darker months. Without lots of sunshine and its warm rays heating up the earth, not much can grow. When not much grows, there's not much to sell at a local farmer's market. And, our farmer friends might get a little chilly standing around selling us their limited goods all day. We wouldn't want to do that to them!
But if you're like me, and you eat organic, you also like to eat foods that are in season. That means our favorite fruits and veggies that are ready to be eaten in the spring and summer simply aren't available for our favorite dishes come the end of fall. There is an alternative to this major produce dilemma, however, that doesn't force you to reach for conventional, foreign-grown foods that are full of pesticides and GMOs.
Nope, December does not denote "The Dirty Dozen" for this girl! You could go the ol' fashion route: take a page out of your ancestors' books and buy organic fruits and vegetables in bulk in the summer, and load up your freezer for cooler days. Or, you could save space in your kitchen and give yourself more time to enjoy the warmer months by shopping your grocer's freezer section for Earthbound Farm's organic frozen produce come winter.
Beat Winter Blues With Foods Like Frozen Berries
Craving berries, cherries, peaches, greens, squash, broccoli or peas in December? Earthbound Farm has got you covered with these items and more! Forget juice from concentrate in plastic containers, dust off your juicer and whip up some homemade organic juice. I love squeezing the sweet nectar from blueberries, raspberries and strawberries to make a sugary tri-berry blend that I can enjoy as is or add to fresh squeezed lemonade, homebrewed tea or even spike with a splash of seltzer for a fun little spritzer.
I might sound redundant, but pull out your trusty blender and mix up a beverage that'll send you soaring back to July. Talk about food for the soul! Just close those eyes and pretend your toes are in the sand. Organic pies are no problem with Earthbound Farm Organic Frozen Fruit. What's better than a slice of honey caramelized peach pie served with a scoop of vanilla ice cream drizzled with a berry compote after a hearty stewed vegetable dinner? Every single item can come from your market's freezer section, just look for the Earthbound Farm label. Now, that's budget and body friendly. See yah later, Seasonal Affective Disorder, I've got frozen produce to keep my mood buoyant!