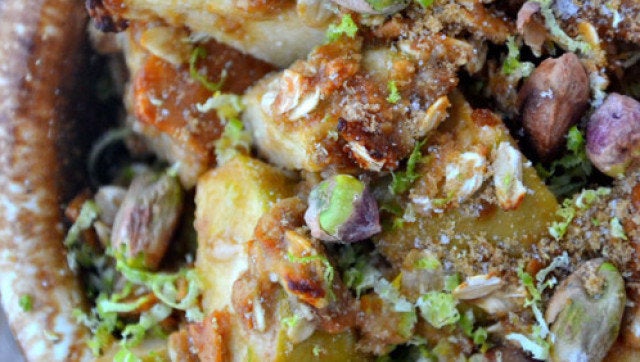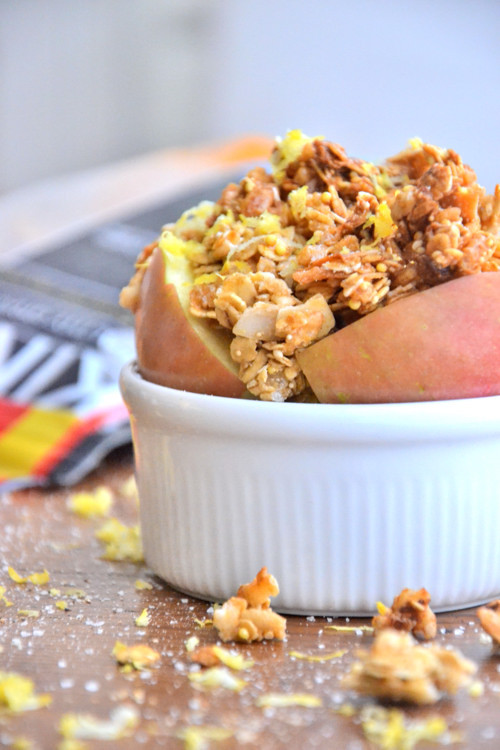 Looking for a quick 'n easy dessert to serve this holiday? Here's a simple gluten-free and vegan apple crisp that can be made in under 30 minutes and it's made with a fun (and healthy) gluten-free granola -- which I have a hard time finding in the stores. I've been using it atop yogurt, on desserts and even eating it out of the bag as a desk-side snack when I have the afternoon munchies. But for this recipe I decided to toss it with fresh apples, flax seeds and agave nectar to create a flavorful treat that can be enjoyed by everyone (and they don't even have to know it's gluten-free or vegan). Who would have thought you could make a gluten-free great tasting dessert made from 100 percent whole grains like quinoa, amaranth, oats, millet and buckwheat?
Dig in! It's a 'Happy' Holiday Dessert You'll Love!
Gluten-Free Holiday Apple Crisp

Gluten-Free, Dairy-Free and Vegan
6 McIntosh apples, cored and cut into 1/2-inch chunks
2 tsp. agave nectar
1 tsp. ground flax seeds
2 cups KIND Snacks Healthy Grains Peanut Butter Clusters
Preheat oven to 375 degrees F. Prepare a large baking dish with nonstick baking spray; set aside.
In a large bowl, combine all ingredients; gently toss to combine. Transfer mixture to the prepared baking dish. Bake for 10-15 minutes or until apples are soft and tender. Remove from oven; set aside to cool for five minutes before serving.
Enjoy with a dollop of dairy-free ice cream or yogurt.