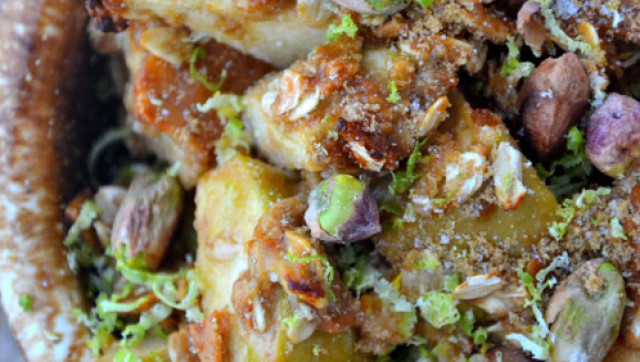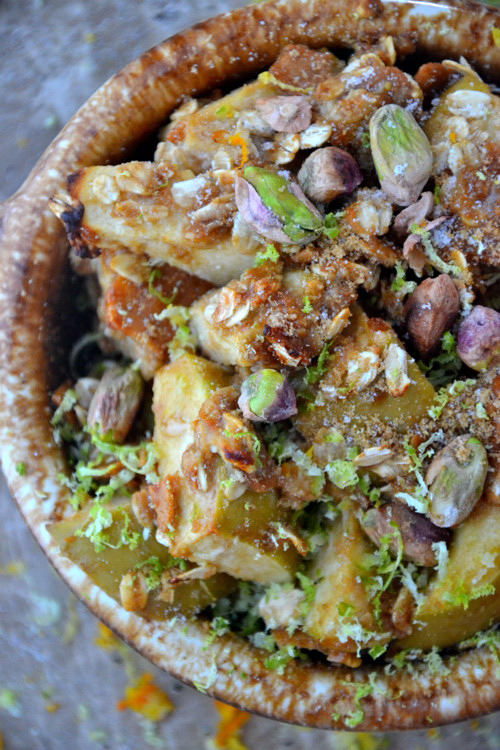 Here's a fun Autumn treat you can easily whip up with a bunch of fresh apples.
I have a sugar-free version of Gluten-Free Apple Orange Pistachio Crisp here.
Gluten-Free Apple Lime Crisp

Ingredients
2 Tbsp. honey
3 Tbsp. butter
1 tsp. cinnamon
1 Tbsp. lime zest
3 Granny Smith apples, peeled, cored, and cut into 1/2-inch pieces
3 Honey Crisp apples, peeled, cored, and cut into 1/2-inch pieces
1/2 cup gluten-free all purpose flour such as Bob's Red Mill
1/4 cup pistachios, finely chopped
1/4 cup gluten-free oats such as Bob's Red Mill
2 Tbsp. freshly squeezed lime juice
1/2 cup So Delicious Coconut Milk Yogurt
Directions
1.Preheat oven to 350 degrees F. Prepare a baking dish with nonstick baking spray.
2.In a medium bowl, combine honey, 1 tablespoon melted butter, cinnamon and lime zest. Add apples; gently toss to combine. Transfer mixture to the prepared baking dish.
3. In a small bowl, combine flour, pistachios, oats, and remaining butter. Using your fingers, mix to form a crumb consistency. Sprinkle crumbs over apples. Drizzle with freshly squeezed lime juice. Cover dish with aluminum foil and bake for 30 minutes or until bubbling. Uncover and bake for another 20 minutes.
4.Remove from oven; set aside to cool for 10 minutes before serving.
5.Serve with a dollop of yogurt. Enjoy!