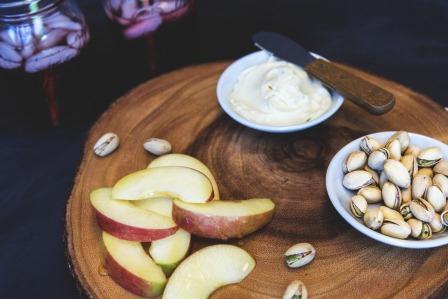 The holidays are packed with seasonal gatherings, cocktail parties, lavish dinners and one too many sugar cookies and glasses of eggnog. We all know how easy it can be to overindulge on holiday treats that are full of empty calories--from greasy appetizers to sugary desserts--there are far too many unhealthy choices.
This year, instead of noshing on sugar-laden treats or overdoing it on the mini quiche appetizers, reach for an easy snack that will keep you satisfied and happy! I've been serving in-shell pistachios at all of my holiday gatherings; a bowl of them with appetizers like goat cheese and honey. Or tossed into a quinoa salad with chicken as well as crushed and sprinkled atop my healthy biscotti cookies with dark chocolate. In-shell pistachios are one of those lean-protein (and healthy) ingredients that are fancier than peanuts or cashews and everyone loves their pop of flavor eaten alone right from the shell or added to a recipes.
Pistachios are a great tasting holiday snack for guests to nibble on during cocktail hour or enjoy with other festive favorites. In-shell pistachios are a weight-sensible option amidst the higher-calorie holiday fare - they're one of the lowest calorie, lowest fat snack nuts with six grams of protein and heart-healthy fats, which may help guests feel full longer so they're satisfied, not stuffed. Your guests will love cracking this savory snack nut, and the visual cues of the empty shells coupled with the time it takes to crack this festive snack may help with portion control for mindful holiday noshing.
Get out of your usual peanut or cashew 'nut rut' and break out the pistachios this season for a festive crunch you can add to appetizers, main meals or desserts!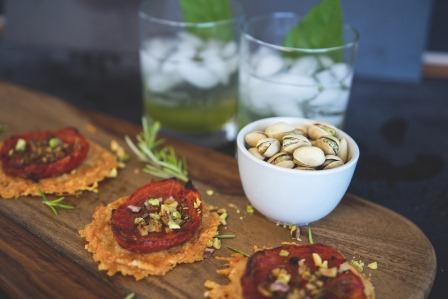 Try these easy-to-assemble pistachio-inspired appetizers this holiday season to wow your guests:

• Dress up your standard cheese board with in-shell Pistachios and crispy apple wedges:
In-shell Pistachios + Gouda/Cheddar/Brie + Apple Slices + White Wine

• Impress guests with this sophisticated trio:
In-shell Pistachios + Rosemary Garlic Roasted Tomatoes + Parmesan Crisps + Red Wine

• Indulge with this guilt-free sweet and savory pairing:
In-shell Pistachios + Orange Slices + Dark Chocolate Chunks + Sparkling Wine (or Sparkling Apple Cider for the kids!)