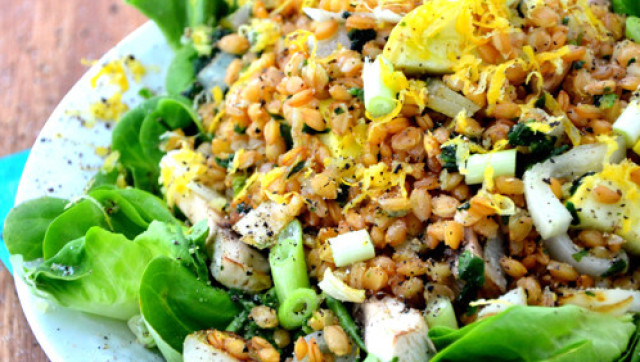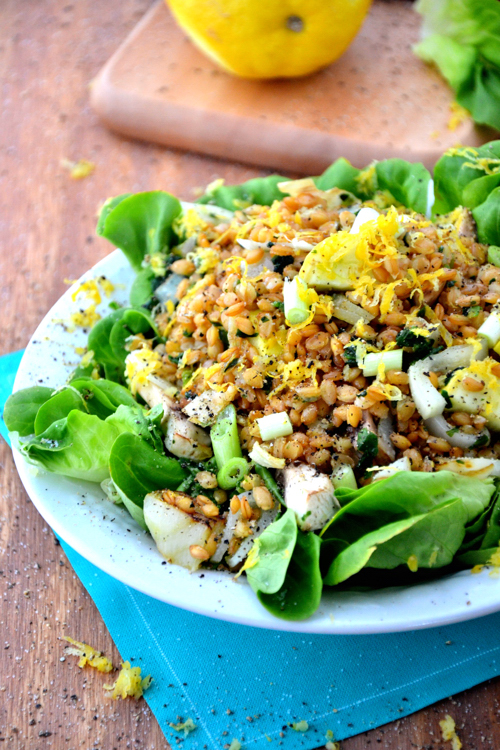 When I make this, one of my all-time favorite salads, I like to keep things simple. I start by making a batch of gluten-free teff and tossing it with fresh vegetables and orange juice. If you can't find crispy white frisee lettuce, you can substitute arugula. Both stand up nicely to the sweet chia dressing, but frisee adds a bitter edge and crunchy texture.
Labor Day Summer Teff Salad with Chia Dressing
Gluten-Free and Vegan
Ingredients
2 large yellow summer squash, sliced into 1/2 inch pieces
2 cups cooked teff (gluten-free grain)
1 cup steamed kale, finely chopped
2 scallions, thinly sliced
1/2 medium red onion, thinly sliced
3 Tbsp. fresh orange juice
2 tsp. balsamic vinegar
1 Tbsp. orange zest
2 Tbsp. extra virgin olive oil
2 tsp. Barlean's chia seeds
1 large head Butter lettuce
1/2 cup frisee lettuce
1/2 tsp. sea salt
1/4 tsp. freshly ground pepper
Fresh cilantro, for garnish
Instructions
In a large bowl, combine squash, teff, kale, scallions and onion.

In a separate small bowl, whisk orange juice, vinegar, orange zest, olive oil, chia seeds, sea salt and pepper.

Pour chia seed dressing over squash mixture; gently toss to combine.
Carefully break apart pieces of lettuce and place into serving dishes. Portion teff mixture on top. Garnish with fresh cilantro.
Enjoy.