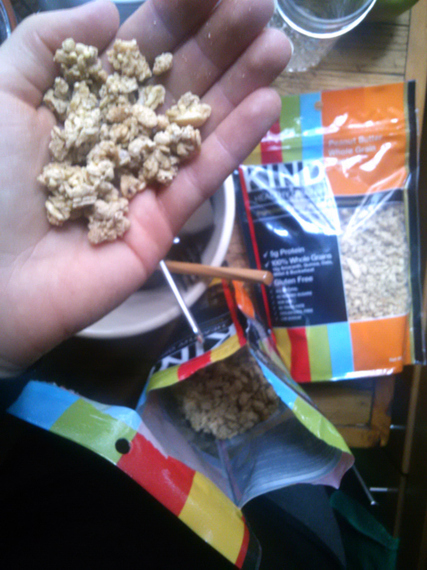 National Peanut Butter Day -- the Gluten Free Way
PB&J and fluffernutter sandwiches will always be near and dear in our hearts, but there is more to peanut butter than just slabbing it between two pieces of bread. The smooth, crunchy, stick-to-the-roof-of-your-mouth snack deserves more than that. And believe it or not, there is in fact a holiday to help the world appreciate the beloved joys and hidden complexities of peanut butter. So, on January 24th, National Peanut Butter Day, move beyond the simple PB&J sandwich. Ditch the jelly and create something new with that old lunchbox comfort. To help further the peanut butter cause, and to help you move beyond your childhood favorites, I have put together some of my favorite gluten-free PB recipes -- all of which are tailored just for you. Because you're special. And so is peanut butter. All recipes serve one.
Peanut Butter Smoothie. Are you a fitness lover looking to refurbish your post-workout fuel? Try this recipe at home for a natural recovery that will have you coming back for more. In a blender, combine 10 oz. almond milk, 1 Tbsp. peanut butter, 2 tsp. ground flax seeds, 1/2 tsp. ground cinnamon, 1 cup organic spinach, ice and 1 large organic banana; blend until smooth and serve chilled.
Chocolate Peanut Butter Toast. Let's be honest, we all have a sweet tooth but when following a gluten-free diet, it can be difficult to find sweets that taste good, too. This recipe will be sure to appease both your sweet and PB tooth - take my word! Toast 2 slices of gluten-free bread; spread 2 Tbsp. peanut butter on top of toast. Top with 2 Tbsp. dairy-free mini chocolate chips and 1 tsp. shredded coconut.
Peanut Butter Banana Parfait. Who doesn't love breakfast? This recipe is not only healthy but it combines some of my favorite ingredients (bananas, honey, granola, and more). In a tall glass or Ball jar, layer 1 cup plain yogurt, 1 Tbsp. yogurt, 1 Tbsp. Peanut Butter, 1/3 cup peanut butter-flavored granola and 1 sliced banana. Serve chilled.
For the Hot Chocolate Aficionado
Peanut Butter Hot Chocolate. It's cold outside so this cup of warm, decadent hot chocolate may be just what you're looking for to get daily dose of peanut butter. In a small saucepan over medium heat, combine 1 cup almond milk, 1/4 cup cocoa powder, 1 Tbsp. peanut butter and 1/4 tsp. vanilla extract; mix well to combine. Do not boil, just warm liquid, then remove from heat and add in 1/4 tsp. ground cinnamon and 1/4 cup mini marshmallows. Serve warm with marshmallows.
For the Late Night Snacker
PB Graham Ice Cream Sandwiches. We know we shouldn't, but we do. This is why I recommend this light, but tasty, peanut butter cracker sandwich. Using two gluten-free graham crackers, spread each with 1/2 tsp. peanut butter, then top with 2 Tbsp. coconut milk ice cream. Smush the crackers together and enjoy like an ice cream sandwich.