Last night it was announced that the Chicago Mercantile Exchange (CME) along with several other corporations would return the TIF money previously allocated for them. The cynic in all of us wants to say that this is not a win because of the roughly $77 million tax break deal they successfully lobbied through the legislature for themselves, but I'd like to ask you to take a moment to ponder this question: When has one corporation, let alone three, ever given back TIF money in Chicago? NEVER.
Regardless of the Springfield deal, this has set a precedent.
This victory (and we should boldly call it that) comes on the heels of years of work decrying the use of taxpayer TIF money as corporate subsidies, involving a wide array of actors. Chicago's best muckraker journalists Ben Joravsky and Mick Dumke have been beating this drum at the Chicago Reader for over a decade. Occupy Chicago parked themselves for months across the street from the Board of Trade; and the Grassroots Collaborative since May 2011 has been calling upon Mayor Emanuel to end the practice of subsidizing billionaire corporations with taxpayer TIF money, and upon the CME to return the $15 million given them in TIF funds.
For us, it's funny to think back to how it all started with a little bake sale outside of the CME headquarters, then the launch of the Corporate Welfare Tour.
This response from the CME shows that the efforts of coalitions such as the Grassroots Collaborative, Stand Up Chicago, and Occupy Chicago are winning the public debate around inequity and corporate responsibility. Now we just have to make sure it adds up to something concrete for working families, instead of going back into the crime that is the downtown LaSalle corporate slush fund.
With communities reeling from proposed school closings, cuts to libraries, and the shutdown of six mental health clinics, the $33 million dollars should be immediately returned to critical public services that working families of Chicago depend on.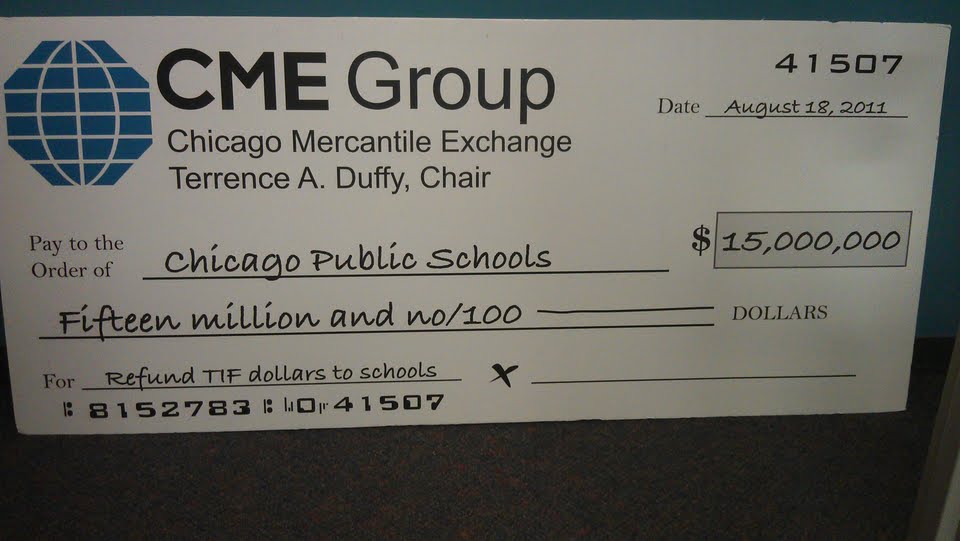 Viva Occupy!