Years ago, we started a family tradition of staying in on New Year's Eve. I don't exactly remember why, but it probably began one year when my husband and I waited until the last minute, couldn't get a sitter, and decided to create our own celebration at home. However it happened, we tried it, and when we didn't miss the crowds and the overpriced drinks, the idea stuck, and we never looked back.
Through the years, our celebration has grown to include three key elements: a few friends, cheese and chocolate fondue, and making vision boards. We invite over a few close friends to keep the stress and the noise down, as generally most of our friends have big plans on New Year's Eve. Everyone brings a little something to share, and we enjoy a quiet, low-key evening together. It's become one of my favorite holidays.
The fondue idea came partly because we're from Texas, so dousing things in cheese is commonplace, and since fondue is an upgrade from the usual chips and queso, it feels a little fancier and more festive. Also, my sister Emily and our dear friend Candace both lived in Switzerland as exchange students when we were young, so there's a strong fondue influence in the family. Making fondue is also a great excuse for the kids to dip brownie bites in melted chocolate so they have ample caffeine to help them stay awake to midnight (or, at the very least, midnight in New York).
Candace is also responsible for inspiring the tradition of making vision boards, and it adds a great opportunity for self-reflection as we wrap up another year together. She shows up with poster boards and stacks of magazines for inspiration, and we sit around and chat while clipping out pictures and phrases that will help us frame our vision for the coming year. I love looking at the old ones and observing what things came to fruition and accepting those that didn't. Sure, I wrote more, increased my activity level, and even committed to getting a family dog, but somehow I didn't spend a summer in Spain, got busy and forgot to invest in adult braces, and I didn't clean up my language. Also, I never scanned all of the family photos. Is that ever really going to happen?
This year was the first time that the men got involved in making vision boards, so things took on a new, refreshing and pretty hilarious twist. My husband really got into it. He wants to continue to be politically active, hopes to focus on his health, and wants to apply a filter when talking to others because currently, he doesn't have one. I'll let you know how that goes! He also included a small section with some cryptic things about me that included a picture of something orb-shaped that resembles a breast, so I may need to show some extra cleavage in 2014. Our friend Ray observed that the only magazines to choose from were women's magazines, and that next year, we might want to mix it up a little. Without much material to choose from, Ray carefully used a glue stick to apply images of travel plans, a new watch and flat abs, but he also pasted down "401k." Later, he glued the word "sexy" in front of it, adding that a 401K isn't exactly sexy, but he had a women's magazine to find the word "sexy" to jazz it up.
The kids take their vision boards seriously, working tirelessly between bites of chocolate-dipped strawberries and sips of non-alcoholic bubbly. This year, they gave serious thought to eating more whole grains and less sugar, focusing on being active, and being healthy. I particularly like the fact that while we get our images and phrases from women's magazines, the girls don't focus on looks as much as they do their health. One of my favorite parts of my 10-year-old daughter's vision board this year included a phrase that says, "Volunteering makes you beautiful."
What I like most about making vision boards for New Year's is that a vision board is just that -- it's stopping to take some time to visualize what you'd like to accomplish in the coming year. I'm not sure why, but it somehow holds less pressure than New Year's resolutions, which have a tendency to disappoint and fade away pretty quickly. It's also a great way to purge leftover magazines at the end of the year. The end result is positive self-reflection, fun idea-sharing, and waking up on New Year's day with a fresh view of the possibilities ahead.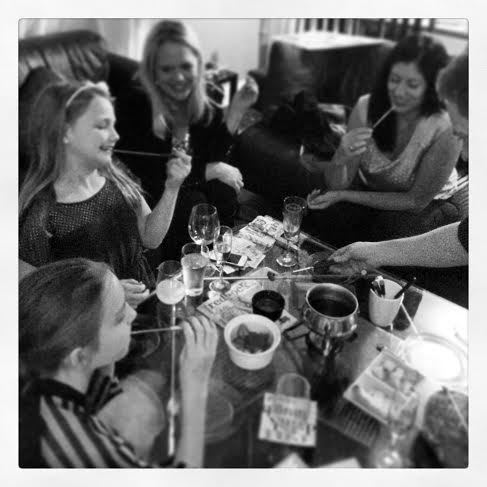 New Year's Eve with the Arndts, 2013