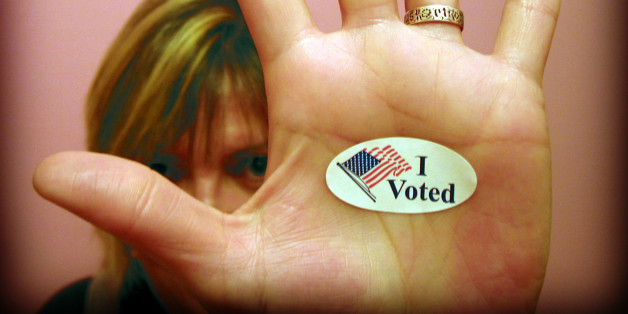 You may have heard about Wendy Davis, the Texas senator running for governor who became a national name when she stood nearly 13 hours to filibuster an abortion bill last summer. You probably heard about the pink sneakers and the "unruly mob" of women and men who flooded the Texas State Capitol to fight for women's reproductive and healthcare rights.
I live in Austin, Texas. A few days before the filibuster began, my husband told me something big was happening at the capitol and that we needed to go check it out. Until that point, my political involvement was pretty pathetic. Politics had always been my husband's thing; he would rather watch city council meetings than football. Each election day, my husband hands me a printed voter's guide, with scribbled notes and checkmarks for the candidates he deems worthy. It's pretty embarrassing when a self-proclaimed feminist lets her husband guide her voting choices, but until June of last year, voting regularly was the extent of my participation in the political process. In Texas, our voter turnout is embarrassing, so I always felt like I was a cut above the rest just because I voted.
Last June, things changed from the minute we walked into the capitol and witnessed history. When I heard Senator Davis and her colleagues speak passionately about a woman's right to make her own decisions about her reproductive health, I got so fired up I decided that the only way I could complain about what was happening was to get involved. I called my mom and sister and we put on orange shirts and marched with the "unruly mob." I got deputized to register voters, and my husband and I became delegates to our state Democratic Convention. We volunteered for city and state campaigns. I've made phone calls, knocked on doors and attended house parties and fundraisers. I've had the pleasure of meeting Senator Davis on several occasions, and I've gotten to know her daughter, Amber, so I know that Wendy is and has always been an incredible, loving, devoted mother to her daughters.
As I continued to be involved, I began posting my views on social media. I have woken up to hateful messages and horrific images from those with opposing views. I don't expect everyone to share my beliefs, nor do I think I have the power to change minds. However, I grow weary of the hatred that I see on from supporters of both candidates. I want us to be better than that, and when I see myself getting negative, I have to remind myself that I want to set a positive example for my children, and teach them that talking about politics doesn't mean you have to take the low road. Being positive is a choice as well.
People who admit they aren't passionate about politics ask me why I'm voting for Wendy. As a stepmother to two young adults and the mother of an 11-year-old girl, I'm voting for Wendy Davis because I agree with her position on women's reproductive rights. However, Wendy Davis is not a one-issue candidate. She's passionate about raising our education standards, and she will fight for a reduction in standardized testing for Texas students. She supports the LGBT community and believes in marriage equality. She is passionate about equal pay for women, and she wants to raise the minimum wage. She has reasonable views on immigration, and believes children who came to the United States by no choice of their own have a right to an education.
On November 4, I hope that more Texans will head to the polls and cast a vote, and that they will arrive informed. This year, I won't have my husband's voter guide in my hand. Instead, I'll be voting early, and when I put on my "I Voted" sticker, I'll be proud to vote for Wendy Davis, and I'll celebrate being an informed voter.