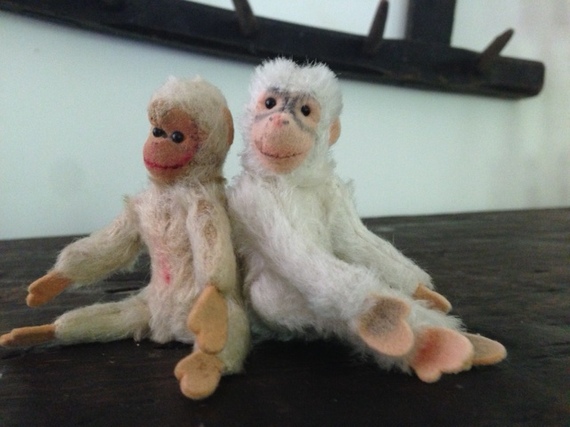 Jocko is a white ape. Some say he's a chimp, others describe him as a monkey. It makes no difference to me for I love the little guy regardless of his specie. Jocko stands about six inches tall, which was the perfect size to fit into my 6-year-old palm in 1966. That is when I received this furry fellow, a Steiff creation covered in soft mohair with articulated arms and legs. (Steiff is a German-based plush toy company known since 1880 for its high quality adorable animals. In good condition, Steiff toys are highly collectible and a vintage staple.) Jocko slept under my pillow for years. When I got too old to sleep with stuffed animals, he assumed a place of honor on my night table. From there, he migrated into a drawer then into a box filled with keepsakes and old letters. I'd spy his goofy grin from time to time as I added treasures to the box through my teens.
Somewhere between moving from one home to another to yet another, Jocko disappeared. Perhaps he was unintentionally donated or discarded as I went off to college and my dad moved to a new house. I didn't realize he was gone for more than a decade by which time I was a wife and mother. One day my brother, Hugh, and I sat reminiscing about our childhood playthings. Of course, my beloved Jocko came to mind and I mourned his loss aloud. Hugh remembered him fondly as well, mostly, I suspect, as a symbol of a simple, happy time in our lives. Once the conversation was over, I thought no more about Jocko until a few months later when... I found him! There he was tucked in a box of old hats and scarves in the basement of my country house, grinning at me with forgiveness as I grinned at him with glee. I liberated him from his wooly cave and took him upstairs to resume his rightful perch.
A year or two passed and my fortieth birthday arrived. At the celebration, Hugh handed me a small beautifully wrapped box and sat anxiously smiling as I opened it. Inside was another Jocko! I hadn't thought to tell Hugh I had found the first one and he had apparently searched for another. I was so touched by his sweet gesture, I didn't have the heart to tell him the original Jocko was "alive" and well in my bedroom. I flashed a desperate look at my husband and sons, who caught on quickly and also stayed mum about the chimp upstairs. Despite the duplication, I was completely thrilled by the thoughtfulness of the gift and knew it had probably cost a pretty penny on Ebay. One thing was obvious: The first Jocko must disappear once more.
To ensure my brother never came across my hairy little secret, I placed the original Jocko on a shelf inside my medicine cabinet in New York City (where I see him every morning and every night). The new Jocko resides in my upstate living room where he usually sits atop a rustic wooden rake that hangs on the wall. Many a young cousin has enjoyed a game of hide the monkey, wherein Jocko II gets stashed in a spot until the seekers find him.
So now, nearly 14 years later, my secret is out and the original Jocko can come out of the closet! To Hugh, I say I'm sorry I didn't spill the beans sooner but I love both my Jockos and I love you.