As I write this, there are two days left of school.
For me, there won't be any History instruction in these last two days as Thursday will be spent in graduation rehearsal all day (which is an instruction unto itself) and Friday is the 8th grade yearbook signing party.
But what there will be is a lot of goodbye.
There seems to be an assumption that teachers can't kick the kids out the door fast enough when the end of June rolls around.
There seems to be an assumption that we wait all year for that last day of school to say "Goodbye, See Ya, Don't Let the Door Hit You on the Way Out," so we can hit the beach.
If people only knew.
The last days of school are an exercise in letting go, saying goodbye, and watching a piece of you walk out of a door.
In my case, 126 pieces of me.
Which is not to say we aren't ready for them to go.
We are. Not because we want to be rid of them, but because we know they are ready to move on and that it is time.
They are not the same people they were when they walked into our rooms in the fall.
They are bigger, stronger, smarter, faster, braver, better than they were.
They are more than ready to meet the next challenge ahead of them.
But they'll do it without us.
It's true...we are already thinking about next year's kids and getting excited about new learning, new plans, new relationships.
But we're sad at being left and we miss them.
Every single year.
And maybe...just maybe...that's why I have such a hard time with my own children growing up.
Because I am being outgrown and left every single year.
It is a heartbreak unique to teachers.
The students enter in the fall and you know, already, that they will leave you in the summer.
And you still can't help but fall in love with them over and over and over again.
I cleaned out my classroom after school today.
Started putting things away, recycling papers, taking down posters.
I was left with this: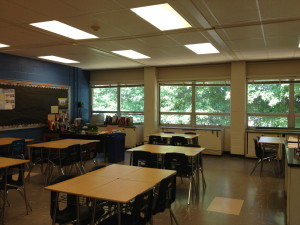 An empty room.
A sad room.
Because a classroom without students is a sad place to be.
My 8th graders graduate next Tuesday night and I will stand behind that podium and call their names and watch them take their diplomas and walk out of my life.
I just hope that somewhere, deep inside, they will always carry a piece of me with them, because I will always carry a piece of them with me.