Two days is surely not enough time to even scratch the surface of this city of buttery-rich French cuisine and romantic sites. But if you only have a short span of time, here are my top picks on where to eat, stay, and play.
EAT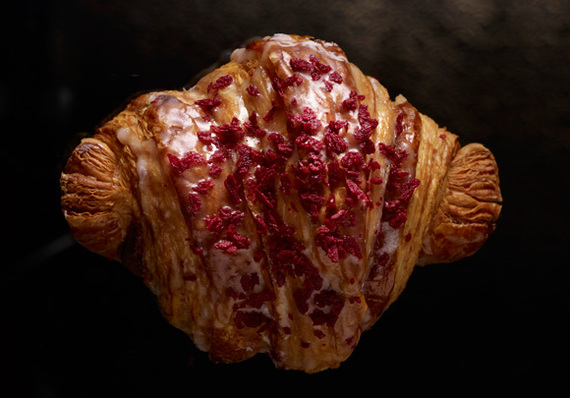 Isaphan croissant from Pierre Herme

Pierre Herme
French Vogue magazine dubbed Pierre Herme "The Picasso of Pastry." Be prepared to wait in line to get your fix of macarons, cakes and croissants. One of the best sellers is the "Croissant Ispahan" - a buttery croissant, glazed with rose-flavored almond cream, drizzled with candied rose petals, and filled with raspberry litchi. Not all locations have the croissant (visit the one on 4 rue Cambon) and they typically sell out by noon.
Address: 4 rue Cambon
Le Comptoir Du Relais
There's a reason why reservations take months in advance to get at this famous French eatery. The chef is Yves Camdeborde and the cochon au lait (slow-cooked pork over stewed lentils) is fantastic. If you don't have a dinner reservation, arrive early to vie for a sidewalk table. Or, do a walk in for lunch (12-3PM) and order a la carte.
Address: 9 Carrefour de l'Odéon
L'Avant Comptoir
This is an excellent place for French tapas. It has limited seating and is located next door to Le Comptoir. Get the 3-course set menu ($42 Euro).
Address: 3 Carrefour de l'Odéon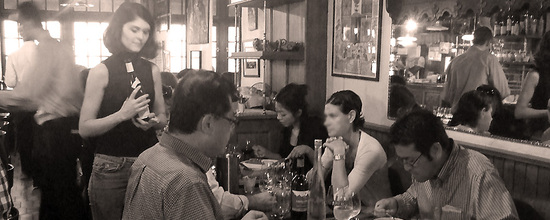 Insider Tip: Reservations are tough at L'Ami Jean, so do a walk-in right when they open for lunch
L'Ami Jean
This is my favorite French bistro in Paris. Expect creative twists to classic French cuisine (eg. seven-hours braised beef confit with carrot puree) and make sure to order the legendary rice pudding for dessert.
Address: 27 rue Malar
L'as Du Falafel
This is the most popular falafel spot nestled in Le Marais district. You can order at the window, which is just 5 EU, or if you eat inside, it is 7 EU. Get a falafel with everything in it (2 types of cabbage, hummus, tzatziki, eggplant, spicy sauce, falafel), or if you want a meat option, order the chicken. Note that this place is closed Friday and Saturday.
Address: 34 rue des Rosiers
Le Chateaubriand
Here you can expect inventive, good quality food in a simple, unpretentious environment. The bistro offers a fixed five-course menu every night. Make sure you call ahead for a reservation.
Address: 129 Avenue Parmentier
Hotel Costes
The hotel has a beautiful and unique design by the famous Jacques Garcia. Courtyard dining here is an absolute must and the bar scene is very trendy as well.
Address: 239 Rue Saint Honore
La Régalade
This is the kind of bistro that serves meals you take your time with. La Régalade offers classic French comfort food, and I recommend that Ink Squid Rissoto. Make sure to book a few days in advance.
Address: 49 Avenue Jean Moulin
Les Cocottes
If you are looking for hearty French food with a modern twist, this is the place to go. It's frequented by chic clientele, and the chef is Michelin Starred. Make sure to go there at 7:00 to snag a seat as they don't take reservations.
Address: 135 rue Saint-Dominque
Septime
I highly recommend this beautiful restaurant. They have a "surprise" degustation taster which is 6-7 courses that the chef chooses for you. They don't tell you what it is, but don't worry, they ask you beforehand what you don't eat. It's very difficult to get reservation, but it's worth the trouble.
Address: 80 rue de Charonne
STAY
L'hotel
This is one of my favourite boutique hotels in Paris for it's nostalgic charm and glamour; not to mention it's a block away from Laduree. There is a Boheme atmosphere to it, so if you are looking for something a little more intimate and luxurious, this is perfect.
Address: 13 Rue Des Beaux-Arts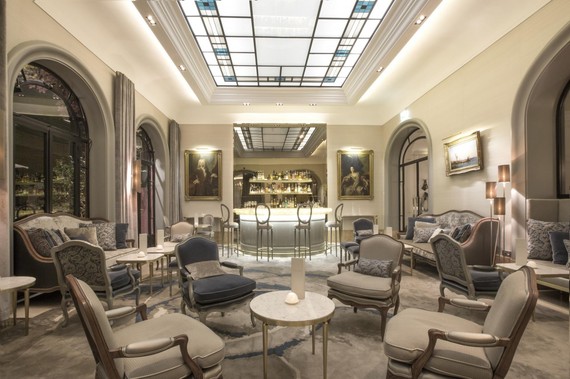 Hotel Lancaster is centrally located and has a contemporary classic design
Lancaster hotel
Just off the Champs Elysees, this hotel is located right at the heart of Paris. It was formerly a historic mansion that's been revamped, so the décor has a more classic, charming feel than modern.
Address: 7 rue de Berri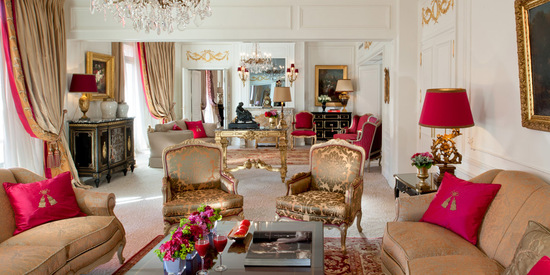 The Plaza Athenee was recently renovated this summer.
This haute couture palace is dreamy. The Hôtel Plaza Athénée originally opened in 1911. A $268 million dollar renovation was just completed this summer and the property has maintained its historical classic style but with an updated and fresh feel. The hotel includes a a fantastic fine dining restaurant helmed by the multi-Michelin star winning Alain Ducasse, the only Dior Spa in Europe, and 2:1 staff to guest ratio.
Address: 25 avenue Montaigne
PLAY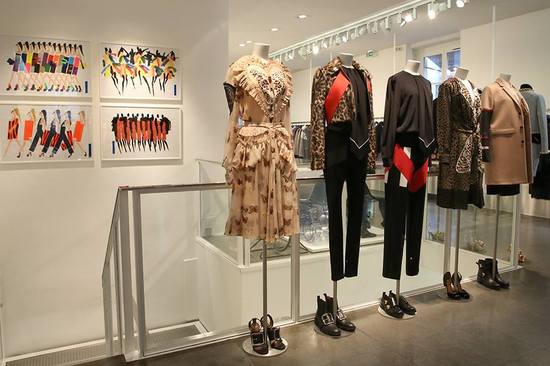 A well-curated collection of clothing, books, and knick knacks are available at Collette
Collette
Collette is a 3-floored concept design store that sells clothes, books, and other knickknacks. It even has a "water bar" that has over 100 brands of water and a minimalist café downstairs. A little bit kitsch and extremely modern, this store is visual eye candy and is worth stopping by even if it's just for the aesthetics.
Address: 213 rue Saint-Honoré
Marché aux Puces de St-Ouen
As one of the biggest flea markets in the world, Marche aux Puces is every antique collector's dream. You can find everything from antique furniture to vintage Chanel crocodile clutches. Make sure to bargain for your picks (preferably in French) and you will be able to find some incredible deals. There is only one cashpoint and there's always a line, so make sure you bring enough but keep an eye on your wallet (it's also a pickpocketers' dream here).
Address: 138 rue des Rosiers
Broken Arm
Although Paris is not exactly renown for for their coffee (don't expect latte art in this city), Broken Arm does an excellent job of breaking stereotypes. They source their beans from Norway and offer a selection of pastries, soups, and salads. This specialty coffee shop filled with natural light is also combined with a two-level concept store selling art books, shoes and clothing.
Address: 12 rue Perrée
Crazy Horse Show
The iconic Parisian cabaret is "a temple to sublime womanhood" and made famous by its nude exotic dances. The show is sexy and tastefully done and has a classy balance between being risqué and elegant with chic choreography and talented dancers.
Address: 12 avenue George V
St. Paul Area
Village Saint-Paul is one of the older parts of the city that exudes the timeless Parisian charm. The area is full of narrow streets with plenty of cafes and is a labyrinth of courtyards lined with vintage and antique shops. It's the perfect place for a cozy afternoon stroll.
Address: rue Charlemagne and rue Charles V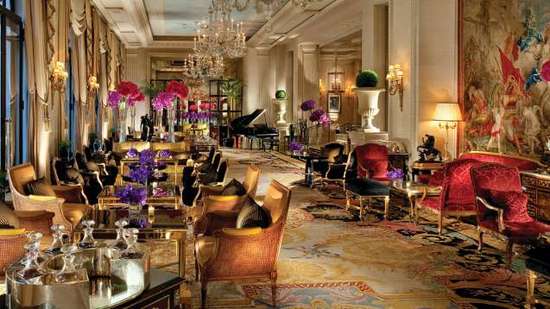 Exquisite dining area of George V Hotel
High tea at George V
For an indulgent tea afternoon, George V is the perfect choice. It's pricey, but that also means that you will be treated like royalty with the most exquisite pastries and champagne. The interiors are fabulously lavished with a color theme change every 5 weeks.
Address: 31 avenue George V
Amy Chan is a luxury hotel reviewer and lifestyle and relationship columnist. She is the founder of the online zine, www.JustMyType.ca