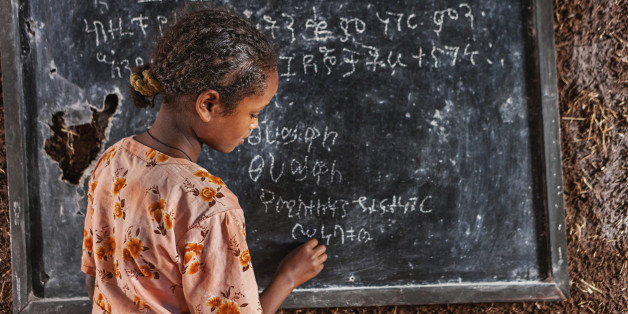 The year 2014 will stand out to us for a multitude of reasons. For me, what resonates the most is the highs and lows we experienced in our efforts to create gender equality in education worldwide.
The most significant mark of progress was the honor bestowed upon Malala Youstafi. Malala, who at 17 years old, was the youngest person ever to win a Nobel Peace Prize. And she's a girl. Top that. Malala, whose brave message and groundbreaking efforts to create universal education have reached thousands and garnered worldwide support. Malala, who called her prize "a challenge to act, not a reward for having done so." How many 17 year olds do you know who are that gracious?
To add to this sense of positive movement, last week, U.N. Secretary-General Ban Ki-moon issued his Synthesis Report. Titled "The Road to Dignity by 2030: Ending Poverty, Transforming All Lives and Protecting the Planet", the report offers guidance for the key issues for 2015, which includes integrating women 100 percent into full participation in society and achieving gender equality for all women and girls.
Two steps forward. And then Tuesday our world took a big step back.
In the Pakistani city of Peshawar, the Taliban stormed a school and murdered 132 schoolchildren and nine staff members. An additional 121 children were injured and all of the children were believed to be younger than 16. The Taliban has attacked hundreds of schools in the name of its battle against education for girls, which it believes is un-Islamic, and continues to find supporters of its terrorism campaign.
In Africa, the Boko Haram terrorist organization, which has attacked the Nigerian people with increasing frequency, has still not accounted for the 200+ girls they kidnapped nine months ago. The government, which has never exactly screamed for the help in returning these girls safely, has instead announced a ceasefire. This declaration was supposed to result in the release of the girls, but so far has produced nothing. New reports have surfaced revealing the additional kidnapping of 25 girls in October. And still no pleas for help from the Nigerian government, which has gotten nothing done.
Many have coined the phrase "the century of women," to describe the 21st century and 15 years in, yes, we have taken make steps forward. But, for now, its two steps forward, one step back, and this simply won't do, especially when the steps back have such monumental consequences.
Lets make that our 2015 resolution.
Amy Cooper is the founder of Red Twist, a socially sustainable enterprise dedicated to luxurious cashmere and girls education.