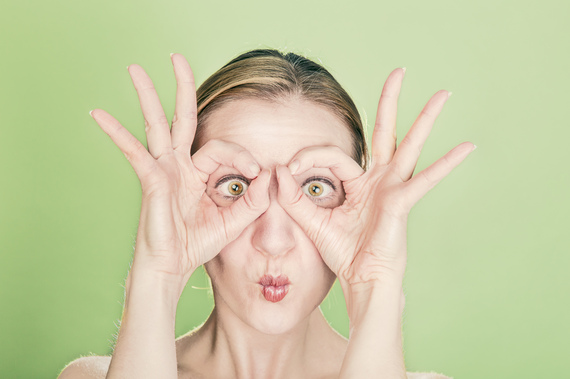 photo by Ryan McGuire at stocksnap.io
I walked two blocks from my office door to the cafe. I ordered some oatmeal and a latte "to go" from the barista who smelled like patchouli. I sat down at a small table near the display cooler where the white wine stays chilled. I sat up straight, closed my eyes, and simply listened to the noise around me -- a waiter taking orders, suits making deals, the credit card machine printing, the busboy clanking dishes, the coffee press steaming, girlfriends laughing, and one ticked off toddler shrieking in his stroller. I kept my eyes closed and smiled at the sound of scuttle and stories, people and progress. I felt a charge to be among the noise after working in the quiet stillness of my home all week.
I suddenly heard the kitchen door swing very near me and I popped my eyes open. There stood a 20-something guy, with thick black glasses and thin jeans, holding my oatmeal. I stood up and smiled broadly and thanked him for the container. Joy was thick and it spilled out between us. I walked the two blocks back to my office feeling strange and wonderful to be out among people.
This office space has been mine in print but not in place for some time. I've been tucked away at home writing and coaching and launching the online program. In solitude, God has fertilized me, fed me, pruned me, and prepared me so that I can offer the same life-changing opportunities to others that this work has offered me.
My friend has been subletting my downtown space for her play therapy practice. Her young clients and their parents have been clomping up and down the old, uneven, narrow stairway in this landmark building. Week after week, month after month, they seek refuge, understanding and healing under the wings of my talented co-worker.
She now has the opportunity to lead a team of more play therapists in private practice at a larger and more suitable location. Today, I celebrate all she's done in this space and watch her carefully pack her books and toys. This weekend, her husband will help will move what's left of her things and next week I'll bring my belongings back in.
I wrote about time marching on last week -- pages turning, seasons changing. My friend moving is another example of how life steadily advances with or without us. We choose to embrace or battle time's passing, and I've recently decided to make peace with time.
I realized this week, that making peace with time is helping me move more gracefully through this particular transition. I can be present to the sadness of watching my friend go and simultaneously hold the expectancy of what her going means -- for her and for me.
I get to choose how to see the change. And I choose to see a beginning rather than an ending. Looking out the window of this lovely space inspires me to dream up fresh and innovative ways to serve people and help change their lives for the immediate better.
On Sept. 1, I'll hang the "open" sign on my downtown office door again. I'll be available to coach local clients in person, beyond the phone and Skype support. I'll put real pants on each morning and leave the yoga ones in the hamper. I'll scoot down to the coffee shop and get my third cup from the café rather than pour the stale brew that's been sitting on the warmer since 5 a.m. I'll sit beneath the bright fall trees near the fountain while I write.
Best of all, I'll welcome clients with a hot cup of whatever warms them. We'll get crystal clear about the lives they want and get busy designing a plan for their best living.
Choosing to see change this way makes me wonder, "What change is imminent in your life?" I encourage you to look closely for the opportunities in that change. Because it's not the change itself that hurts or helps us, it's how we choose to see the change that determines what will become of us.
If you wonder what is becoming of your life, I encourage you to use this free tool to get extremely clear about the life you most want to be living. We have the sacred opportunity to choose now, how we want our lives to end up.