I've been robbed. That's what it feels like anyway, for the multitude of us who suffered that long, snowed-in winter. When the end of June rolled around and my kids were STILL in school for makeup snow days, I tell ya, I've never been more ready to pack the requisite four bags for the pool.
It's been summer on hyper drive ever since. Swim team, check! Potluck, check! Water park, check! Sunscreen, check! There hasn't been a butterfly in our yard where I haven't screamed at the kids to hustle outside and give that mariposa miracle a good stare down.
If there was time to unwind, I would. But we're operating at a deficit that I'm taking seriously. I'm too busy hacking up watermelons, doing loads of pool towel laundry and rolling my vegetarian sushi to have time to kickback in an Adirondack chair.
So why, oh why, does it feel like summer is slipping away when I'm trying my absolute best to make the most of it? This West Coast gal is supremely determined to squeeze a little Golden State into her East Coast life... especially with these sudden fall-like temperatures hovering.
Here are my five finds to keep summer alive and slow down the loss of summer.
1. A beach bag that leaves the sand on the beach.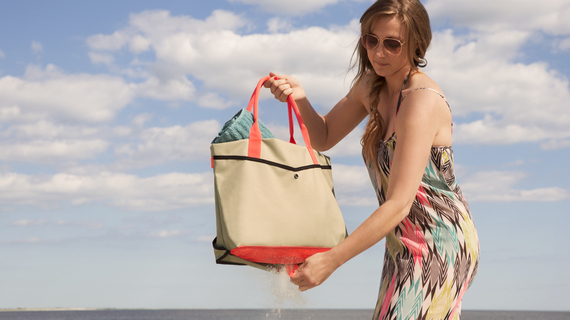 My son loves the beach, but has an aversion to sand in his shoes. The minute a granule gets in between his sandals and skin -- then I become a human chair as he sits on me and we pat his feet clean. Admittedly, I share his obsession when it comes to sand and beach bags; I prefer to take home what I bring to the beach, but sand has a way of working itself into everything. That's what makes this new Shake Women's Tote by Quirky rather ingenious. You flip back a flap to shake the sand out of the mesh interior, while the contents stay intact. (Now we just need a quick solution for sandy feet.)
$39.99, Quirky.com
2. Sandals made from yoga mats.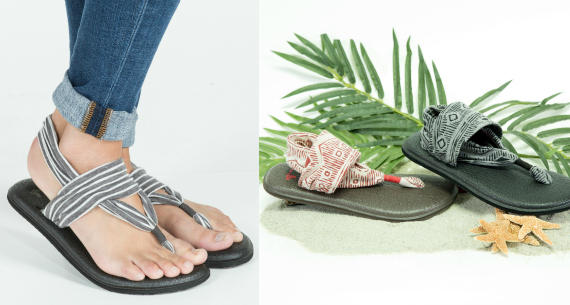 You heard me. The footbeds of these Sanuk sandals are made from real yoga mats (they finish the edges) and have that stretchy fabric you'd expect from a style called the "Yoga Sling." I think what stopped me in my novice-yogi tracks were the appealing patterns: everything from low-key stripes to punchy tie-dye, from teal peacock feathers to tribal print. Thong sandals usually don't fit me, but I'm willing to guess that the fabric straps better conform to a foot versus a leather counterpart.
$36-38; Sanuk.com
3. Wet suit storage made of sailcloth.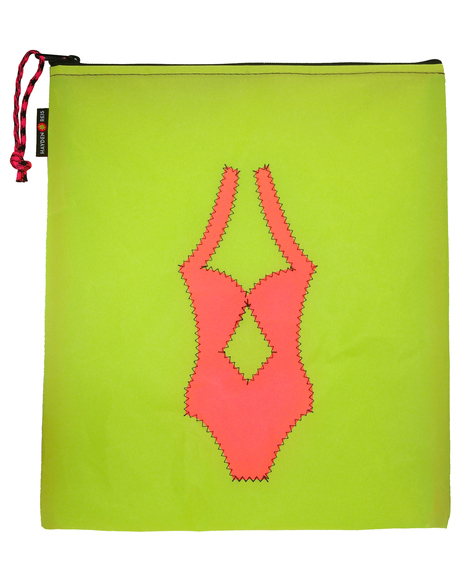 If you're familiar with sailcloth, it looks a little crinkly (see above) because it's super tightly woven and thus, nearly indestructible. Did I mention water-resistant? Sand-resistant? (Yes, I've tested. It's true.) So tossing this adorable beach bud bag by Hayden Reis into your pool tote isn't going to weigh a thing, and when it comes time to doff the wet swimsuit, you have the perfect place to store it.
$34, HaydenReis.com
4. A scarf that doubles as a sarong.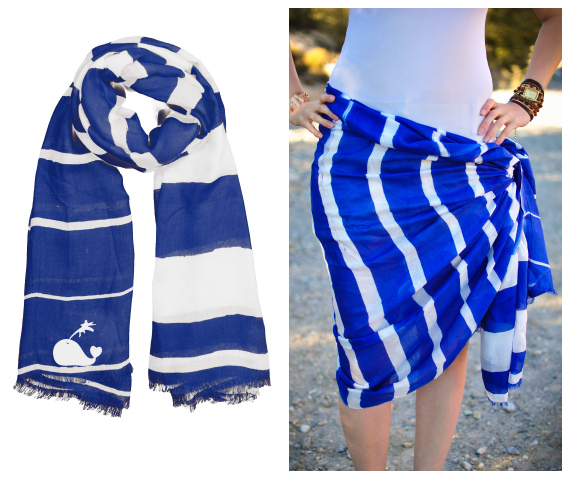 You're probably wondering how this could possibly look good: a scarf you wear around your neck also covering your bikini-clad bottom? But this blue-and-white striped scarf with whale motif from Winky Designs is just the right length (75" x 42") to keep you covered both up top and down below... at separate times, of course! There are several designs in the Wraps for Life collection that work for summer including this whale, seahorse (purple), turtle (sea-foam green), seagulls (grey) and goldfish (orange).
$30, WinkyDesigns.com
5. A water pitcher that filters at the speed of your faucet.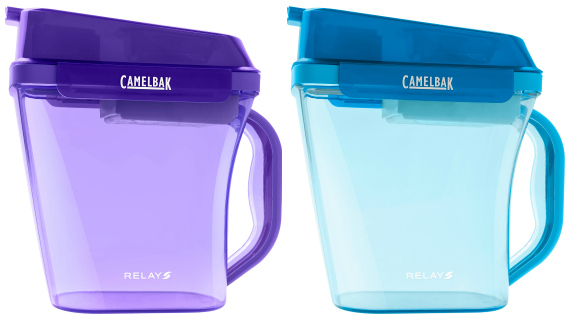 I've pretty much had the same water pitcher forever... since college, since I was single and now married. I wasn't crazy about the long wait for the water to filter or the lid that kept falling off or the black flakes that sometimes lingered in my cup. When a publicist wanted to send me a new pitcher to test out, I was indifferent. I don't like waste. What would I do with two? But when my husband commented, 'Wow, this is so much faster!' then I knew it wasn't just me. As you pour water into the Relay, the double-filtration system simultaneously pours water down into the pitcher. To be clear, like at the same time. No more waiting to put water in the coffee pot or sitting around to make lemonade. During summer, this means hydrating faster so you can resume play.
$36.99, CamelBak.com
The last bit of evidence to #keepsummeralive: the butterfly visitor in our garden. (I wasn't joking!)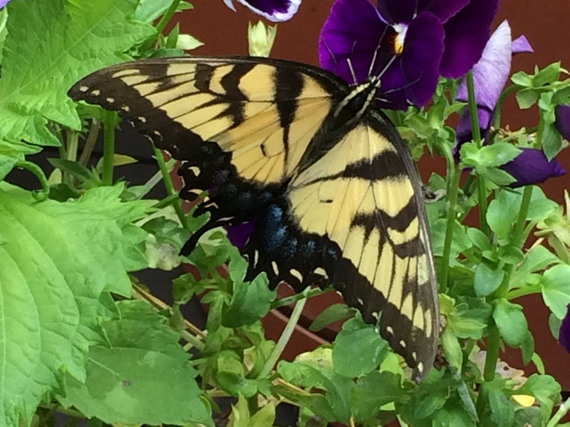 Now get back to skipping stones. (Here's wishing you and your family a happy summer.)