As school bells across America start to ring, it's time to gear up! Amidst the number two pencils, glue sticks and standard notebooks on everyone's lists, there are numerous ways to stand out and define your style with back-to-school supplies. My search was far and wide to help you save on these special finds for all ages across the categories of backpacks, lunch boxes, complete supply sets and personalized items.
THE BACKPACK
Kids choose backpacks for namely one reason: design. Parents should keep in mind the right size of the backpack for their child and exactly for what uses she'll need it.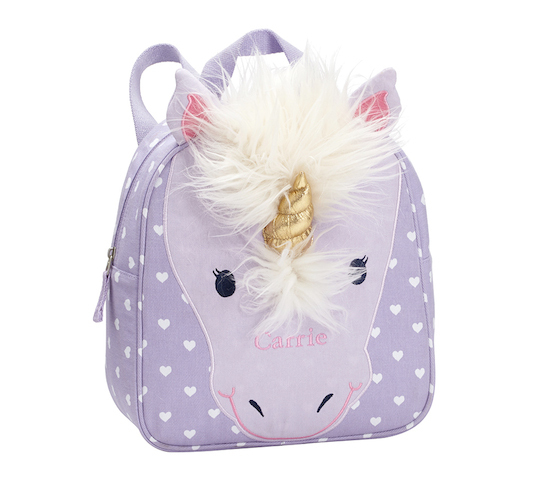 One request from my son's kindergarten teacher? A backpack with as few zippered compartments as possible. This preschool backpack by Pottery Barn Kids is pint-size and 11" tall, which is just right for little ones, and meant to hold small effects in its main section including a change of clothes, a favorite toy and a snack. Four designs to choose from: rocket, dinosaur, owl, unicorn (pictured). Personalization available for an additional fee.
$36.50, PotteryBarnKids.com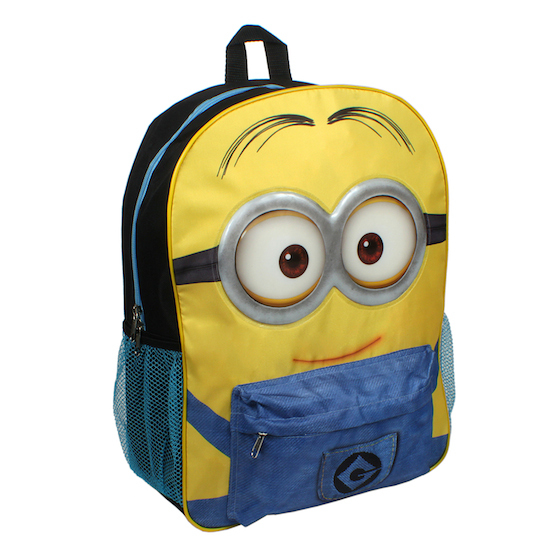 Character backpacks are always a hit and in addition to the staple supply of superheroes, this fall you'll find a minion takeover! This Despicable Me Minions Backpack from Kohl's is 16" in height and a medium size. These guys are so endearing with their big, buggy eyes and their ability to always get into trouble -- somehow we can all relate. Also look for Snoopy and Star Wars, characters highlighted this season.
$14.99, Kohls.com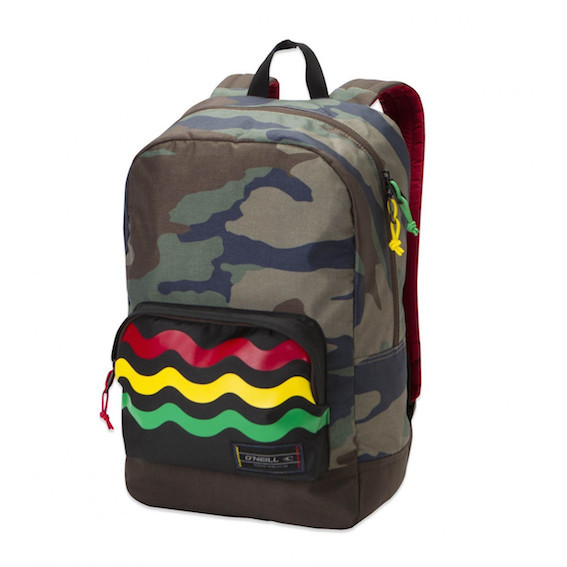 For older kids, the Lemy 2.0 Camo backpack is a mixed print that's truly hip and cool. It constitutes a large size at 18" tall and has the perfect capacity for hauling lots of books and gear for academic life. This is by O'Neill the surfing company, so it's made with durability in mind.
$36.99, Oneill.com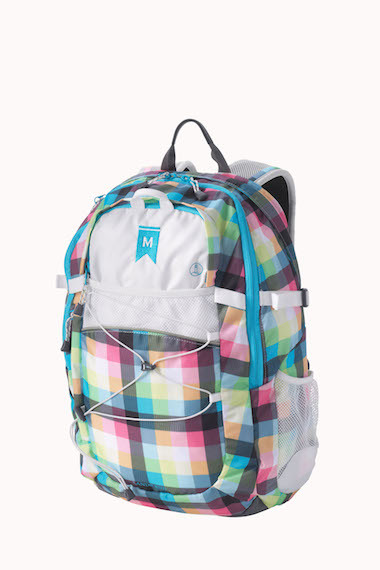 Digital prints as featured on this colorful checkered Print Featherlight Backpack are definitely trending for a modern take. This measures 19.5" in height, fulfilling the extra large category.
$54, LandsEnd.com
THE LUNCH BAG
Remember when you couldn't wait for lunchtime... to show off you lunch box? Somehow a sandwich simply tastes better when kids take pride in the carrier. I still remember my Holly Hobbie and Snoopy lunch pails to this day!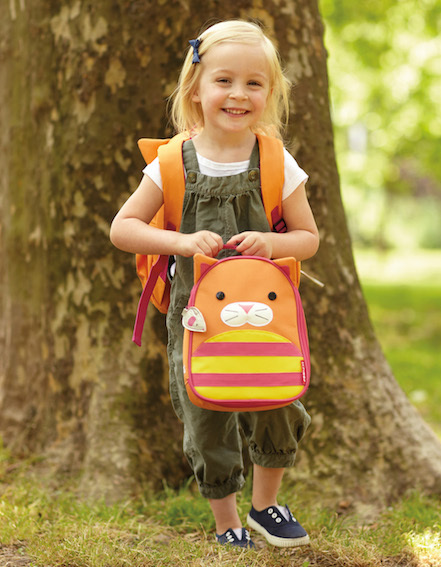 How can you resist such cuteness? Skip Hop Zoo Insulated Lunchies come in 21 adorable animal design choices. It has a roomy main compartment and the zipper sports a playful pull-tab for easy usage. Good luck in trying to narrow your selection to just one!
$15, SkipHop.com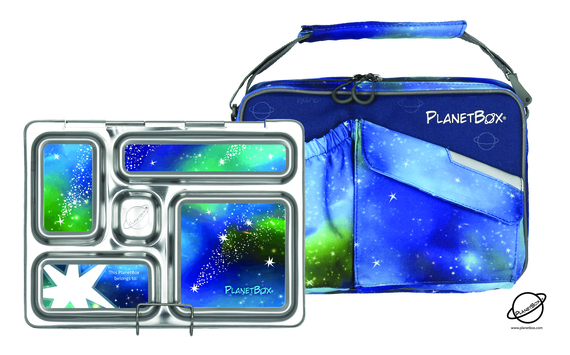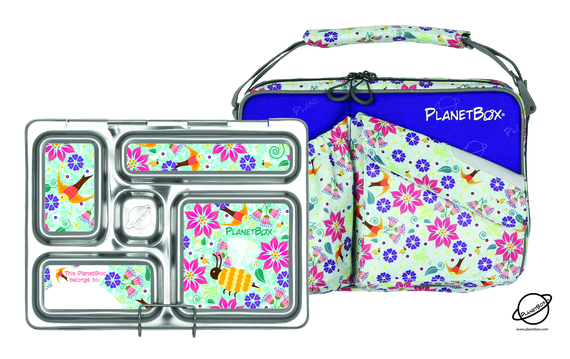 The environmentally friendly Planet Box is made from stainless steel and is reusable and machine washable -- reminds me of a Japanese bento box. Here is their build-a-kit, where you choose the lunchbox size (this is Rover and the most popular for children and adults and holds four cups of food), decorative magnets and a matching carrying case for an all-in-one price.
Rover Build-a-Kit in Nebula and Botanical, $63.95, PlanetBox.com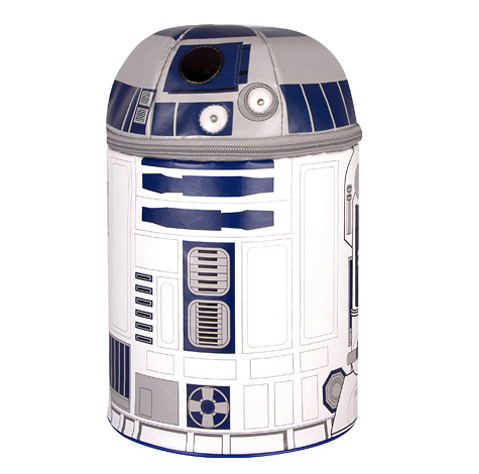 It's Star Wars all the way this season in anticipation of the film's release, and this R2D2 Novelty Lunch Kit by Thermos is so cool with its cylindrical form. Plus it's PVC-free, insulated and makes awesome R2D2 sounds...as if our food wasn't entertaining enough.
$14.99, Thermos.com
COMPLETE SUPPLY KITS
One of the latest trends is the all-inclusive school supply kit for parents and caregivers--ideally to make our lives easier by consolidating items on our school lists and saving us money by buying in bulk.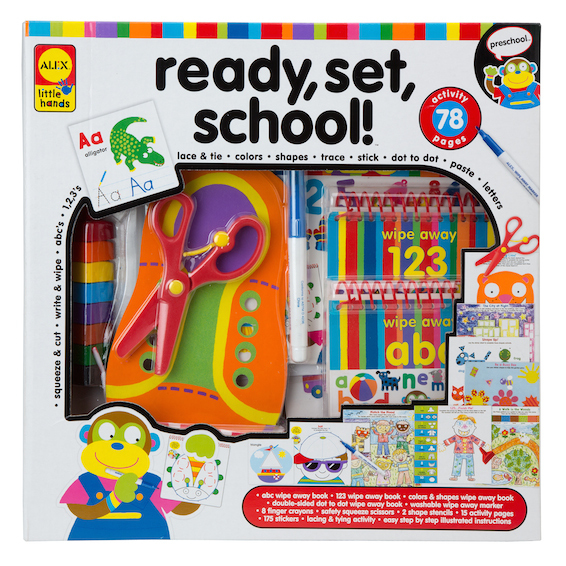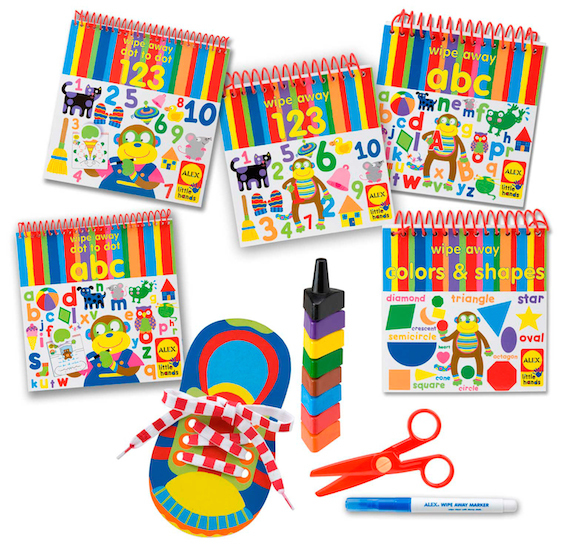 Alex Toys' "Ready, Set, School!" kit is packed with dozens of engaging activities for preschoolers in one box. They can learn shapes, ABCs, 123s, how-to-tie a shoelace and so much more. It's a fun way to either prep for preschool or reinforce learning at home.
$33.99, AlexToys.com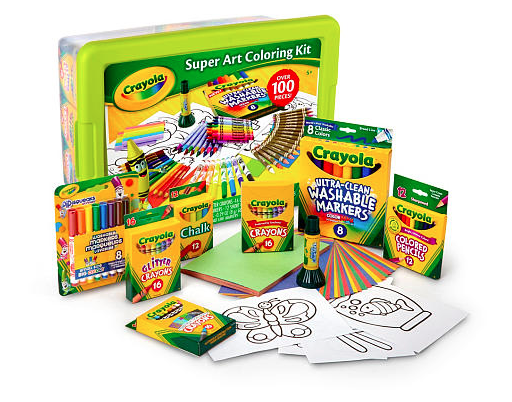 I actually just started shopping with my two kids and their three, school supply lists this weekend, and predominant on these lists are basics like colored markers, colored pencils, crayons etc.; but, when you buy all of these elements a la carte it adds up. Enter the Crayola Super Art Coloring Kit, which has over 100 pieces for just over $25. This kit has everything we need, saves us money and has some fun bonus materials too!
$26.99, ToysRUs.com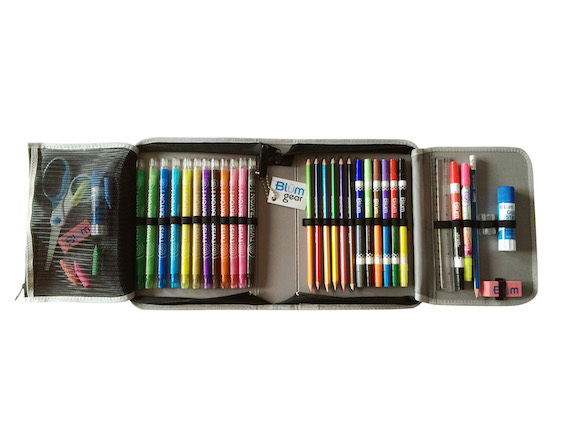 The clever Blum School Gear Kit, which claims to cover about 80% of items on most back-to-school supply lists has a robust assortment of supplies held within a durable nylon case--because let's be honest, kids are rough with their stuff! Each kit has around 40 pieces per set: you can get the kits organized by grade, for example K-1, 2-4 and 5-8th grades. Visit blum-usa.com for kits that start at $19.99 and have catchy designs: floral, zombie, heart, monster.
Blümberg School Gear Kit, $28.29, Staples.com
PERSONALIZED
Amidst of sea of identical school supplies, at zulily we love encouraging a student to have a few standout pieces that really speak to his or her personal style, and you can do this with personalization. (These make for great first day gifts too!)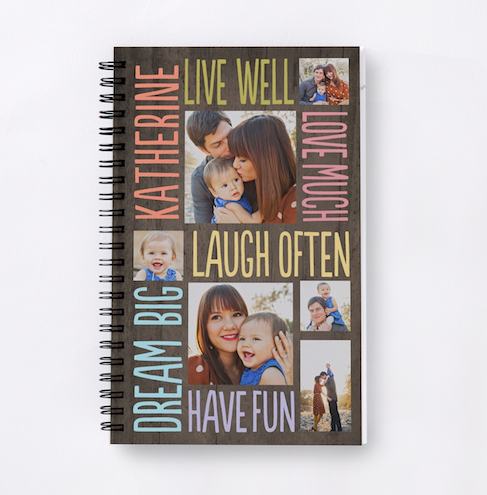 When kiddos are young, the first few days away from home can be hard. Make a personalized notebook for them using family photos--here by Tiny Prints for the "Natural Lessons" spiral notebook or Shutterfly for the Tilted Frame Collage--so they know as a sweet reminder that you are still near and dear. Both of these books are under $12.
$11.99, TinyPrints.com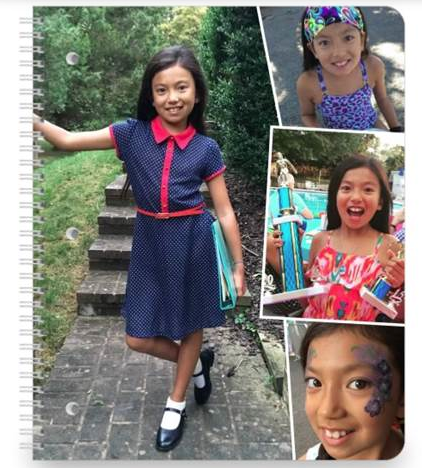 $9.99, Shutterfly.com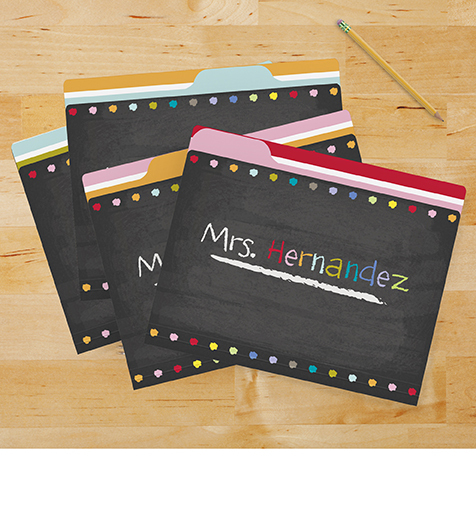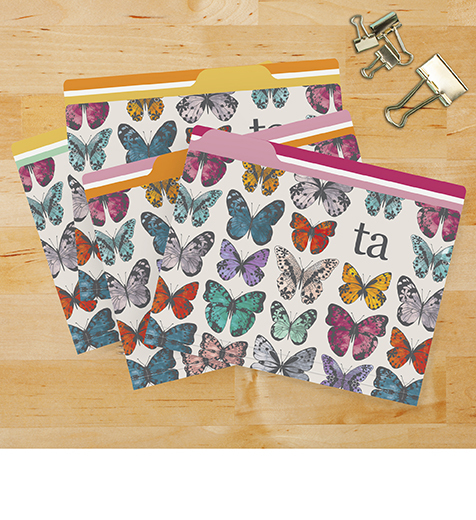 I'm literally dying over these Personalized Style Folders by designer Erin Condren. Having anything with a monogram just makes a kiddo feel cared for. There are 12 designs to choose from that would appeal to both genders. Order now so you can get them in time for school.
$16 for 4, ErinCondren.com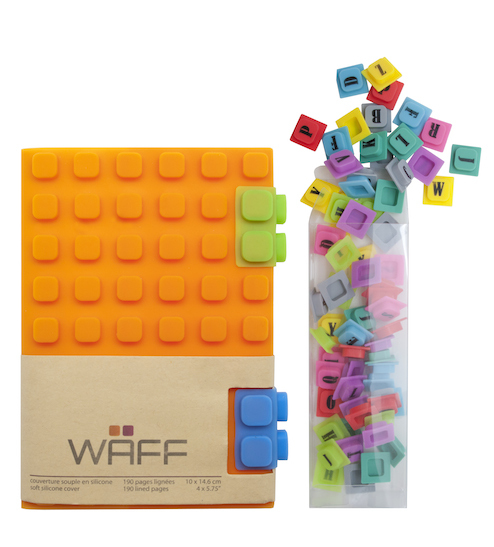 The WAFF notebook is the ultimate outlet for creative souls. You use these individual letter "chips" and plug into the waffle-like notebook shell to spell out any array of messages or customized names - and it's fun because as the mood suits them, they can change it up...daily if they wish! New designs include glittered notebook options and prices start at $12.99 for the mini size.
WAFF Combo Personalized Notebook from $12.99, waffstore.myshopify.com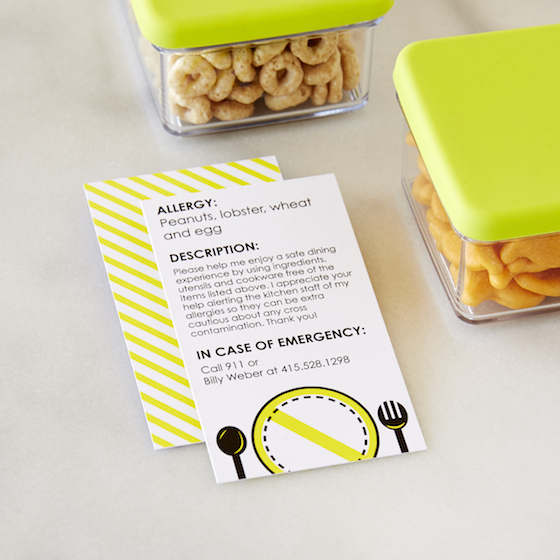 If your child suffers from allergies whether to foods, medications or what have you, consider creating these Allergy Alert Cards by Tiny Prints. Hand them to teachers, administration and even close friends as a reinforcement of what is likely already in your child's medical file. Because if a severe allergic reaction takes place in the lunchroom, classroom or playground, this is the kind of information you want handy: the allergy, description and emergency instructions.
From .39 cents, TinyPrints.com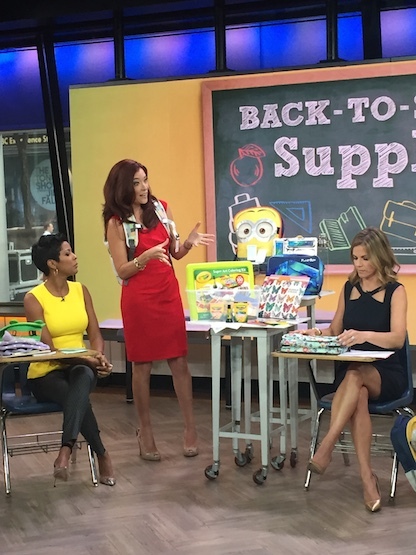 To see NBC Today show hosts' reactions to the supplies above check out my segment, and discover more unique back-to-school trends here.
*Sale prices reflect time of publication and may be subject to change.