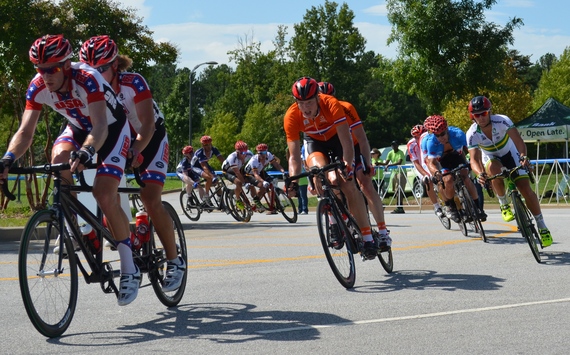 When there's one guy pedaling a bike down the street at breakneck speed with only one leg, a crew of others lying on their backs powering cycles by cranking their arms, and a crowd of tandem bikes whizzing by, and the athletes are all wearing splashy bike attire emblazoned with the name of the country they represent, then you know you are at the Para-Cycling World Championships. Hundreds of athletes from more than 40 countries gather in Greenville, South Carolina, over Labor Day weekend to compete with the best challenged cyclists in the world.
They are an extraordinary group. Some are missing a leg, some an arm, some are paralyzed, some have suffered a brain injury, and some are blind. All are smiling - really. It's as if they have a club, these young men and women in wheelchairs, or adaptively using prosthetics, or perhaps guided by a long white cane. Here they are greeted heartily, the type of enthusiasm reserved for long-lost friends. All have worked out as hard as any elite athlete in hopes of being selected for this competition.
It was the blind athletes I'd come to watch. Of all of the disabilities, losing the ability to see strikes me as the most difficult loss. They had to fly to the competition. How do they navigate airports, I wondered? How do they even pack? And once they arrive, then what? They are sitting targets for thieves, and it's hard enough to find your luggage when you can see what's on the conveyor belt. The obstacles seem overwhelming to me, but here they are in South Carolina, on a 93-degree day, with a family member or two, or a few friends and helpmates. Restaurant menus are read aloud, teammates announce their presence when they come over to talk, running commentary is given, forearms are offered to guide.
Some of the blind athletes have a vague ability to see shapes, or light, or a cell phone held two inches from the eye and enlarged by a magnifying glass. Some are completely in the dark. They race on the back of tandem bikes as a "stoker," with a sighted "pilot" up front. A chain connects the stoker's pedals with the pilot's, so they must pedal in perfect sync. The pilot gives verbal commands, but blind stokers learn to take non-verbal cues as well. They can feel when their pilot is about to stand up on the pedals, or lean, or tuck, so they know when to follow suit. Pilots lead, stokers provide the power.

Blind bike racing seems implausible to me, or at the very least terrifying. Yet these determined athletes literally live for the chance. Some tell me they went through periods of deep depression before taking up the sport. They tell of being overweight, out of shape, hopeless, suicidal. Today they are determined, and if they have any fear, they don't show it. Many memorize the course by riding the route several times before the official race. Speeds may exceed 50 mph going downhill, and turns must be made with precision. Trust in the pilot must be absolute. A crash can be severe, even fatal.
Finding a suitable pilot is no small feat. Do they pedal faster at a lower gear, or slower at higher tension? Will the racer dedicate the considerable time to train as a tandem pilot, or are they more interested in their own racing plans and glory? Are they good enough to steer and balance a big bike and are they brave enough to take it to the max? Stokers often replace pilots after a big loss. Coaches and former racers play matchmaker for the blind riders, but one stoker tells me about luring a pilot right on the podium after an important race. After all, the blind cyclist can't compete without a pilot, and they can't win without a good one.
The relationship often turns familial. A suitable pilot may live across the country and the blind stoker will hunker down at the pilot's house for months to train on the tandem. The pilot often prepares meals and ushers the blind stoker during that time - and these are people holding down day jobs. They must attend training camps together, and enter qualifying races all over the country.
Karissa Whitsell, the United States' reigning queen of women's tandem racing, has been to the Paralympics Games three times, bringing home six medals. She holds three World Championship titles. The blonde 33-year-old began to lose her eyesight at age nine due to degenerative macular dystrophy, and turned to tandem racing as a teen and went to her first Paralympics in 2000. Whitsell, of Colorado Springs, has raced with a number of pilots over the years, this time riding with long-time racer Lisa Turnbull, 35, of Springfield, Oregon. Whitsell took home a gold and a silver in 2013 Nationals, but right on her heals were newcomer Shawn Cheshire, 38, of Camillus, New York, and her pilot, taking a silver and bronze. The gap was eclipsed in a stunning upset this summer when Cheshire, teamed with Whitsell's former pilot Mackenzie Woodring, took home two gold medals at the national championship, earning an invitation to the Worlds. Now they're all here, vying again for a spot at the podium.
They enter a field of 14 tandem pairs from nine countries. In the 15.5-mile time trial, the average speed is nearly 27 mph. Cheshire and Woodring finish 2:32 behind the leader, for 7th place. Racing two days later, the women's peloton pedals through the agonizing 51-mile road race with an average speed of 24 mph, and a pack of tandems nears the finish line together. Time judges call it a 7-way tie. Cheshire and Woodring are nine seconds behind, earning 10th place. Meanwhile, Whitsell and Turnbull struggle all weekend, finishing both races near the bottom of the heap.
Cheshire and Woodring - affectionately called "Mac and Cheese" by fans - are hungry to be selected for the Paralympics, and are motivated to keep training. Cheshire, a former U.S. Army helicopter armament specialist, lost her vision after a traumatic head injury while working as a paramedic in 2009. She also lost the ability to control her body temperature, and she ices her body before racing in the scorching heat of this weekend. The blue-eyed mother of two has dabbled in adaptive cross-country ski racing and target shooting, but has her heart set on cycling.
The men's tandem competition is even more ferocious, with more tandems riding at faster speeds for longer distances. Reigning champs for the U.S. are Clark Rachfal, 30, of Annapolis, Maryland, and his pilot, David Swanson, 37, of Tucson. They've been on and off the National team for years. Rachfal, born visually impaired, is a college graduate who answers to the nickname Cream Puff, the dessert he's imagining when he races. This year at Nationals, dynamic duo "Dave-and-Clark" were challenged by newcomer Lance Footer, 47, of Taylors, South Carolina, also born with severe visual impairment, and pilot Shawn Olin, 39, of Chula Vista, California. Rachfal's team managed to beat the upstarts in the time trial by a mere 37.76 seconds for the gold, and then lost the lead in the road race to Footer and Olin by less than a second. Both pairs were invited to compete on the U.S. National Team.
Coming into the Worlds, all four know that the competition will be steep. In the 15.5-mile time trial, 22 teams from around the world keep up an average speed of 29.5 mph. Rachfal and Swanson finish less than a minute behind the leader for 7th place. Then 24 men's tandem teams crowd the street in the grueling 63-mile road race, keeping up an average speed of 26.6 mph. After 2 hours and 26 minutes and 3 seconds, Rachfal and Swanson cross the finish line 2:56 behind the leader, placing 14th. Footer and Olin struggle in both races. According to someone familiar with the situation, there had been tension between the pair for the past two weeks. After the disastrous finish, Footer is crushed. He fires Olin and begins lining up new pilot possibilities.
The next two years will be filled with competition for the American men's and women's teams. The stokers long to be chosen to compete for the red, white and blue in the Paralympic Games in Rio in 2016. Along with other U.S. teams that will surely emerge in races over the next two years, these blind athletes will dedicate themselves to practicing on a stationary trainer, visiting their pilots for training on the tandem, traveling to race camps and competitions, and, in many cases, finding funding to augment stipends from the U.S. Olympic Committee. They will continue to direct family and friends to personal fundraising pages posted on the web site of the U.S. Association of Blind Athletes. They must also find and retain fitting pilots. Those with employment will have to keep that up too - Whitsell owns a massage therapy business, Rachfal works in the public policy office for Verizon Communications, and Footer is a burgeoning digital artist.
What strikes fans of these elite blind athletes is that they seem to forget they are disabled. Cheshire tells me she's so thrilled that as a member of the U.S. National Team she is sent to competitions across the globe and she has the opportunity to "see" other countries. That's her word. See. I'm puzzled. She can't even see the food in front of her at the table. She explains to me that she can take it all in, the sounds and smells and tastes of a place, and then she can imagine how it looks. In her imagination, everything is breath-taking, perfect, and even majestic. "I'm not limited by eyesight," she says.
When I arrive home at 11:30 at night, I turn the lights on in the house. Ten minutes later, oddly, the power goes out. I attempt to brush my teeth in the dark. I can't tell if the toothpaste is actually on the bristles. I am frustrated, but I assure myself that the power will eventually come back on, or at least the sun will be out in the morning. And I think of my new friends, for whom the lights will still be out in the morning, and the morning after that as well. And how brave and strong and heroic and resourceful they are to race tandems. And how I hope they all make it to Rio.
To support blind tandem racing, go to US Association of Blind Athletes at http://www.usaba.org.