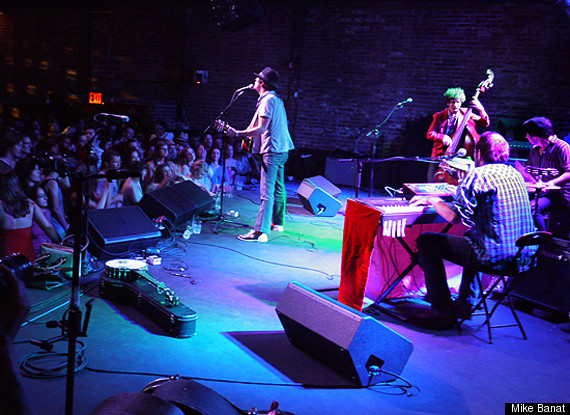 You might recognize Langhorne Slim from his forays in advertising, but he's also a willing force in Brooklyn's alt-blue grass scene. On Thursday night, he held things down at the Brooklyn Bowl, and we've got photos:
Over the last few years, Williamsburg, Brooklyn has taken Greenwich Village's place as ground zero for New York indie rock. Live music venues seem to be closing in Lower Manhattan at an alarming rate while new spaces are opening in Williamsburg with equal rapidity! One such new venue that has opened in Williamsburg, called Brooklyn Bowl, that combines two unrelated, but extremely fun activities: bowling and live music.

Last Thursday night Brooklyn Bowl hosted some good old fashion Southern rock from Missouri and some cool anti-folk from PA, Ha Ha Tonka and Longhorne Slim!

Ha Ha Tonka took the stage a little bit after 9pm. Although there were some minor sound difficulties (which no one in the crowd seemed to notice), the Springfield, MO based band played their unique take on southern rock. Their set consisted of straight ahead rockers and one acoustic ballad that included mandolin and four part harmony.

Ha Ha Tonka's frontman, Brian Roberts', voice is strong enough to sing the rock numbers and sweet enough to sing the ballads. Roberts' mighty voice, the musicianship and the stage chemistry of Ha Ha Tonka made for some great music and one very amazing and fun set. Ha Ha Tonka had the New York crowd taking notice, and in the most positive way.

Langhorne Slim (aka Langhorne PA's own Sean Scolnick) was up next on stage. Langhorne Slim's set list on Thursday night consisted mostly of songs off his last two albums, Langhorne Slim and Be Set Free. Langhorne Slim's voice is very reminiscent of New York stalwart Jesse Malin, but his music is very much his own. Slim's lyrics tell stories and his melodies go from being very beautiful to very rockus in the best way possible. And he has a real talented group of musicans that help him play those stellar melodies!

If Ha Ha Tonka made the Brooklyn Bowl crowd take notice, then Langhorne Slim had them wrapped around his little finger. He owned the place, charming the crowd with his amazing live performance and his stage presence.