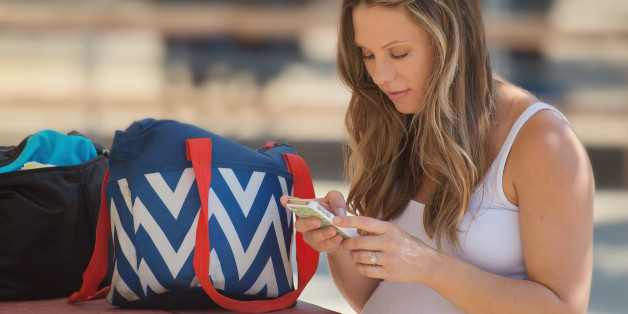 My youngest daughter is at the age where her thoughts are still rather, well, unfiltered. She says pretty much anything she's thinking. You know, things like, "You talk too much, Mommy." And, in this case, she's probably right. So, I couldn't help but think that the moments of my day could be captured in 140 characters or less. I mean, it's not like I'm a social media addict. But if I were, and I live tweeted my day, it might look a little something like this...

You. Guys. It's *way* too early. Go back 2 bed. #itsstilldarkoutside
Great, now u woke ur sister up. #iusebadgrammarat5am
It's ur brother's turn 2 pick the cartoon. #notheotherbrother
I know, I know. You're far too grown up for cartoons now. I meant "show." #pleasedontpickKickinIt
Ooh, good pick. I'll stay & cuddle w/someone. Anyone. #teamAustinandAlly
I wasn't watching anyway. No, really, I wasn't. Yeah, I'll get u some milk. #anothergallongone
Ok, u can put the lid on the sippy cup all by yourself. #spillnumberone
Sure, u can sit in my lap. #allthatmilkaintlight
Stop fighting. You can *both* sit in my lap. After all, I have 2 legs. #andvaricoseveins
Oops, have 2 go pack ur lunches. #andmakebreakfast #toddlerhelper #notsohelpful
TV off. Now. #noreallyturnitoff #now #now
1 raisin bread- butter, no crust. 1 raisin bread- butter, w/crust. 1 raisin bread- no butter, tops cut off. #shortordercook
Sit down. In the middle of your chair. Yes. Now stay there. #formorethan5seconds
Ok, go brush ur teeth, comb ur hair & get dressed. #likewithtoothpasteandacomb
Well, I don't know where ur shoes are either. #ourhouseisnotthatbig #butyourshoesare
Come on, guys. U should be ready by now. Almost time 2 leave 4 the bus. #andwevebeenupforanhourandahalf
Nice! Love how u found a way to incorporate every single color of the rainbow into ur outfit again. #andpulledyoursocksuptoyourcrotch
Ok, grab ur lunch boxes, pack up ur backpacks. #Daddy's taking you to the bus again. #stillinmyjammies
Wait! #LilSis is going 2 the bus stop w/u. #withthreedollsafootballandamajorcaseofbedhead
Exhale.
#damnforgotsunscreen
Guess I should do the breakfast dishes now. #orcheckFacebook #andInstagram #Twittertoo
How was the bus stop? Doing my exercises. Wanna play w/ur dolls? #pleasesayyes #mamaneedstoburnoffherchardonnay
Well #LilSis, sorry I'm not sweating as much as u think I should be while u watch from the couch. #towelplease #andoxygen
I'm gonna hop in the shower. #showerfortwo #notthesexykind
What?! No! Don't wear a diff outfit 2 school than u wore 2 the bus this am. Pleeeese. #fashionista #laundrywhore
Detangler. Comb. Tears. Chase. #repeat
Let's go! Your teachers r waiting for u. #ofcoursetheylllikeyourdress #andsparklyshoes
Press this button to open the door. Good job, hop in. #justlikethat #haveyoureadmyminivanmanifesto
They can still c u behind my leg. Why don't u show #MsTeacher ur shoes? #theyremoreexpensivethanmine
Ok, c u in a bit. I <3 u sooooo much! #dontcry #oriwilltoo #andiputonmakeuptoday
I'll just check a couple emails. Work on a post or 2. #orcheckFacebook #andInstagram #Twittertoo
Wait, how is it pick-up time already? #stillhaventdonethosebreakfastdishes #ormyhair
Hi, sweetheart. I missed u 2. Tell me more! #ohmyheart
Sure u can have 12 different things that don't make any sense together 4 lunch. #whatbabywantsbabygets
Wow #LilSis just talked for 45 mins straight. My stomach muscles r sore. #notfromworkingout #didntsweatenuf #fromlaughing
Nap time. Good night, sleep tight, God bless u. #yesillleavethelighton #andthedooropen
Wonder if her dolls <3 her monologuing in there as much as I do. #doubtit #babydolljustgotatimeout
Now I'll get to those emails. And posts. #orcheckFacebook #andInstagram #Twittertoo
Wait, it's *what* time?! #stillhaventdonethosebreakfastdishes #orlunchdishes #ormyhair
Sweetie, time 2 get up 2 go get ur brothers. #bedheadround2 #screwit #wewillbetwinsies
Who are all these moms in cute outfits w/makeup & hair done?! #nofriendsofmine #shouldhavegonethruthecarpoolline
#pleasedontbecrying #pleasedontbecrying #pleasedontbecrying
Hi, #LilBro! #smiling #exhale
Hug. #yesplease #kindergartenistough
A boy was doing *what* on the playground? Why?! #pleasetellmehesnotyourfriend #mamahaskindergartenfearstoo
Hi, #BigBro! How was your day? #notayesornoquestion #fineisnotanacceptableanswer
Wow, 5th grade homework in 3rd grade? Your teacher does sound tough. #goodluckwiththatkid #imnotsmarterthana5thgrader #ora3rdgrader
Sure, I'll turn up the music so I can't ask u any more questions abt ur fine day. #whyugottabesorude #shakeitoff #shakeitoff
Snacks. More milk. Breakfast dishes. Lunch dishes. Snack refills. Snack dishes. #littlekidsbigmesses #spillnumbertwo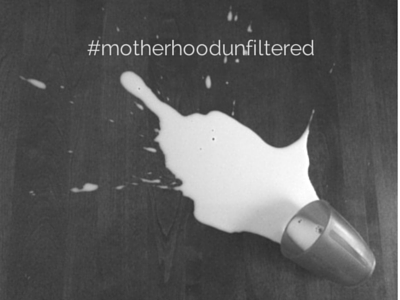 Fine w/me if u boys go tackle each other senseless. #thankgoodnessforbrothers #thatwontlastlong
Why don't we go play soccer or baseball outside? #andbyweimeanyou #illblowbubbles
Kicks. Giggles. Pop flies. Giggles. Bubbles. Giggles. Slides. Giggles. Hose. Giggles. #LilSisterswateringcanisoverflowing #andsoismyheart
Heading in 2 make dinner. Clean up & come inside in a few. #nuggetswillbewaiting #theyreorganic #notreally
I don't know when Daddy's coming home 2nite. Around dinnertime. #repeat #againandagain #andagain
Yay! He's home. #magic
Sit! In your chair. With your butt in the middle. Pushed in to the table. Yes, like that. #noreallysitdown
What was 1 funny thing that happened 2 u today? #bodilyfunctionsareoffthetableatthetable #notreally
Seriously. Sit down & stay there. #doineedtostrapyoutoyourchair
What was 1 thing that upset you today? #notincludingme
My job here is done. #foodonplates #convoinmotion #withasideoflaughter #andwineforme
Shower time. Keep the water in the tub! #whoamikidding
You. Guys. Why is the bathroom floor soaking wet?! Out. Now. #everytime #whowillwintheblamegame
Get back in, #BigBro. Still have soap in ur hair. #everytime #thereisnowaythisisyourbrothersfault
Inhale. #lovethesmellofcleancuddles
It's ur brother's turn 2 pick the cartoon. #notheotherbrother
I know, I know. You're far too grown up for cartoons now. I meant "show". #pleasedontpickKickinIt
No, no, *no*! #hepickedKickinIt #wouldratherdothedinnerdishes
Bedtime, #LilSis. Yes, you can sing this one. #allbyyourself #twinkletwinkle #yesillleavethelighton #andthedooropen #wider
Good night, sleep tight, God bless you. Daddy & I <3 u soooo much. #soverytrue
Your turn boys. #nottoobigtocuddle #yet #buttheyreadtomenow
Superhero sheets. Missing teeth. Multiplying freckles. Tired eyes. Racing minds. So big, yet so little. And they're all mine. #fornow
Their words. My pride. Their backs. My scratches. Their fears. My kisses. #missionaccomplished #peace
Owwww! You. Guys. How many times do I have 2 tell u 2 clean up when ur done playing?! #steppedonaLego
Good night, sleep tight, God bless you. Daddy & I <3 u soooo much. #soverytrue #evenifmyfootisswellinguprightnow
What #LilSis? No, nobody's going to come in ur room 2nite. Yes, because we put a sign on ur door. #postitnotesscarebadguys
Now I'll get 2 those emails. And posts. #orwatchSYTYCD #andScandal
What's the matter, #LilBro? #sureillcomelieinbedwithyou #whatdidwedobeforeDVRs
Finally. Asleep. #lovewatchingthemdream #littleangelsonearth
My mind's still racing. #longdaysshortyears #patienceisavirtue #notminethough #justdoingmybest
Tomorrow will be different. #notreally #hopenotatleast #lovethislife #chaosincluded #thatsonethingilearnedtoday
#motherhoodunfiltered
A version of this post originally appeared on Using Our Words.
Amy Heinz is a San Francisco Bay Area mom of three and the writer behind Using Our Words -- a parenting blog filled with lessons she's learned (usually the hard way), laughs she's enjoyed (mostly at her own expense), and tears she's shed (this mama's got heart). You can also find her on Facebook and Twitter.