by Katy Kelleher
If you're anything like me, your inbox fills up every morning with what seems like hundreds of emails from various discount sites. Daily deals from Groupon, Living Social, and the like are an amazing way to save money--but they can also be a bit of a pain to dig through. Which is why Getting Gives makes so much sense.
Haven't heard of it? Getting Gives is a brand new daily email founded by Matt Miller and Sydney Strader. Not only does it help minimize your Gmail clutter, it also makes donating to charity practically painless. For every purchase you make through Getting Gives, 5% of the total cost gets automatically sent to your favorite cause, whether it be saving the whales or curing cancer.
Since one of our primary goals at Milkshake is to encourage mindful purchasing, we wanted to get a better idea of how Getting Gives works. To this end, we called up Matt and Sydney for a quick chat. Find out why you should use Getting Gives, and what causes they love to support, in the interview below.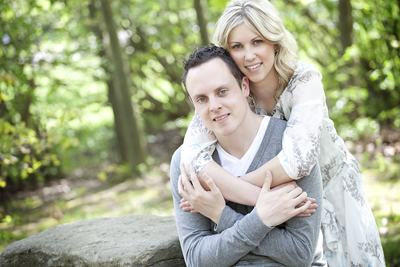 Meet Matt & Sydney, founders of Getting Gives.
Could you give us a quick summary of how Getting Gives works?
Matt: The main thing that we are doing right now is that we're combining all the daily deal emails, into one place. When you click on a deal through the Getting Gives email, it will take you to the exterior website. If you purchase that deal, we receive 10% of the purchase. So if you have a $20 purchase, we receive two dollars. We give 50% of our profits to your favorite charity.
How did you develop this with Groupon and Living Social and similar sites?
Matt: We actually worked through a third company, called One Big Planet. They already have all the technology in place, and they had the relationships established, which really freed up our time so that we can focus on engaging our audience--getting people riled up to fundraise for their favorite charities.
How did you come up with the idea?
Sydney: Matt and I have always purchased deals, so we're really familiar with the process and that helped a lot. But another thing that contributed is that a daily activity of ours is watching Ellen DeGeneres. I've always been really inspired by her ability to give back, and to use her platform to help others in need. When we came up with Getting Gives, we wanted to utilize a platform that is clearly very successful, while giving back to charity.
What do you think is the biggest perk of shopping with Getting Gives?
Matt: I think the biggest perk is that you're getting all of the deals in one place. Right now, there are a lot of people who are signed up for three or four different deal sites. With Getting Gives, you get all the same deals, but with only one email. You can also customize it to your preferences. Let's say you're only interested in restaurant deals and massages. You can indicate that in your profile, and we will only send you deals in your city that match your preferences.
Another big perk is that you are donating back to charity, but with no additional cost. If the deal from Groupon is $20, then that's all you're paying. But still money goes back to charity. You're getting the exact same deal at the exact same price, but with the added bonus of donating to charity. There's really no reason not to do it.
What are your favorite deals to feature?
Sydney: I love the spa and restaurant deals.
Matt: We're pretty simple. We only have so much time! Relaxation and enjoying a good movie is what we want to do.
Do you have any favorite causes to support?
Matt: Mine would be the World Wildlife Fund. I'm a big animal lover, and they're certainly very prominent in protecting animals and the environment.
Sydney: Mine would be the Heart & Stroke Foundation. They're definitely a charity that we value significantly. When my father suffered a heart attack, the offerings that they had at the Heart and Stroke Institute at Ottawa were just really impressive. It's an amazing charity.
Katy Kelleher is the Editor of Milkshake Kids. For more good news, sign up for our daily emails at GetMilkshake.com.