By Katy Kelleher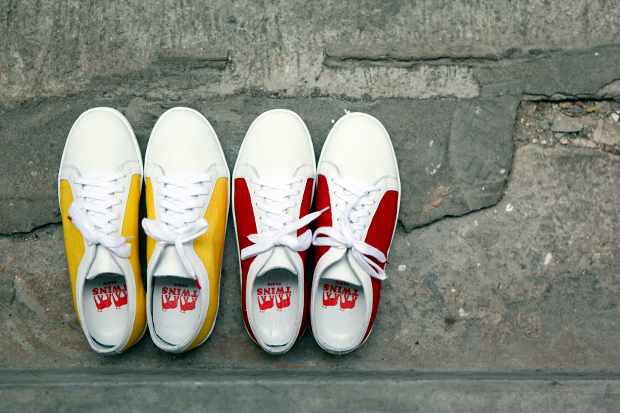 Americans have a long-term love affair with France -- and for good reason. While some of us state-side tend to have a Woody Allen-esque obsession with neurosis and perfection, our European brethren always seem to project a certain insouciance that we just can't match. Je ne sais quoi is a term that has been vastly overused, but when it comes to certain elements of the French style, we have to fall back on the phrase. Cool doesn't even begin to cut it.
But while it's hard to fake that effortless look, you can do something even better: Steal it.
Twins for Peace is a company found by twin brothers Maxime and Alexandre Mussard, along with their childhood friend Louis Felix De Fenoyl, that makes classic, sporty footwear that somehow seems more dressy than the average sneaker. "Elegant" is a strange thing to say about trainers, but here it seems to fit. Clean lines and simple design make Twins for Peace a classic choice -- which says a lot, since the Paris-based shoemakers haven't been selling for all that long. Paired with skinny jeans and a button-up, they make the perfect weekend outfit. Just make sure your hair is suitably tousled and underdone -- that's a Parisian touch, too.
Lest you start thinking we're just a bunch of shallow Francophiles, we should mention the motto at Twins for Peace: "be cool, be good." But how are they good? Well, for starters, for every pair of sneakers you purchase, Twins for Peace donates a pair of shoes to children in need. And they don't simply hand out shoes. Instead, they work with local shoemakers in developing countries to help bolster the local economy and provide jobs for the community.
Before you run off to shop their site, stick around to learn a little more about the French company in our Q&A with Yoann Corbin and Maxine Mussard.
Can you tell us about the genesis of Twins for Peace?
Well, our idea came about when Maxime Mussard, one of the founders, realized he was not so deeply interested in having a long academic career, but more into creating something useful. After traveling in Africa, he realized that he really wanted to help children in need and to help support world peace. He wanted to communicate to our generation that it is not only about capitalism. To achieve this, he decided to join forces with his twin brother Alexandre, and his best childhood friend Louis Felix De Fenoyl, to create Twins For Peace.
What are your biggest design inspirations? Where did the design for the shoes come from?
The entire project is founded on a basic humanitarian concept. We wanted to make something that was good for everyone -- without discrimination. Not only do our shoes give back to children in need, but they are also designed for all generations of men and women, young and old. We developed a "classic model" that could be worn every year and stay in style. Indeed, we started with a simple line and worked with little details like the red color on our shoelaces to make them special. We have also tried to mix the design with numerous colors and materials like leather, suede, etc.
What can you say about your personal style?
Classic, natural, sporty ... elegant in a certain way.
Do you have a favorite, go-to, super-comfortable piece of clothing (or accessory) that you always gravitate toward?
One pair of Twins and a pair of sunglasses are always with me.
What has been your favorite part of working on Twins for Peace?
Giving shoes to the children in Brazil, Mozambique and Colombia, our three shoe projects at the moment. And we all value the knowledge that we are making a difference, that we are a part of something real.
What does charity mean to you?
Charity is like love. It's giving without waiting something in exchange. It's when something make you feel like crying [because] it's so unfair and you want to something in order that it do not happen again.
What are three things that make you smile?
Family/Friends
Generosity/Honesty
Sport/effort
Katy Kelleher is the Editor of Milkshake. For more good news, sign up for our daily emails at GetMilkshake.com, http://www.getmilkshake.com/.