A D.C. Power Player is someone making serious moves in Washington D.C., and producing memorable work that reverberates beyond its city limits. It is a term often reserved exclusively for politicians, diplomats, and high-profile media figures. But change-makers can be found at all levels, in every arena, shaping the agenda and making sure power is working for as many people as possible.
This is why the term aptly applies to the dynamic Anastasia Dellaccio. When she's not involved in global outreach at the United Nations Foundation, you will find her leading the business development and social media efforts for Dolci Gelati, the business she co-founded with her husband.
Influence in the digital age of the 21st century is defined by relationships and no one builds those relationships better than Anastasia. She is part of a new generation of silo-breakers who are shaking up institutions and driving change from the bottom up through the power of connection. When you're making a difference, its about the vision that fulfills you, the passion that drives you, the work that inspires you, and the lives that are animated and elevated by your expertise. This is Anastasia's story, and what a story it is.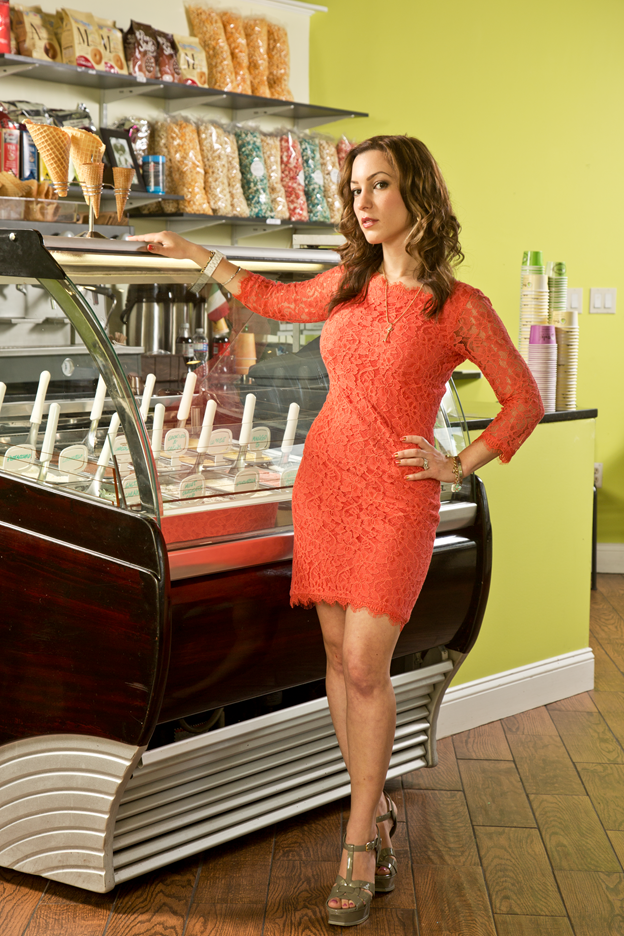 Photo by Benjamin C. Tankersley
What is it like doing outreach for the UN Foundation? It must be exciting.
It is exciting! I lead outreach and special initiatives for the UN Foundation's global public affairs department. My job is essentially connecting with organizations and individuals who are doing incredible work in the world and finding new ways in which we can collaborate. By partnering on efforts such as the Social Good Summit and Plus Social Good, we are helping to connect people around the world and create dialogue around innovation and digital solutions that can be used to make the world a better place. I also help to lead another incredible new initiative called #GivingTuesday, a global call to action on the first Tuesday after Thanksgiving to give and support great causes during the holiday season.
How has the social space impacted your efforts to stay connected around the world?
The new age of social has completely changed the way world affairs are conducted. Social media gives people everywhere a platform to have a voice, impact issues they care about and connect with one another to tackle the world's biggest problems. In some of the most remote places on Earth, people now have access to mobile devices and transformative tools like Twitter. People on opposite sides of the world can collectively create solutions to shared challenges. The power of individuals to band together via digital media to build movements around social change has helped to propel a shift in both local and global policy.

You're also an entrepreneur. Talk about your business Dolci Gelati, which has been generating a lot of buzz in the D.C. area.
In addition to my work with the UN Foundation, I try to make the world a bit sweeter everyday with my business. Dolci Gelati is an artisan gelato company that I co-own with my husband, Gianluigi, who is an artistic pastry genius from Napoli, Italy. We take pride in sourcing and mixing the freshest all-natural ingredients with exotic flavors and an almost century-old family recipe to make the most delicious, authentic Italian gelato. You can find our gelati in restaurants, Whole Foods and other artisan markets around Washington D.C. Out storefront is located in Takoma Park, MD. We also have carts at the Nationals' ballpark, and recently launched D.C.'s first gelato food truck! We are always creating new flavors and are busy at the moment launching our new hot chocolate menu and other fall favorites.
The popularity of gelato exploded in the 1920s, and continues to surge internationally. Why do you think that is?
I think that people are interested in eating something that is delicious but also healthy. We use all fresh fruit for our products, the highest quality chocolate, fresh nuts, the purest liqueurs, herbs and spices to create a dense flavor that people crave. Pair that with the fact that gelato is 1/3 the fat of ice cream and that sorbet is totally fat free and you have a product that people want because it is incredibly delicious without being totally bad for you.
Though you like to joke that "Gelato can solve the world's problems, one scoop at a time", would you say you do that through social media, when you're occasionally announcing the location of your company truck?
The interesting thing about gelato and ice cream is that almost every continent in the world has some sort of variety of the frozen treat. What's more is that it not only exists but really brings universal happiness, gelato is essentially the ultimate global social good, as it has the power to melt your problems away and bring a smile to your face. So yes, everyone looks to ice cream when they are down for a sweet pick-me-up. I am doing my best to make the world's biggest problems disappear if only for a minute as someone dives into a scoop of delectable goodness. The new truck, DolciGelatitruk, brings our flavors to our clients directly: people can follow us or tweet us where they are and we will come. Every day, we have different flavors. Sometimes they are crowdsourced, but they won't last forever -- like our chocolate covered pretzel or white chocolate raspberry. It's first come, first serve!
And here is the last question: what can the variety of gelato teach us about the world?
The variety of gelato flavors (we have made over 300 flavors) shows the diversity of pallets and tastes from all corners of the globe. I think it is the perfect example of how humanity is so large and diverse, like our flavor selection, but that we all collectively share the same desires: to have access to opportunities, peace, health, freedom and delicious frozen treats.
To find out more about the Anastasia, her great work with the UN Foundation, and her postings about Dolci Gelati, follow her on Twitter, or visit the company website.