Accessories create attitude and deliver your point of view.
A grilled chicken breast is blah. But, when you layer it with parmesan, fresh basil, mozzarella, peas and a zippy marinara sauce, you've got a savory chicken parmesan meal. The same notion applies to style. The confluence of style elements is what transforms random combinations of garments into A LOOK. The key? Pulling it all together. Dramatic counterpoints are what will bring your outfit to life. My signature style -- Ali McGraw meets JLo -- is all about accessorizing. I don't have hours to get ready. Or, a gigantic wardrobe. What I do have is an impressive array of wow factor. When women have quality basics -- their uniform -- all they need are eye popping accessories like jewelry, scarves, belts, hats and shoes to elevate, say, a simple sheath dress into a Boho-fab Nicole Richie worthy ensemble. The five minutes that it takes to pop on two necklaces, a scarf and earrings is the difference between ho-hum and high wattage. And, when speaking of accessories, bigger is almost always better. Diminutive pieces are cute for children. But, they don't really succeed in elevating a garment into something fabulous. In order to be eye catching, it needs to be big enough to make a statement
MUST HAVE WOW FACTOR OUTFIT MAKERS: STATEMENT ACCESSORIES THAT ELEVATE NEUTRALS

NECKLACES: Gold chains, pendants, beads, a vintage magnifying glass dangling from a gold chain, an eye catching necklace is the easiest way to make a basic outfit pop.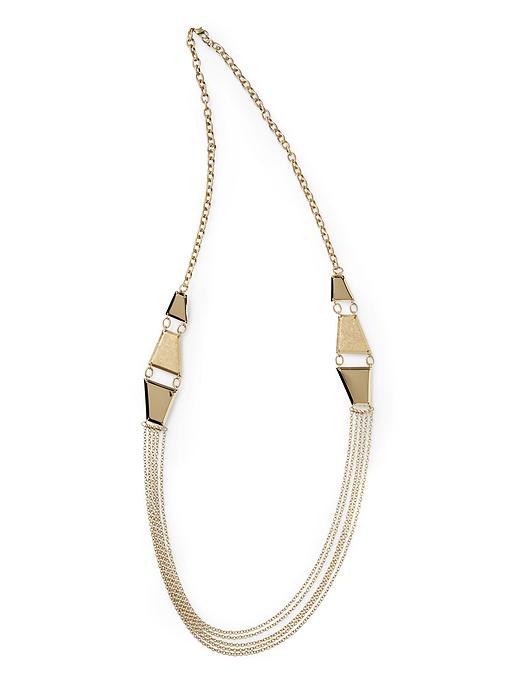 BANGLES/CUFFS: Eclectic accents -- think a bunch of Indian bangles, a thick wooden cuff or some colorful enamel bracelets. These are the eye candy that add some flash to basics.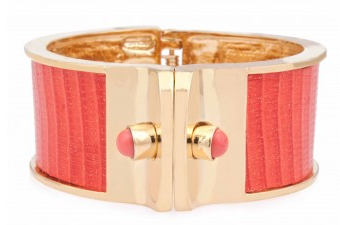 Kara Ross Small Shirt Cuff, Gold With Coral Lizard With Gold Glitter And Dark Coral $315
LONG EARRINGS: Whether a simple hoop or a fancy chandelier earring, a neck grazing earring acts as a tool to elongate the neck. Earrings also create a focal point and draw attention to your face by adding light.
BELTS: Emphasize a slim waist or add shape to amorphous garments with a belt ... Skinny belts feel demure. Chain belts feel sporty. Thicker belts reflect a harder edge. A macramé or leather tie belt screams Boho. Cinching a thin leather belt over a cardigan is a classic, super polished look.
SCARVES: Scarves, lightweight cottons or heavy cashmere, are the ultimate layering piece. Forget the old fart, knotted under the neck country club look. There is a vast difference between the large rectangular scarves that Granny favors and the attenuated Stevie Nicks/ Steven Tyler/Kate Moss type scarf which drips sensuously down the body.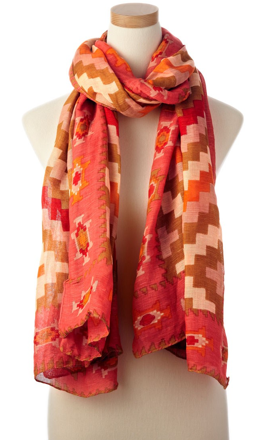 BAGS: Every woman needs a great tote and clutch bag that marry fashion and function ... The right bag adds proportion to your look and is a great way to add a pop of color.
TEST DRIVE: INSTA-GLAMOUR

In order to experience the power of wow factor, get your hands on a gold cuff, a dangly, a long, gauzy silk scarf, big beads, oversized sunglasses, some long, gold necklaces and a colorful tote bag. Lay your basic black clothing out on the bed, place these fetching accessories on top and watch your outfit pop. That's right. Simple + cool eye catching accessories = a polished statement making glamorous look.
Please visit my FIVE MINUTE FIXES blog for fast and fabulous style tip!