Chirping birds signal the arrival of spring. And, a gentle reminder that leg baring seasons is almost upon us. But, what to do about those pasty white, winterized legs? The way I see it, you have three choices: embrace the paste, go for the glow or strategically layer your legs in "camouflage clothing."

1. Embrace the Paste
Take a page from the celebrity playbook and own your paste. Stars like Kristen Stewart, Taylor Swift, Gwyneth Paltrow, Gwen Stefani and Emma Stone are prancing about with vampiric confidence. You can, too!


2. Go for the Glow
If you are fearful that your alabaster thighs will induce epileptic seizures in the general public, the faux glow is for you. Not only will your legs become instantly sun-kissed, but the light reflective particles in self-tanning products can reduce appearance of cellulite. The trick is to find a self-tanner that does not streak or leave you with an orange tint that smacks of early Miami Vice episodes. If you are serious about achieving that just-been-to-St. Barths-radiance, you may want to consider forgoing that new pair of spring shoes in favor of purchasing your very own TEMPTU airbrushing machine. You can DIY bronze your entire body and score that flawless finish a la Jennifer Aniston.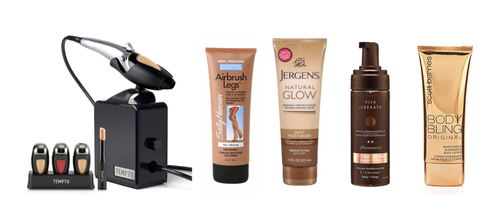 (left to right) Temptu Deluxe Signature Kit $235, Sally Hansen Airbrush Legs Self-Tanner $12.83, Jergens Natural Glow Revitalizing Body Moisturizer $8.95, Vita Liberata pHenomenal 2-3 Week Tan Mousse $54, Body Bling Original by Scott Barnes $42
3. Camouflage Clothing
If leg baring is simply not in the cards, you can slyly and stylishly cover your gams with spring-approved trends. Best bets? Overalls, harem pants, maxi skirts, maxi dresses and white skinny jeans.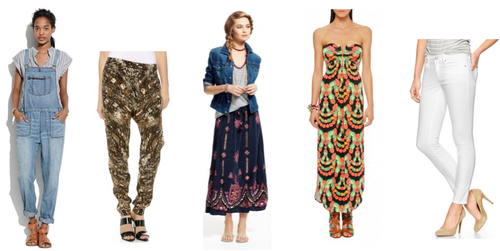 (left to right) Madewell Park Overalls in Skyview $148, Otte New York Snake Harem Pants $286, Calypso St. Barth Eltera Silk Embroidered Gypsy Skirt $350, Mara Hoffman V-Wire Maxi Dress $223, Gap 1969 Legging Skimmer Jeans $69.95
For more style tips and tricks visit Amy's blog at amytarakoch.com and Instagram.