Holiday dressing is all about stepping up one's style; adding a dash of flash, a higher heel, some sequins and a bold, red lip. But, the plethora of party dress codes has confused legions of ladies. Can one wear fishnets to an office celebration? A décolletage baring gown to a "festive" party? Jeans to a "cocktail chic" soiree? There are, in fact, unspoken rules that govern the fashion scene from Thanksgiving through New Year's Day. Here is the lowdown on the holiday party lexicon.
ON DECIPHERING CRYPTIC DRESS CODES
Q: What should you wear if the invite says "Festive"? What should you NOT wear if the invite says Festive?
A: This is holiday speak for laid back, less formal attire. You can wear dark denim and heels or a flirty red dress or anything embellished like a sequined top or cardigan. This type of party is a calling card for megawatt accessories like chandelier earrings, a look-at-me necklace, cuff bracelets and knuckle duster cocktail rings. Do not sport a ball gown or fancy schmancy cocktail attire.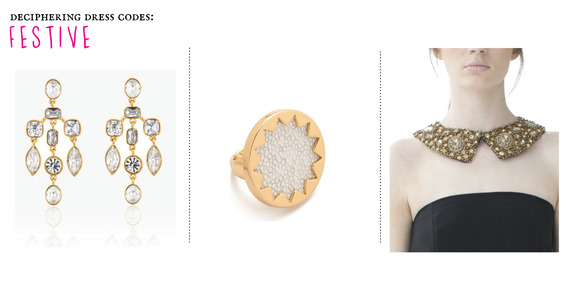 Kara by Kara Ross Chandelier Earrings $165, House of Harlow 1960 White Sand Medium Sunburst Ring $45, Atelier Azza Topaz & Gold Embellished Collar $295
Q: What should you wear if the invite says "Cocktail Chic"? What accessories? What should you NOT wear if the invite says Cocktail Chic?
A: "Cocktail Chic" is the sporty, fashion forward way to phrase "cocktail attire." The look requested is polished and sophisticated. Go for a simple dress with sparkly jewelry or skinny pants and a tailored tux jacket. Add some texture with a velvet blazer or a fur vest. Deliver a pop of color with a faux (or real!) python clutch in a bold color. Do NOT wear jeans or leggings.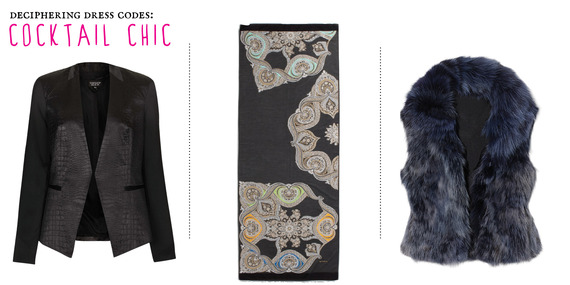 Topshop Croc Embossed Contrast Jacket $130, Etro Paisley Jacquard Chiffon Stole $400, Adrienne Landau Fox Vest $795
Q: What should you wear if the invite says "Creative Black-Tie"? What should you NOT wear if the invite says Creative Black-Tie?
A: The addition of the word "creative" means that this event is formal but not as serious as a traditional black tie. You are free to wear a gown or a fancy cocktail length frock in a favorite color or glam print. Feel free to add fun accents to a black dress like an ostrich feather boa, a fur wrap or a feathered clutch bag. Do NOT wear jeans or leggings.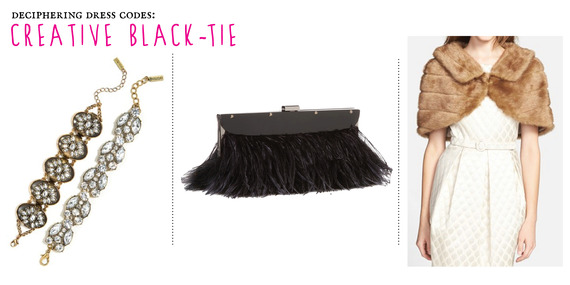 BaubleBar Winter Bracelet Set $78, BCBG Portia Feather-Trim Lucite Clutch $228, Eliza J Faux Fur Bolero $158

Q: What should you wear if the invite doesn't specify a dress code? Is there a tactic to deal with being overdressed/underdressed?

A: Always air on the side of glamorous and pulled together, not overly casual. The perfect go-to ensemble is a just-above -the knee black dress (fit & flare, sheath, a-line, wrap). This is a classically chic silhouette and "works" in most scenarios. To play it safe, layer the dress with easy-to-remove elements like a shawl/wrap, print scarf or sequined cardigan. This way, if the event is super casual, you can easily slip into the bathroom and shed some accoutrements.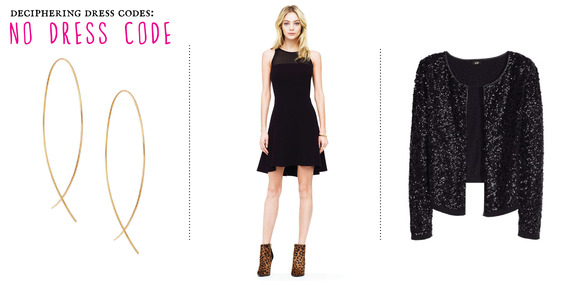 Lana Large Upside Down Hoops $265, Club Monaco Lorna Neoprene Party Dress $198.50, H&M Sequined Cardigan $49.95
TIP: THE TRANSITION TOOLBOX
During the holiday season, it's not a bad idea to keep "a few spare parts" on hand in case you have a last minute invitation or show up to the party on the casual side. I recommend that women keep a "transition toolbox" in the car or office to supply on-the-go-glam. In a zippered pouch, store textured tights, long dangling earrings, a very long, vertical scarf in a bold color, a cuff bracelet, blush and a brighter lipstick. Should you need to add some radiance, the tools are at your fingertips.
ON LOCATION
If the invitation does not specify a dress code, knowing where the soiree will be held is the biggest clue in how to dress for a holiday party. An office party demands office appropriate attire injected with holiday verve. This means adding some sparkle and shine to a dress or trouser: a sparkly cardigan, a metallic heel, some glammy jewelry tucked under the collar. Nothing outrageous. Nothing slutty. A party at a private home gives de-facto permission to be more daring, whether it's a plunging neckline or a higher hemline because there's an assumption that you know the hosts well enough to be invited into their world. A restaurant party could still be a gathering of your more intimate friends, but it also could combine work colleagues so it is better to air on the more conservative "safe" side unless you have the guest list.
For more style tips and tricks visit Amy's Blog at amytarakoch.com and Instagram.