I am headed to Paris with my daughter on Friday. A serial traveler, I pack for every conceivable in-flight situation. And, I dress in way that is at once comfortable and chic. Just in case Robert Pattinson or Karl Lagerfeld should sit near us on the flight.
On the fashion front, it is all about super soft leggings and a long-sleeved tee shirt. Layered over the shirt is a DKNY cashmere "cozy" and a extra-wide cashmere scarf that can double as a blanket. Flexible ballet flats are a must.
The entire outfit is, of course, black. Why? The ultimate neutral, black is flattering, urbane, sleek and chic. It also does not show the accumulated dirt and grime of an international flight.
Flying will suck the moisture from your face and body. Throughout the flight, I pat my face with Sonya Dakar Omega Booster oil and lubricate my eyes with Refresh eye drops. I swab AYR nasal gel (germs can enter the bloodstream through cracked nasal passages!) inside my nostrils before the flight. Cooties are a huge issue. I wipe down the whole area and tray with anti-bacterial wipes.
I always bring the Bug Off Chair Cover to cover the airplane seat. This washable fabric cover is a barrier between me and the filthy seat. Wipes are also used to open and close the bathroom door. And to flush the toilet.
I always bring two changes of clothes and my toiletries kit on the flight. Whether you fly first class or coach, bags get lost all of the time and you don't want to waste your precious vacation hunting down clothes. I pack them in Flight001 Space Paks, which keeps everything super organized. Also in my carry-on are a gold pendant necklace, some gold earrings, sunglasses and lip gloss. I pop them on upon arrival to Paris to create some je ne sais quoi drama for my all-black look. My daughter, of course is in a similar kid-ified get up. She has her own chair cover, wipes and Ayr.
For medical maladies that may crop up en route, always have kids and adult Advil, Pepto Bismol, Imodium, Band Aids and antibiotic ointment on hand. For ascending and descending, I am a huge fan of Ear Planes, which regulates air pressure naturally within the ear.
Au revoir.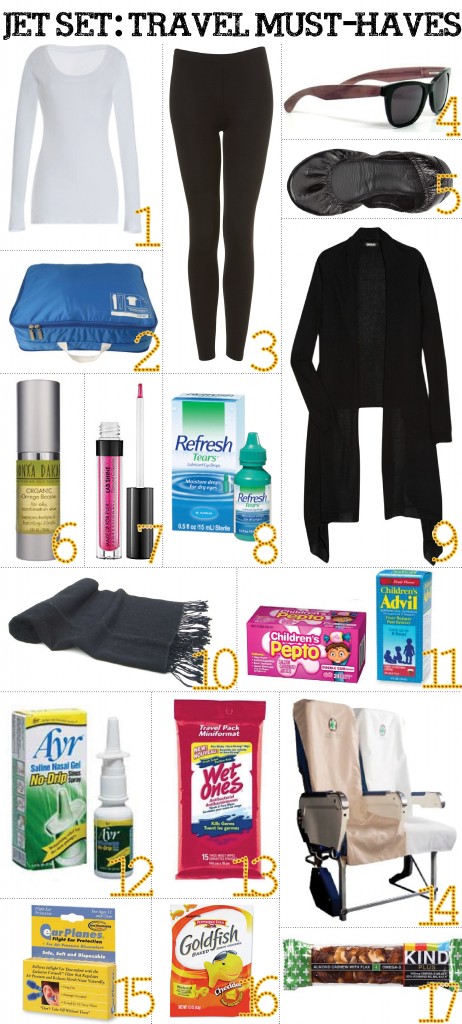 1. Michael Stars cotton long sleeve shirt $55
2. Flight001 Space Pak $46
3. Topshop leggings $24
4. Drift Eyewear sunglasses, prices vary
5. Boutique 9 flexible ballet flats $69
6. Sonya Dakar Omega Booster $42
7. Make Up Forever Lip Gloss $19
8. Refresh Eye Drops $15
9. DKNY Cozy sweater $195
10. Black Pashmina scarf $24.98
11. Children's Advil $6.99 & Children's Pepto-Bismol $5.29
12. Ayr Nasal Gel $6.99
13. Wet Ones Antibacterial $3.99
14. Bug Off Chair Cover $29.99
15. Ear planes $12.99
16. Goldfish crackers
17. Kind Bars $1.49 each
Please visit my FIVE MINUTE FIXES blog for fast and fabulous style tips!