Nothing says "wow!" like an unidentifiable retro accent. Sporting something that nobody else can buy is the requisite ingredient for fashion lust.
The spring runways were filled with florals, geometric prints, wide cuffs, rope necklaces, chain belts, lace, ruffles, polka dots inspired by the '50s, '60s and '70s.... Instead of buying pricey designer simulations, shop vintage to get the real deal. A groovy, eclectic blend of sporty modern and vintage is what catapulted Kate Moss into the realm of fashion icon. First stop? Mom's closet. Scoop up '70's silky blouses, fringed cashmere wraps, anything Pucci, paisley scarves, a retro logo belt and glitzy Knots Landing-style jewelry to add pizzazz to jeans or black leggings. Great vintage does not have to be a bold-faced designer. A no-name satin-lined evening bag complete with mirror is classic cool. A mink boa with Aunt Mabel's name stitched on the lining is haute chic. A quirky medallion, old-school chain belt, beaded bracelet, Indian bangles, wooden cuffs and massive beaded necklaces will yield gargantuan global glitz. Of course, if your mom has none of these treasures, swap meets, flea markets, thrift stores and vintage emporiums are excellent resources.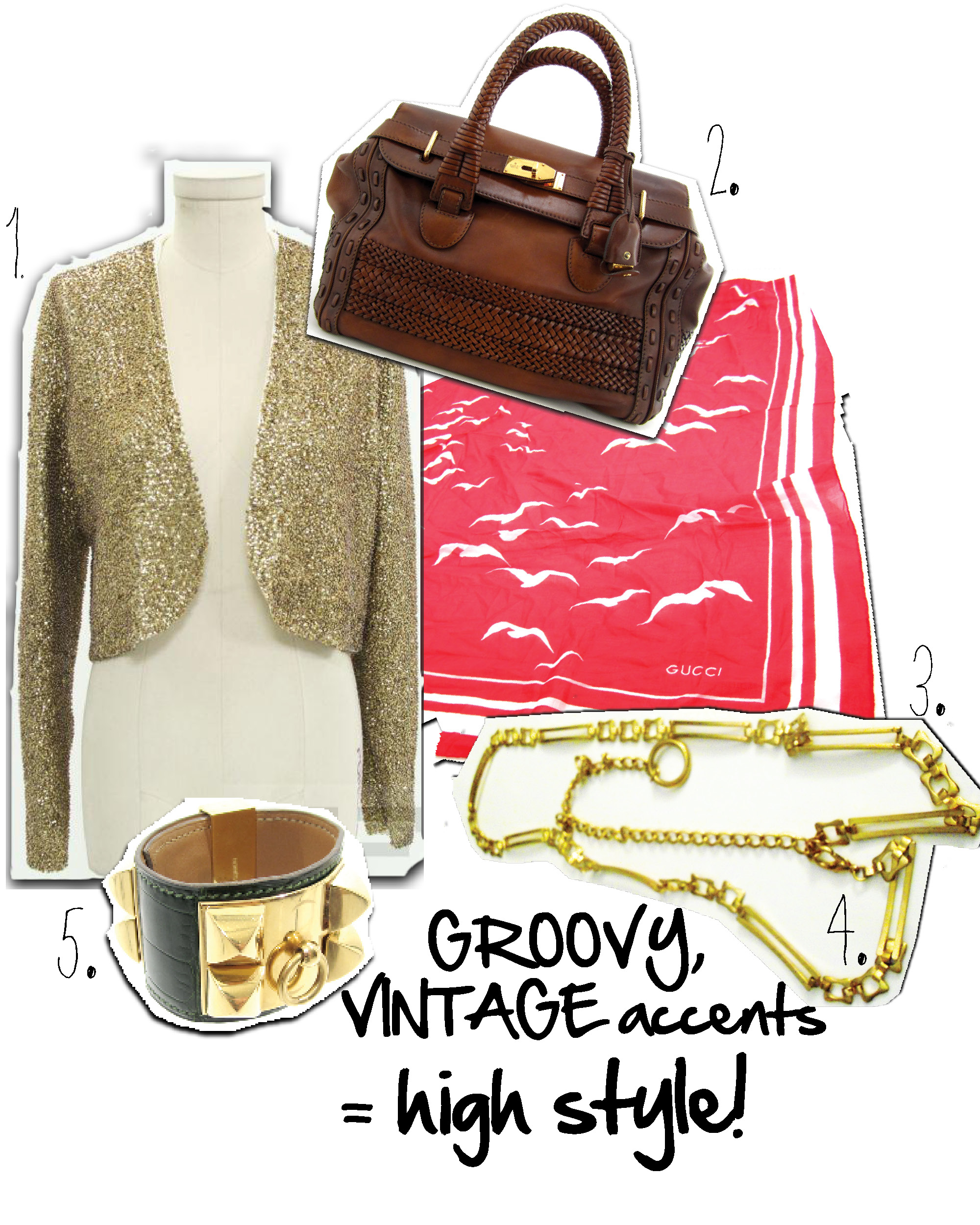 Vintage pieces: 1. Celine gold jacket// 2. Gucci satchel// 3. Gucci scarf// 4. Vintage gold chain belt (which can double as a necklace!)// 5. Hermes studded cuff
But beware. There is a fine line between serious "vintage" and old crap. Vintage is that glam little touch that elevates mere clothing to "a look." Quality vintage is special. It is that red polyester blend Studio 54 Halston dress. Your granny's Hermes belt. A 60s Mary Quant trench coat. Conversely, a boxy pink blazer with cheap gold buttons from your first job interview is crap and should be given away. Ditto on the sateen blouse with linebacker shoulder pads.

When deciding whether something is crap or not, think... WWKMW? (What Would Kate Moss Wear)? And act accordingly.
HOMEWORK: Tear-sheet the looks that you like from magazines and create an "inspiration board." Take photos of these with your phone before you head out to hunt so you have a reference point. And remember to do the sniff test. If something smells like mothballs or worse, do not buy it. It is very hard to get rid of a decades' old stink.
Please visit my FIVE MINUTE FIXES blog for fast and fabulous style tips!