The Oscars are the Superbowl of awards seasons. To get ready for the close ups that are tweeted round the world, A-listers kick up their styling regimens into overdrive.The goal? "Effortless" looking glamour that says -- "Oh, I just woke up looking wide eyed, taut and tawny!" The reality? Months of prep time. And, a massive investment.
Muffin top must be whittled away. Complexion must transform from sallow to sun-kissed. Wrinkles must be plumped. Skin must be de-blotchified. Décolleté must channel Amy Adams' gleaming, come-hither cleavage in American Hustle. Well, as a stylist, I can tell you that mere mortals don't need a battery of professionals (or a massive budget) to achieve this level of perfection. We have an arsenal of products up their kimono sleeves to help clients get glam in a flash.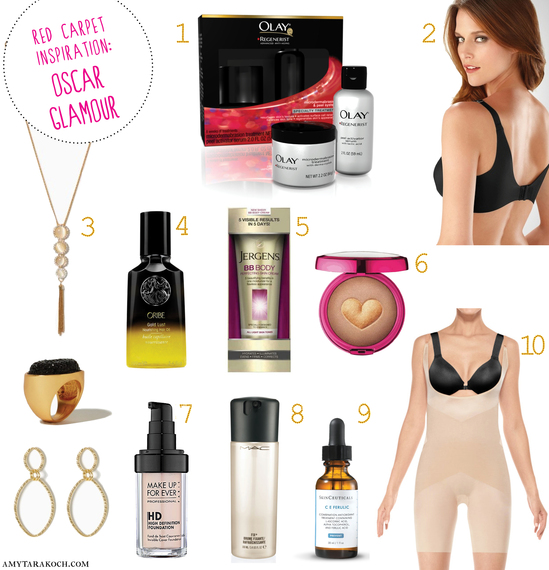 1. Don't be Dull -- exfoliate your skin to brighten complexion.
Olay Regenerist Microdermabrasion and Peel System $25.99
2. Au Courant cleavage -- the right sized bra is everything! For added allure, strategically dust bronzer throughout the décolleté.
Soma Vanishing Back Full coverage Bra $48
3. Make a Statement! Statement ring, earrings and long necklace add high wattage style to everything.
Charming Charlie Bauble Cap Tassel Necklace $15, Charming Charlie Shimmer Signet Ring $10, Charming Charlie Two to Tango earrings $6
4. Sleekify hair -- frizzy tresses are unacceptable. This serum adds luster and tames flyaways.
Oribe Gold Lust Nourishing Hair Oil $48
5. Get that all-over glow -- a BB cream evens out skin tone and adds a tawny sun-kissed radiance to arms, chest and legs.
Jergens BB Body Skin Perfecting Cream $11.99
6. Go for the gold -- bronzer is the must-have ingredient for a faux glow. When dusted on the cheeks, nose, forehead and décolleté, bronzer supplies that just-been-to the beach glow that perks up the face as jumping the waves perks up the spirit.
Physicians Formula Happy Booster Glow and Mood Boosting Bronzer $13.95
7. Smooth Move -- Make Up For Ever's HD Invisible liquid foundation magically camouflages skin imperfections and delivers a super flattering "soft focus" effect.
Make Up For Ever HD Invisible Cover Foundation $42
8. Insta-Luminosity -- a schpritz of Mac Fix+ spray increases dewiness and adds that extra oomph to skin.
MAC Fix+ Spray $21
9. Complexion Perfection -- a quality vitamin C serum used daily brightens and tightens the skin.
Skinceuticals C E Ferulic Serum $153
10. Suck It In! The Spanx Open Bust Mid Thigh Shaper may look scary, but it has the power to literally shave 10 pounds from your appearance.
Spanx Britches Open Bust Mid thigh Shaper $88
For more style tips and tricks visit Amy's Blog at amytarakoch.com and Instagram.