When my youngest daughter turned five, I received a karmic get out of jail free card. It read: "you are hereby released from diaper duty, nap patrol, making/consuming bland food and traveling to ho-hum locations just because they offer child care." I blinked back the hot tears of relief and swiftly dialed my travel agent. It was time for a much-deserved rendezvous with Paris.
I adore my children. But, I pine for the spontaneity of yore. Especially spur-of-the moment international travel. Since being seduced by Hem and his expat pals in my teens, I had managed to visit Paris -- exchange student, air courier ($100 tickets pre-terrorism!) or covering fashion week -- enough to become fluent in the language of champagne, sauccison and scarf tying. It was easy. Simply stuff multitasking black garments in a carry-on, grab passport, et voila!
Then, I had kids. This laissez faire attitude does not bode well with babies. From sleep schedules and feeding logs to multiple outfit/diaper changes a day, parenting required supreme organization. And, cumbersome "gear." So, I bid adieu to glam getaways and focused on my family. Then came baby #2. Mommy and Me classes took over my life and Paris became a distant memory. However, while other moms talked of Cinderella, I dreamed of the Eiffel Tower. For years, I quietly plotted an extended family excursion to France filing away clippings on hot spots and family friendly fabulosity. I was biding my time. And, saving my cash. The moment my kids were clear of the albatross of baby accoutrements, I was prepared to bolt.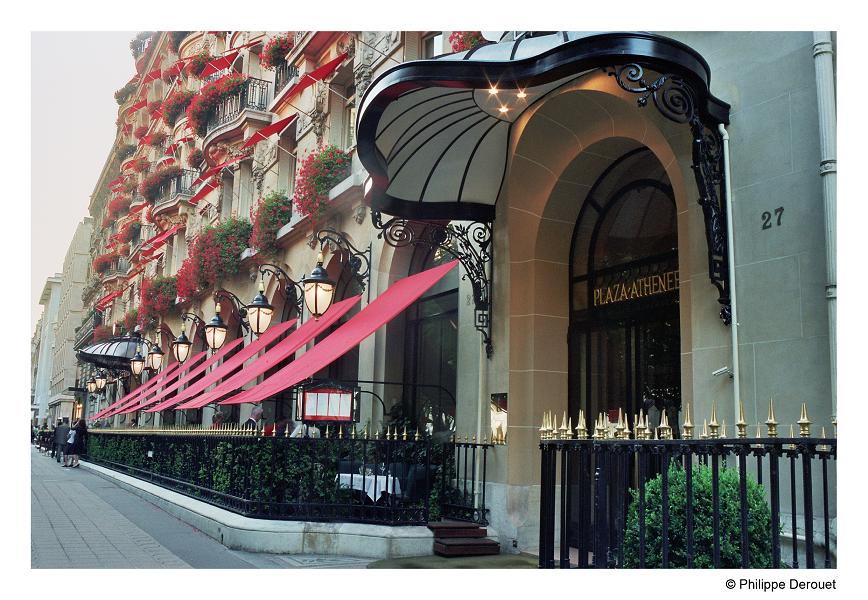 Exterior of the Plaza Athenee
This year, I pulled the trigger. We would fly to Paris in July for my birthday. Accommodations? In Paris, old school is the best school ("hip" is code for tiny/ uncomfortable). So, after years of slumming it in dark six floor walk ups with cat pee scented couches, I booked a suite at the Hotel Plaza Athenee, a storied locale which has been beautifully Botox-ed with state of the art technology. Property de choix for Grace Kelly, Jackie Kennedy, Anna Wintour and J-Lo, I was confident that my potentially wayward (but well dressed) brood would be tolerated
Apprehension over jet lag induced meltdowns dissipated as we trudged through the hotel's geranium-studded entrance. Here's why: The Plaza Athenee takes "family friendly" into another stratosphere. Upon check in, the concierge presented her card to the children "in case they needed anything." She then whet their weary wanderlust by pointing out the proximity of the Eiffel Tower and Louvre. By the time she whispered conspiratorially that an actual princess (def not of the Disney variety) was in residence just next to us, they were charmed by the attention. On the amenity front, a dedicated website for children and an arsenal of video games and American films are welcome tools. But the kid specific activities -- a kids "tea" featuring teddy bear "bisounours" at the Galerie des Gobelins, horse drawn carriage rides, a courtyard ice skating rink during Christmas are the fodder of scrapbook memories.

Treats by world renowned pastry chef, Christophe Michalak and the Plaza Athenee ice skating rink
Americans frequently moan about European plumbing and musty, miniscule quarters. While this is true (Oh, I've been there), the gracious rooms at the Plaza offer a whiff of a bygone era; airy and posh without pomposity. Closet space built-ins within chic armoires -- was plentiful (key for an extended family trip). Instead of lame, creaky cots for the children, they described their plush rollaway beds as "marshmallows floating upon a sea of fluffy clouds." Each day, a treat -- a red cashmere teddy bear, chocolate chip cookies, fresh apricots, coloring pencils and "My Voyage to Paris" souvenir book -- was left on their pillow as if by magic. For families, the presence of 1.5 bathrooms is a major score for obvious reasons. But what was INSIDE of the massive marble bathroom is what sparked a thousand hoots and hollers: a towel warmer and a "butt washer!" A daily bidet followed by a toasty towel elevated my kids' grooming experience to new heights. Clutter does not exist at Hotel Plaza Athenee. Instead of a daily clean-up and turn down, our room was serviced each time we left the hotel. Translation? No Mess. Ever. And, though I turned it down, the offer to have housekeeping unpack our luggage was an undeniable hallmark of luxury.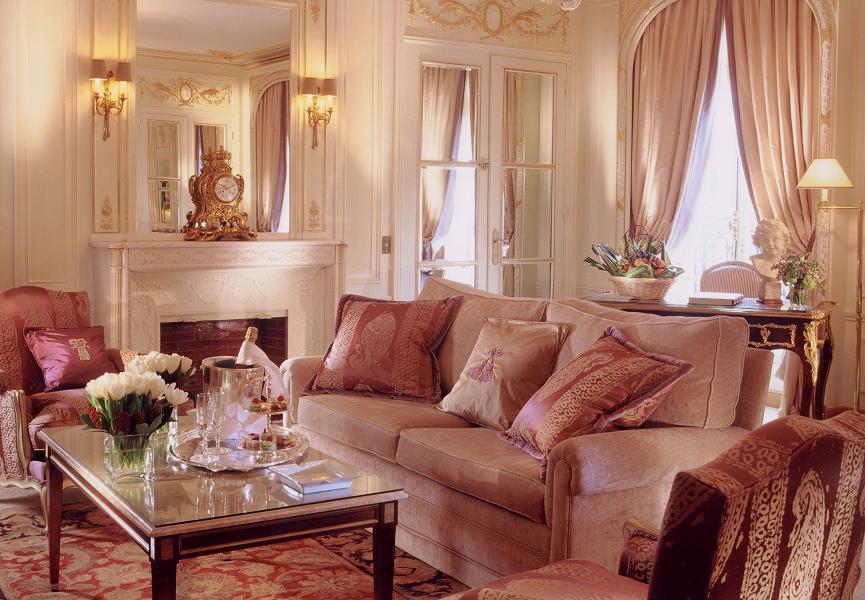 Living room in the Prestige Suite at Plaza Athenee
Issue: Parisians eat late. In fact, most restaurants are not open before 8pm. This poses a problem for American families who generally feed their kids at 6pm. No stranger to Parisian haughtiness, I feared eye rolling as I inquired about dining options. Unfazed, the concierge offered up suggestions -- mostly brasseries -- that satisfied everyone. But, then we discovered in room dining. In the USA, consuming ice cold, sub-standard "room service" is an act of desperation. Here, it is haute cuisine. Alain Ducasse and his team have adapted (presented pictorially so non-readers can select a meal) a kids menu to cater to budding gastronomes. So, while kids enjoy French onion soup and pasta, mom and pop can tuck into Sancerre and Cotes d'Agneau. The wildly creative desserts of Christophe Michalak are, of course, a necessary indulgence. The Roger Federer of pastry, this World Pastry Champion crafts cakes specifically for children that are the meal's piece de resistance.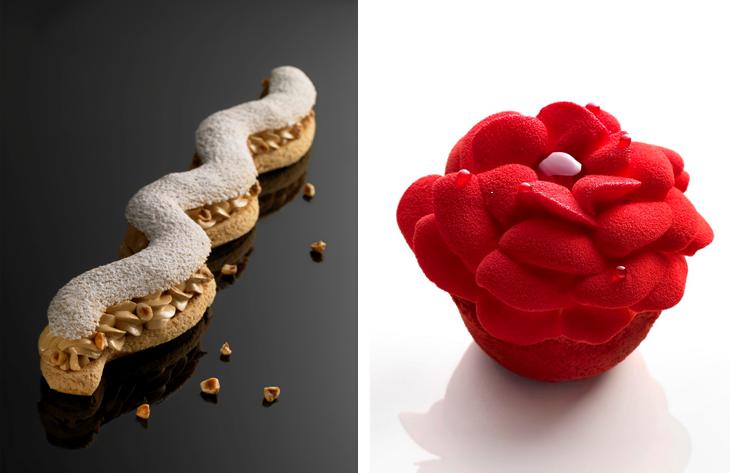 Wildly creative desserts of Christophe Michalak
So, what do you do with young children in the City of Light? One of my goals of the trip was to inspire wee Francophiles. Thus, I found activities that catered to their interests and attention spans. Day one requires sugar. Laduree has many shops. But, the elegant Chinoiserie style tearoom at the Rue Bonaparte location is the perfect way to say "Bonjour, Paris". The melt-in-your mouth macaroons are the perfect antidote for jet lag. Science buffs will adore the Palais de la Decouverte housed within an old palace. To make a visit to the Louvre exciting for kids, the hotel can organize a kid specific tour (some with treasure hunts) with Louvre society staff. Little children will go mad for the Jardin d'acclimatation, an old fashioned amusement park in Bois de Boulogne. The huge outdoor space features a house of mirrors, archery range, puppet theater, playground and waffle stalls. The Eiffel Tower is a must see. Be in the line by 8:30 am or you will be waiting all day. A one-hour open air "Bateaux Mouches" boat ride on the Seine is a great way to see the city's iconic monuments. You can also go by Batobus (water taxi), which stops at the eight key points of interest along the Seine. Visiting the Paris street and flea markets is my absolute favorite activity. A treasure trove for souvenirs for kids and parents, one can score everything from ceramics, stamps, coins and to vintage accoutrements for the house. And, on the cheap. Check here for the schedule. In planning activities, Plaza Athenee's "VIC" website (Very Important Children) is useful as it highlights current museum exhibitions and fun family excursions. Of course, the concierges (most have been at the hotel for 20 years!) will supplement recommendations and score tickets for anything you want to do.
Not surprisingly, my plan worked. The kids (and hubby) were bewitched by Paris. At the end of each day, when the kids were drifting off to sleep in their marshmallows, I gazed out into the Hotels' heart-thumpingly beautiful Cour Jardin -- marveling at how incredible it felt to graduate from that six-floor walk up to Paradise.