Sometimes a mom has to exit stage left.

Organizing lives, keeping house, wiping butts and noses and producing science fair volcanoes with precision and a smile sucks the hours from one's day. As a card carrying member of the supremely stressed syndicate, I grow resentful that the inherent chaos of parenting eats up the time that used to be spent on me! Motherhood is rewarding, yes. But it is also riddled with responsibilities and a never ending to-do list. Exhaustion is simply par for the Pampers ridden course.

How to reclaim one's moxie? The mommy field trip: a weekend getaway sans children. My vision of Zen is a sunny and glamorous spot where I can rest my mind, energize my body and rejuvenate my complexion. So, armed with just over 48 hours of down time, I headed to the left coast to recharge my batteries.
Here is a list of what you can do, see, buy and eat to make the most of Los Angeles.

1. HOTEL: FOUR SEASONS BEVERLY HILLS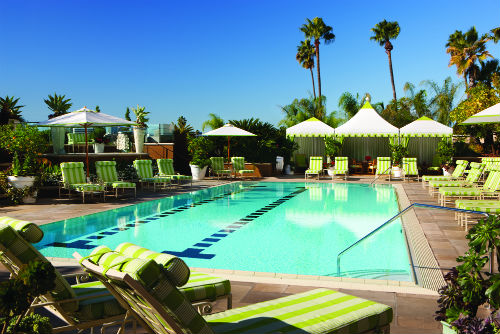 Four Seasons Beverly Hills poolside view
There is no better place to bid adieu to the daily grind than the Four Seasons Beverly Hills. Of course, the rooms and service are divine. But, the location is what defines this lodging as the Gateway to Glam. Straddling West Hollywood and Beverly Hills, the best shopping, eating, hiking and primping is always 10 minutes away. And, when you need to decompress, lounging by the lemon tree and cactus studded pool (where it is always 74 degrees) is the ultimate atmospheric tonic.
Four Seasons Beverly Hills
300 South Doheny Drive
Los Angeles, CA 90048
310-273-2222
2. FACIALS: KATE SOMERVILLE CLINIC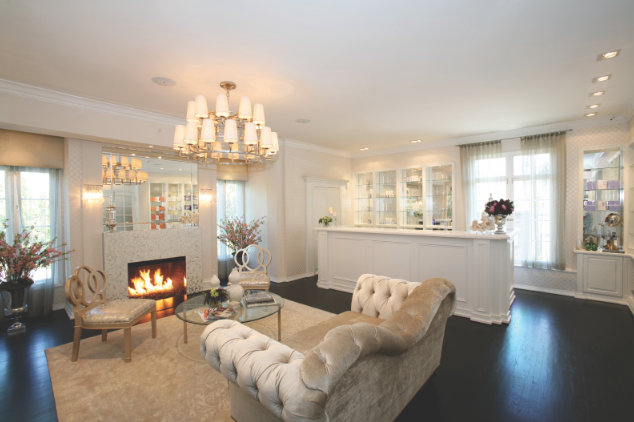 Kate Somerville Skin Health Experts
There is hardcore evidence on the pages of style glossies (featuring her A-List clientele) supporting Kate Somerville's moniker "The Goddess of Glow." This glamorous West Hollywood clinic serves up skincare that literally stun gun wrinkles into radiance. Clients are buffed and shined with Star Wars-esque laser and light therapies like Titan, Laser Genesis, Pearl and Kate's signature Dermalucent treatment. Somerville, who helped pioneer the modern concept of "medi-spa," combines esthetic and medical grade technologies to stimulate the fat layers and underlying musculature which, in turn, staves off the scalpel. A treatment is like a two hour workout -- facial fitness at its finest. With zero down time.
Kate Somerville Clinic
8428 Melrose Place
Los Angelos, CA 90069
323-655-7546
3. COLOR & CUT : BYRON & TRACEY SALON
Spotted: Ali Larter. Rachel Zoe. Nicole Richie. V. Beckham. Drew Barrymore.
There is a canyon of difference between good hair and a great hair. The right cut is key. And, Byron Williams has a master's degree in movement and layering. Walking into the gleaming, glammy white-on-white salon feels like stepping into a Terry Richardson photo. Chic. Uber-styled. Tres Hollywood. I despise to be kept waiting... But, here, biding my time is somehow enchanting. Why? Perched on a tufted chair, I can watch the who's who of US Weeklymagazine slink in for primping. As my old pal Byron luxed up my hair, his two helpers made sure that I was hydrated and equipped with of-the-moment media. Post cut and blowout, I was ready for my close up. With my hubby.
Byron and Tracey Salon
9294 Civic Center Dr
Beverly Hills, CA 90210
310-276-4470
4. BROWS BY ANASTASIA SOARE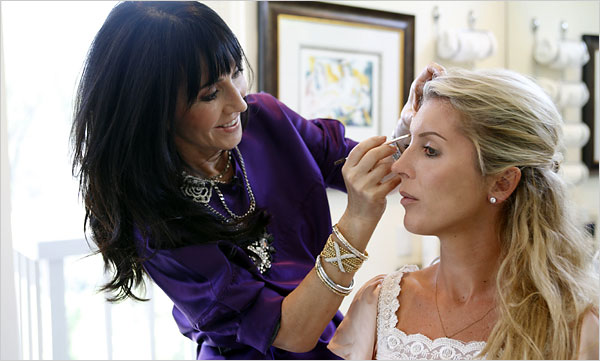 Anastasia Soare
"Eyebrows are your most powerful accessory!" proclaims Anastasia Soare, tweezer guru to celebrities like Madonna, Oprah and Debra Messing. She's right. For women of all ages, brow grooming -- essential to maintain clean, perfectly arched brows -- has morphed into a beauty ritual on par with the bimonthly manicure. Anastasia "The Brow Queen" Soare tames centipede-like brows into perfection with arches almost as famous as McDonalds'. But -- call in advance! She is booked for months.
Anastasia Soare
438 N. Bedford Dr.
Beverly Hills, CA 90210
(310) 274-9391

5. MAKEUP APPLICATION: BLUSHINGTON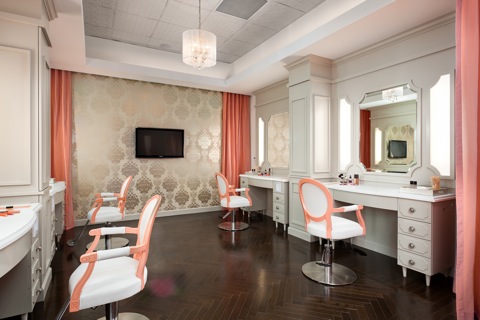 Blushington Beauty Salon
Sometimes, you just want to go that extra glamorous mile. Get gorge with professional makeup application at Blushington, a new beauty hot spot conveniently located in Sunset Plaza. Select a "look" from the menu: "simply glowing," "Life of the party," "smoke and mirrors," pay $35 and voila. They also offer private makeup lessons.
Blushington
8591 Sunset Blvd
West Hollywood, CA 90069
310-652-5874

6. MANI/PEDI: FOUR SEASONS SPA
When I am at home, a mani/pedi is a chore. I am watching the clock, panicking inwardly over what to make for dinner and school pick up. But, seated in Genia Gregorian's "throne", (voted best Manicure in LA by Allure!) in a private spa suite, grooming was elevated to pampering of the highest order. While gazing out the window at the palm trees dotting Doheny, I actually lost track of time. I sipped an herbal elixir while my feet and legs were massaged. Calluses were painlessly scrubbed away. My (gross) Jacob Black talons were clipped and buffed. Nail nirvana.
7. SHOP: SATINE, HILARY RUSH, ZERO+MARIA CORNEJO & DECADES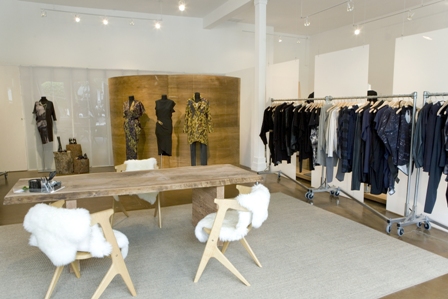 Zero + Maria Cornejo
West Hollywood is manna for materialists. First stop? Third street. Hit Satine, home to an eclectic fusion of emerging and established designers like Carven, Lanvin, Preen, and Isabel Marant. A few doors down, Hillary Rush's well-edited offerings mix under-the-radar designers like Daughters of the Revolution with Nicholas K with Kenneth Jay Lane baubles. Over on Melrose is Decades, the ultimate vintage resource. The shop teems with designs from Ossie Clarke, Halston, Stephen Burrows and Thea Porter. Decades also stocks glam accessories like vintage Hermes Birkin bags and Bottega Veneta weave belts. Over on Melrose Place is ZERO + MARIA CORNEJO, the Chilean born master of architectural, minimalist design. To me, multi-tasking basics are a mom's garmental BFF. Zero's drapey fab tunics and dresses, swingy cropped jackets are wardrobe staples.
Decades
8214 ½ Melrose Ave.
Hollywood, CA 90046
323-655-0223
Zero + Maria Corneo
8408 Melrose Place
Los Angeles, CA, 90069
323-782-4915
Satine
8134 W 3rd St.
Los Angeles, CA 90048
(323) 655-2142
Hillary Rush
8222 West 3rd St.
Los Angeles, CA 90048
(323) 852-0088
8. HIKE: RUNYON CANYON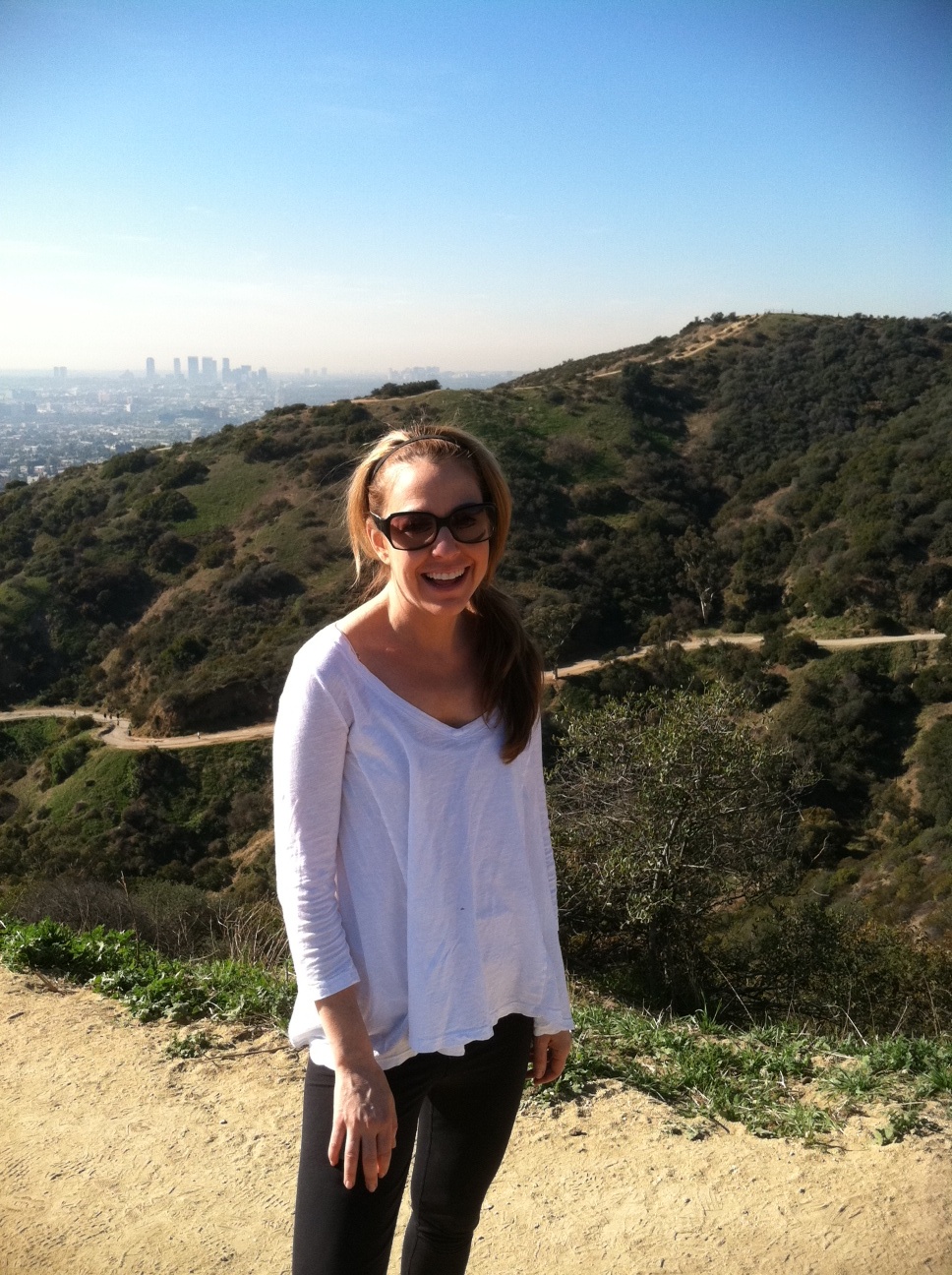 ATK hiking at Runyon Canyon
One of the greatest pleasures of LA is jacking up the metabolism with a brisk morning hike. Majestically perched above Sunset is Runyon Canyon, the perfect hour hike just 10 minutes from The Four Seasons Hotel.
9. RECHARGE: THE COFFEE BEAN & TEA LEAF's world famous vanilla ice blended is the magical low cal, oft-imitated coffee beverage that keeps Angelenos on their toes. They are all over the city.
10. EAT: LA SCALA, PIZZERIA MOZZA & URTH CAFÉ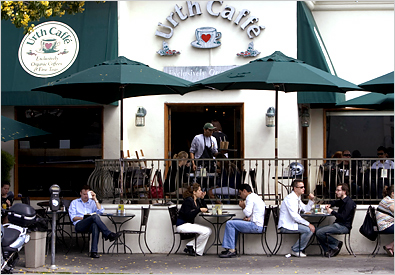 Urth Cafe
Angelenos can't get enough of the Pizzeria Mozza, the, ultra chic pizza joint for in the knowsters created by Mario Batali and Nancy Silverton of La Brea bakery. And, neither can I. The creative offerings like white anchovy pizza and salami, mozzarella and Fresno chiles are other worldly.
For those craving old school Hollywood glam, it doesn't get much better than La Scala in Beverly Hills: The chopped salad and veal chops are world famous. The bright red banquets smack of 1940s swank.
Go casual for lunch or dinner at
Urth Café. The cool outdoor eatery on Melrose offers the best salads, soups, sandwiches and people watching.

Voila!
Pizzeria Mozza
641 N. Highland Ave.
LA, CA 90036
(323) 297-0101
La Scala
410 N. Canon Drive
Beverly Hills, CA 90210
(310) 275-0579
Urth Café
8565 Melrose Ave.
267 S. Beverly Dr.
(310) 205-9311
*Author has permission to use photos other than her own.