The world of the NFL can sometimes be likened to a storybook quest. Each week, we have the protagonist (our team) going up against an antagonist (our opponent). Like any good story, we want to have a victory ending and name a hero (MVP). But what happens when the alleged bad guy isn't really on the other team? In the face of defeat, sometimes we must turn inwards and examine our own strengths and weaknesses.
In case of the 2009 Chicago Bears, everybody wants to make our quarterback, Jay Cutler, the bad guy. He's the new blood, he's the most prominent position on the field, and he hasn't had a stellar season. In last night's game against the San Francisco 49ers, he threw five interceptions, amassing a total of five red zone picks this year. To say he has fallen short of expectations would be an understatement.
The Chicago masses are already lighting their torches and calling for crucifixion of Saint Jay Cutler, who just months ago was sent to us from Denver to deliver the haggard Chicago Bears from an offensive plight. After years of believing that the only thing the Bears needed was a good quarterback, we got Jay Cutler! Hallelujah! Cutler came marching into Soldier Field like a knight in a shining number six jersey. He was supposed to be our savior, and instead, he has led our team to humiliating defeat. He is not who we thought he was. Crucify him!
Not so fast.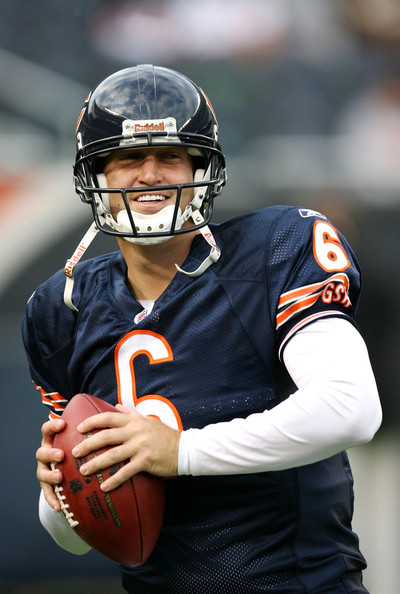 Jay Cutler is not a bad quarterback. His quarterback rating is 76, which puts him smack in the middle of the league. He averages 260 yards per game and has thrown a respectable 14 touchdown passes this year. Yes, he has thrown more interceptions than touchdowns this season, but that doesn't negate the fact that he consistently puts up yards and moves the ball down the field. That's more than we got out of, say, Rex Grossman. The bottom line is this: Cutler, at his worst, is still okay.
Jay Cutler may indeed have come to the Chicago Bears in 2009 to show us the way to victory, it just isn't the way we thought it would be. His arrival has shed light on the fact that maybe a lackluster quarterback wasn't the only thorn in the side of our franchise. If we want to be a winning team, we have some serious offensive problems to address, and they span far beyond the scope of somebody knowing how to throw the ball. Take, for example, the fact that we have absolutely no running game, rookie wide receivers, stale play calling, and a weak offensive line. I'm pretty sure if you stuck Tom Brady in the middle of our offensive line-up, his QB rating would start plummeting like the Dow Jones in late 2008.
The lack of running game is a huge problem for the Bears, because it forces Cutler to throw 50 plus passes every week. When you're putting the ball in the air that often, you're going to get picked at some point. The same goes for having rookie wide receivers. Devin Hester has a lot of potential, but he's still learning how to run routes. When he doesn't follow a route, or slips and falls, Cutler gets picked. The weak offensive line is probably the biggest problem of all, because they aren't giving Cutler the protection he needs to make plays. Week after week, Cutler has the daylights sacked out of him, and it's a wonder he is still in one piece at this point in the season.
Obviously, none of these offensive problems eliminate Cutler's responsibility to exercise better judgment. If I had one criticism of Cutler it would be this: stop trying to force plays in the red zone. If there isn't an open receiver, just throw the ball out of bounds so we can still kick a field goal. Cutler deserves to shoulder most of the blame for red zone picks.
That said, in spite of preseason hopes that he might be otherwise, Jay Cutler is only human. There's only so much you can ask one man to do for an offense. He's not exactly the storybook hero we were hoping for, but I think Cutler is doing a decent job as our quarterback. We should hold off on carrying him to the stake -- for now.