"We were as close as brothers," the late Dr. LeRoy Walker said of coach Al Buehler.
Indeed they were. And so it was only right that 81-year-old Buehler was by his best friend's side at Duke Hospital the night before 93-year-old Walker passed away. Buehler pulled a chair up to the hospital bed as Walker rested comfortably and squeezed his hand. As he leaned over Walker's hospital bed, the memories of their 50-plus years of friendship poured out of Buehler. Fifty years. Although Walker was dozing in and out of sleep, Buehler wanted his friend to hear stories of their good times. Buehler's face lit up as he recounted the record-setting crowd of 52,000 that filled Wallace Wade Stadium in 1971 for their historic Pan Africa-USA International Meet, the first time the African nations had competed under one flag. It was one of many historical track meets the dynamic duo orchestrated in Durham, North Carolina, featuring the top athletes in the world such as the legendary Steve Prefontaine and Kip Keino.
"Remember when Miruts Yifter raced against Prefontaine?" Buehler continued, "Yifter was in the lead but thought the gun signaled the final lap and he stopped running! I'll never forget it."
Walker and Buehler's friendship began decades earlier when the two legendary track and field coaches trained their teams together, Duke and North Carolina Central, respectively, at Duke's Wallace Wade Stadium a few miles from Central. As Walker explained, "Duke had a better track, and I didn't want to take anybody out to Central where we had to dodge puddles!" It was during the height of segregation that Walker and Buehler broke down barriers by their actions and began to make a difference.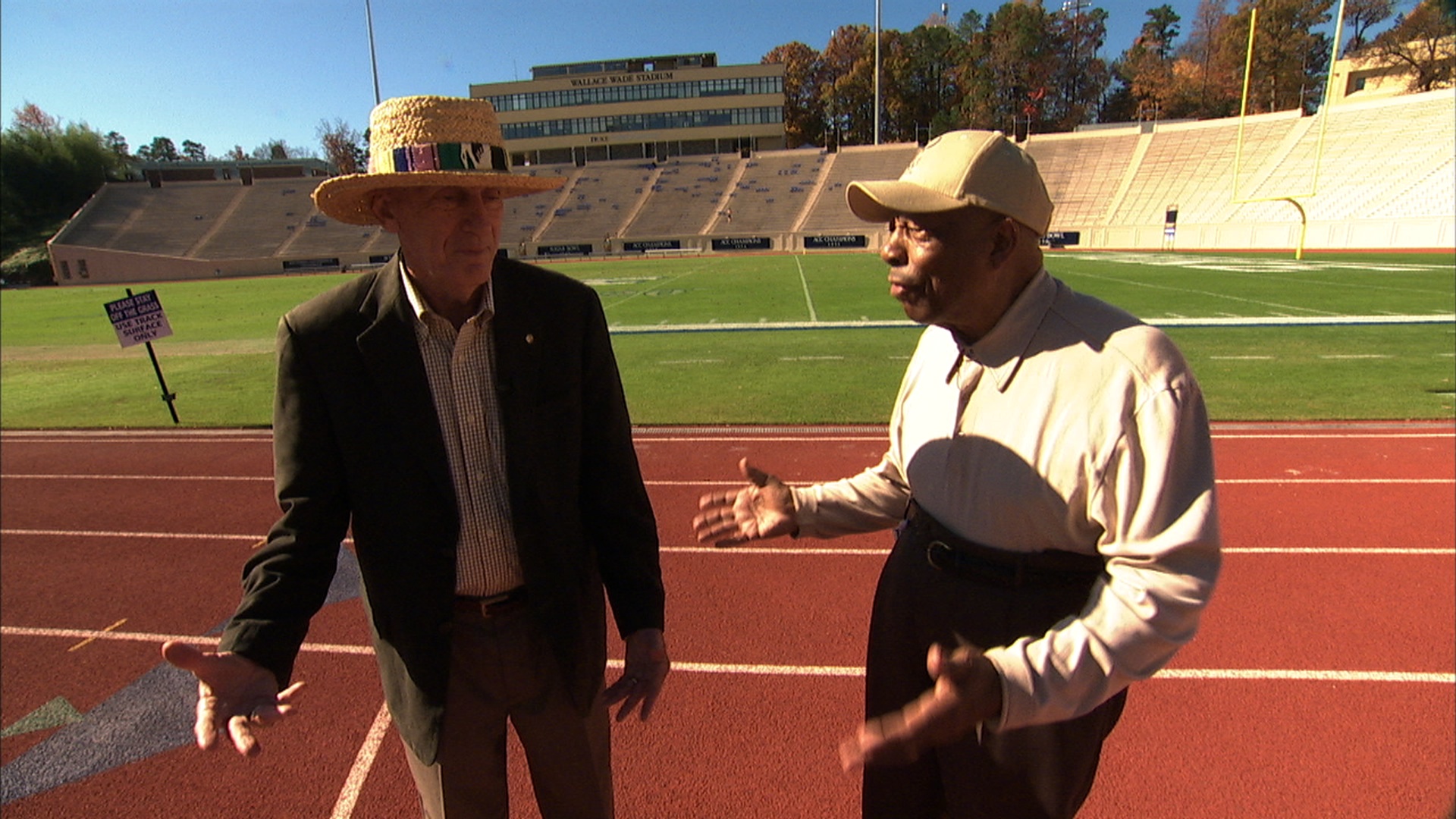 "We never talked about the race issue. He was Al and I was LeRoy," Walker noted years earlier. When they traveled together with their teams, they were often refused service at restaurants in the South. "They were having race riots in Greensboro. We quelled all that stuff and said we're having a track meet down here and everybody came," Buehler said.
Buehler paused while the nurse entered to take Walker's vitals. Soon after, Buehler continued his storytelling, informing the nurse that the two had teamed up to put on track meets at Duke. "I remember when 16-year-old Mary Decker used her kick to out run the Russian at the finish line. Over 65,000 people came -- even the KGB agents were there!"
Walker and Buehler had done the impossible. At a time when the two nations were building bomb shelters, they had brought the two nations together for the USSR-USA Invitational Track Meet. The sold out meet received national media coverage by Brent Musburger for CBS Sports. Walker-Buehler had put Durham, NC on the map. "We weren't there to get our names in the paper," Buehler later said. "He was P.T. Barnum out there beating the big drums saying, 'We're having a circus,' and I'm walking behind picking up the elephant manure; we complimented each other. It was not a rivalry or anything."
Walker's strength was training the sprinters and hurdlers. He knew the mechanics of the runner. Buehler focused on the distance runners. Together they trained countless Olympians, All-Americans and NCAA champions. Walker and Buehler went on to be Olympic coaches; Walker became the first African-American President of the United States Olympic Committee. All the while, the two shared a passion for teaching. Walker held positions as a professor, and later Chancellor, of North Carolina Central and next year will mark Buehler's 58th year at Duke where he teaches "History of Sports."
Buehler moved his chair closer to Walker. The nurse informed Buehler that they were taking his friend to hospice soon. Coach stood up, gently touched his friend's shoulder and squeezed his hand, "We'll get back to Wallace Wade Stadium, LeRoy. Stay strong. We love you." Walker opened his eyes and squeezed back.
As he walked out the door, Buehler turned to the nurse, "Thanks for taking care of LeRoy."
Amy E. Unell is an Emmy-nominated former producer for NBC's Today Show and founder of StoryTales Productions. Unell is the author of the upcoming book, "Starting at the Finish Line: Coach Al Buehler's Timeless Wisdom", to be published by Perigee/Penguin Books on July 3. For more information, please visit coachbuehler.com