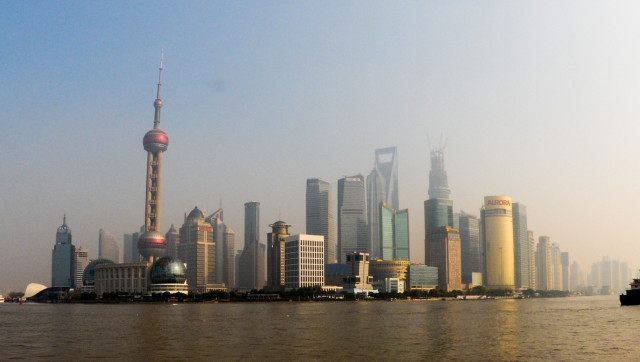 Transparency is seemingly non-existent in the media universe in China -- but maybe, just maybe, that is changing. Alas with the advent of those slick Samsung smartphones, citizen journalism is slowly but surely surfing across the border. Alas the media in China and freedom of information remains a hot topic in a changing China.
Over a recent coffee in Hong Kong with Doug Young, a long term Reuters journalist turned journalism professor at Shanghai's Fudan University, he talked candidly about the challenges but also changes in journalism -- changes for the better and for a more open society. Your blogger enjoyed the conversation and found that Mr. Young offers an insightful behind the scene look as to how the Chinese press operates and how it has changed in more recent years.
He was on a speaking circuit in Hong Kong to promote his new book, The Party Line: How the Media Dictates Public Opinion in Modern China (John Wiley & Sons Singapore, 2013). The book uses different media cases to show how the China government frames news, and how China's media plays a pivotal role in dictating public opinion -- no small feat in a country of 1.3 billion. The chapters are neatly categorized by major news events from Tiananmen Square to SARS to the more recent Beijing Olympics.
While the media remains heavily controlled by the bureaucrats, according to Mr. Young there are some signs that the system is morphing and transforming thanks to the Internet. Case in point, there are the government and luxury item watchdogs, also known as citizens and bloggers, who share the juice on what luxury items government officials have been sporting.
Weibo has done wonders for information exchange. Alas it was the Netizens who posted numerous pictures of Yang Dacai, director of the Shaanxi Province Administration of Work Safety, grinning like a Cheshire cat in front of a horrific bus accident in last August, which outraged the public. Netizens subsequently shared pictures of the 11 luxury wristwatches that Mr.Yang sported on different occasions. How could he afford all of those pricey watches on a government officials salary?
In another section headlined "When Issues Go Viral," Mr. Young used the case of the high-speed rail cash in Wenzhou in 2011 to show the power of the flood of posts and pics that citizens microblogged, many straight from the scene of the crash.
Before the days of the Internet, Weibo and alas those slick smartphones such information exchange was unheard of. All of these stories and case studies offer a slant of sun when it comes to open information, and in giving China's citizens a voice.
All in all Mr. Young's book is fairly insightful especially for western audiences who may simply view China's media as one single propaganda machine, and is worth the read.
Coincidentally, a few days after coffee with Mr. Young your blogger had dinner with a few journalism professors from Mainland China. Over jelly fish, Shanghainese dumplings and red wine, the conversation shifted from holiday shopping to Google's fallout with China in 2010.
"Google just doesn't get how business is done here, every place has different rules," one of the scholars said. Indeed it is all a matter of perspective -- or is it?