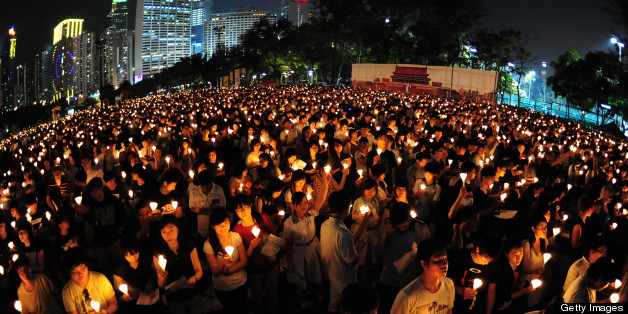 HONG KONG -- The June 4th festivities -- no call it events, or how about activities -- are starting full force. Here in Hong Kong pro-democracy groups like The Democratic Party and Civic Party are preparing for the annual vigil to commemorate the 24th anniversary of the 1989 Tiananmen Square crackdown.
On Sunday, June 2 at Times Square, one of the major malls in Hong Kong's Causeway Bay district (equivalent to Herald Square in New York), dozens of university students congregated to share their views about democracy and freedom. A miniature version of the Goddess of Democracy anchored the gathering (a larger version of the Goddess actually stands at the Chinese University of Hong Kong, one of Hong Kong's top universities).
In the weeks leading up to June 4, passersby, tourists, visitors, Hong Kong locals and residents, are mugging for photos with the statue. Some Mainland Chinese even stop in their shopping tracks to capture the iPhone or Instagram moment. Perhaps they are curious or maybe just camera-crazed.
The gathering and miniature Goddess of Democracy are the small, but not so subtle signs of freedom that are to be cherished and coveted while still here. They are also reminders of what is not possible across the border in Mainland China.
On a recent trip to Taichung, Taiwan, I noticed rows of Falun Gong practitioners sitting, eyes shut and cross-legged, along the scenic hike my friend and I went on. "They are kind of a nuisance and I'm not sure what they are really about, but at least they are allowed to be here," my friend said.
So this year, organizers are expecting an even higher turnout at the annual parade and candle light vigil in Victoria Park than the 180,000 people in 2012 (according to the Hong Kong police, the number was around 85,000).
In the end, the vigil and the gatherings are more symbolic than about impact. As an American working in Hong Kong, it's still good to see that the spirit of freedom of speech and expression remains in this unique city. It's comforting to see that to date the government has allowed such public displays of expression.
I've already been warned to stay indoors on June 4 to avoid the intense mosh pit, but I may very well brave the heat and join the crowds. I don't have to decide just yet, but it's refreshing to know I have a choice.