I would like to introduce you to someone who is near and dear to my heart. My friend and student Kelley Rush is a breast cancer survivor. Truly though, she is -- to use Kelley's own phrase -- a breast cancer "sur-THRIVE-or," because she has chosen to use this serious challenge to become even more alive. Kelley's healing journey has particularly touched me because I consider her part of my family, my spirit sister.
Kelley had to sacrifice part of herself -- her breasts -- in order to live. She made the powerful choice of losing her breasts rather than her life. It is so poignant because sometimes we must choose to lose part of ourselves in order to live, whether it's a breast or some other less tangible part, a belief or a self-perception. Kelley is so in love with life that she is willing to sacrifice the parts of her body that our culture uses to define womanhood. Kelley has instead redefined herself as a glowing spirit as a result of her choices of what was necessary to live. She has redefined herself in a more noble way than she was ever capable of before. Every challenge that most of us would consider demeaning or degrading, Kelley has quantum leaped by becoming more spirit-encompassing and brilliant. Kelley inspires me daily.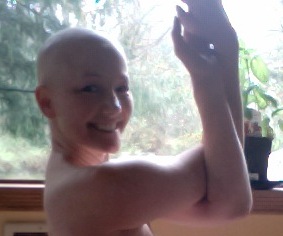 This is an amazing photo of spirit incarnate. Look at her glow! Look at how luminous Kelley is. She is an inspiration to all of us that struggle and reach for life and spirit.
I pray that we all may progress on our own healing journeys. For those that are on the healer's path, that you learn to be skillful and truthful in applying your heart to heal, give and care. For those that are on the healing path, that you may open up to receive the healing energies and learn to lean into the support offered, so that we all not only learn to give but also receive from each other. Learning to support and be supported by our community, so we may all walk in beauty, side by side.
I ask each of you to support the cancer survivors in your own life, and to support Kelley in walking this journey with grace and, as such, to create a luminous full circle of healing the "Hoop of the People."

Now I give you Kelley, in her own words:
"I am in deep thought about beauty. Real beauty. I am once again stunned at how I may or may not see it in myself, in others, and in the world. Why is it so much easier to, when we choose, see it outside of ourselves and not from within?


"I am so blown away at this time of being bald and breastless. So wide open and vulnerable. It is teaching me about how many shields I carry, what I hide behind and how much I want to have compassion for this external vehicle driving my spirit. More importantly, I want to recognize my true self.


"I am not my hair, my breasts, my house, car... Where and why have we as a culture made this so important? It does not define us. We are spiritual beings having many human experiences. I need and want to remember this.


"As I am faced with choices about reconstruction... to be or not to be? Why? I pray to be happy just as I am, deep in my soul. No need to replace anything or create another distraction or facade. Five - 10 lbs won't make a difference; new boobs won't make a difference.


Being compassionate with myself and others, seeing my light and loving it, witnessing your light and loving you, this is beauty. I want this for my daughters, sisters, sons, our men. I want to gift this real beauty to the world, so we can shine and continue to be in awe of what God has given us, with an open, beautiful heart! Thanks for witnessing. A-ho!"