Ana's Thought: "Artist, make all your life's work come to harvest time in total Love & Peace."
On 21 September, people across the world found reason to celebrate, united by common cause: The International Day of Peace. All nations of the Earth lit up with goodwill, hearts burning like beacons of hope for a safer, freer world to be shared.
As an artist, my aim is to bring a peaceful world into being through creativity and communication. I was overjoyed to witness and take part in the tremendous spread of love on this day. The Love & Peace Campaign, my ongoing sculptural project carrying art into public spaces around the globe, has provided me with strong evidence that the sentiment of the International Day of Peace shall never fall on deaf ears -- the cry for peace grows louder each day!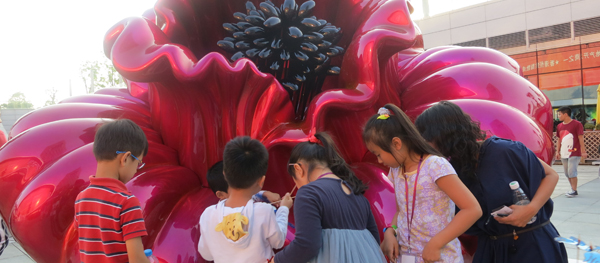 Children in Shenzhen gather around one of Tzarev's Love & Peace flowers.
As the Campaign has made stops in locales the world over -- from Prague to Shenzhen, from New York to Singapore -- I have seen how great the demand for Love & Peace has become. In each place where the giant, shimmering remembrance poppies are displayed, people pause to reflect, document, and share. We all wish to be part of the greater good, and each small gesture we make is an invaluable contribution to growing progress. I thank all who have visited these sculptures as they continue their global tour and wish that the message of Love & Peace travels with them forever.
We are never in want for inspirational figures in our efforts to reach a world where Love & Peace reign. Among the greatest and most respected names in history are those who shone from within, upturning currents of violence with offerings of justice and grace. We look to Mahatma Gandhi, Martin Luther King, Jr., Nelson Mandela, and countless other brave, priceless souls who elevated the spirit of all mankind.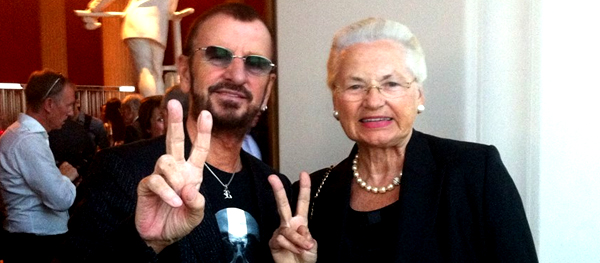 Ana Tzarev and Ringo Starr stand together for peace.
But our bright stars do not only illuminate the past -- there are so many among us who, through their actions and words, guide us along the path of peace today. Malala Yousafzai, after overcoming such horrible violence, has dedicated herself to a life of activism. Aung San Suu Kyi's indomitable dedication has made her a luminary not only for the people of Burma, but for all who champion freedom.
We must always keep in mind that the potential for all great beauty is encased within a seed in our souls. With diligence, patience, and empathy, the seed will germinate and bloom into a gift for our fellow men. Each of us is capable of magnificence beyond our imagination -- what will your gift be?