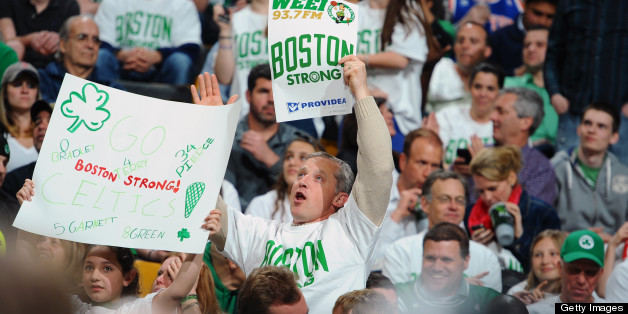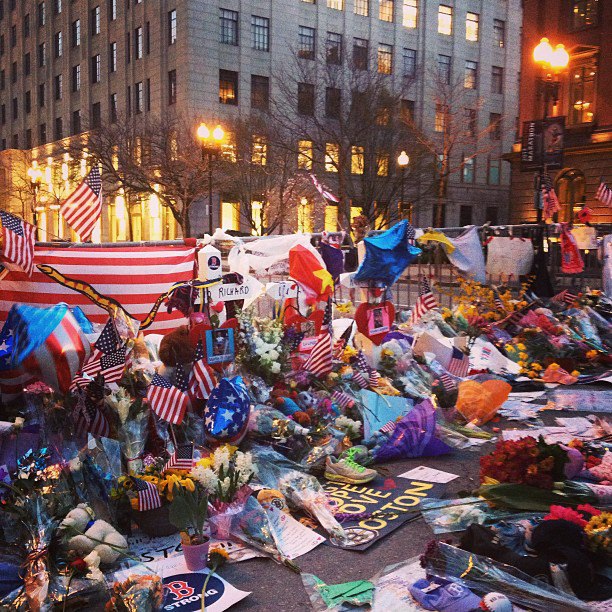 It's Monday, April 15th at 2:20 p.m. It's a somewhat sunny Marathon Monday. I'm walking over to meet my close friend, Ann. We're supposed to be walking over to the Copley area in about 10 minutes.
It's 2:30 p.m. We get delayed since Ann really, really wants to blow-dry her hair. I say no problem, what's a couple of minutes here or there going to do?
It's around 2:40 p.m. It's finally time to head over to the marathon's finish line and cheer the runners on.
BANG.
Was that a firework? I can see smoke, but where is it coming from?
BANG.
This was no firework. This is serious.
We rush away from the explosion site, along with everyone else around us. I see people scrambling around in chaos just as the sirens start to go off. I see police cars, ambulances, and fire trucks. Cops near Boylston and Massachusetts Avenue start running towards Copley.
I look to my left and see Ann getting teary-eyed. She's worried about her boyfriend. I just couldn't think. I couldn't process what was happening. I didn't even know what was happening.
It wasn't until I watched the news that it starting sinking in. There were two explosions. At least two individuals were dead. Almost 200 were injured. Who did this? Why, especially at such a cheerful event, did this happen? This marathon is about positivity, determination and perseverance. Many runners wanted to raise money for worthwhile causes.
I realize, had Ann and I left just a couple of minutes earlier, we would've been at the finish line at the time of these explosions. I wonder what would have happened to us if we were there. We could have gotten hurt. The gruesome photos we saw on the news would have been real, right in front of us. We weren't the only ones in this situation. For some reason, someone who usually waits at the finish line to snap photos of his friends passing it decides to take photos from elsewhere. Another friend decides to walk away from Copley just minutes before the explosion. I'm thankful that no one I knew got hurt but many weren't in this situation. Many were hurt and some were killed.
It's Tuesday, April 16th. I decide to take a walk on Commonwealth Avenue and reflect upon yesterday's tragic events. Gray skies and dark clouds hover over me as I think about the victims of the explosions. The people who pass by me seem shaken by what happened, just as I am. I don't see anybody happy. The atmosphere is somber.
I think about what happened yesterday and realize how life can change within seconds. I realize this sort of tragedy can happen anywhere at time. I realize I may have taken things for granted. I realize I've been given another day to live and should make the most of it by cherishing family and friends in addition to giving back to the community.
It's Thursday, April 18th. Earlier today, Obama made a powerful speech in Boston and the photos of the two suspects were released. Right now, though, there is a shooting at M.I.T. in Cambridge. A police officer has been shot and killed. Why is this happening? First the explosions at the marathon and now a shooting?
It's Friday, April 19th. I've been watching the news ever since last night's shooting. The first suspect, 26-year-old Tamerlan Tsarnaev, was captured but killed earlier during a shootout in Watertown. The second suspect, 19-year-old Dzhokhar Tsarnaev, is nowhere to be found. Boston and neighboring cities are on lockdown right now.
Thoughts of my family and friends cross my mind. I miss my family. They live on the other side of the world. I wish I were with a friend right now. At times like these I wish I had a roommate.
It's around 8:30 p.m. The second suspect is apparently on a boat parked on a trailer in a Watertown residential backyard. A negotiator will be talking to the suspect soon.
Is it really the suspect? Will he turn himself in? He must be tired and hungry. I really hope he gives up. I hope he doesn't have any explosives on him. Justice needs to be served.
It's around 9:00 p.m. The suspect is alive and in custody! I'm happy about this but think of the victims again. I think of those who were at the explosion site. I think of those who were rushed to the hospital. I think of those who lost limbs. I think of Krystle Campbell, Lu Lingzi, Martin Richard, and Sean Collier who lost their lives this past week. Yes, I'm happy that justice will be served, but I'm troubled to know that a 19-year-old can cause so much pain and grief.
As of right now, this seems to be over. I hope this is really over and nobody else is involved. I'm eternally grateful and thankful for the courageous work of law enforcement. I can finally sleep feeling a little more safe and relieved.
I lay in bed thinking about how much I, along with the rest of this city has gone through and how the manhunt is over. All of a sudden I hear the pitter patter of raindrops on my window.
The time for cleansing and healing has come for this city and everyone affected by the tragic events of the past week. It's time for growth, a new beginning for some. As Obama said, "We may get momentarily knocked off our feet. But we'll pick ourselves up. We'll keep going. We will finish the race."